7 Anime Like Ore Monogatari!!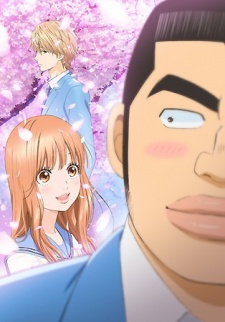 This is a classic beauty and the beast type anime with a good looking guy as his best friend. Here are my top picks for anime like Ore Monogatari. Enjoy!
Sakura Chiyo confesses her feelings to her schoolmate Nozaki. Due to a misunderstanding, Nozaki thinks Sakura is just a fan. She then discovers Nozaki's other identity; a shōjo manga artist. As she gets closer to Nozaki, she befriends Nozaki's quirky acquaintances who assist him and serve as inspirations for his manga.
Sawako Kuronuma's one wish in life is to make friends. That's a difficult proposition when everyone who meets her cowers in terror, due to her resemblance to Sadako (after whom they nickname her) from the Japanese horror movie series The Ring. Shunned by her classmates, her life starts to change after she befriends her classmate, Shōta Kazehaya, a popular, easygoing and 100% refreshing guy who is nice with everyone, even with her.
Risa Koizumi, taller than the average girl, and Atsushi Ootani, shorter than the average guy—their constant bickering and comical love-hate relationship is well-known throughout the school. They act similarly and love the same music, and their friendship is full of laughing, shouting at each other, and of course, lots of jokes about one another's height. But when Risa notices her feelings for Ootani growing, she's worried. She doesn't know if he can ever see her as more than a friend.
With her friends rooting for her, she struggles to make him see how she feels about him, and that a romantic relationship between a tall girl and a short guy can work. Oblivious Ootani doesn't make things easy for her, but she stubbornly perseveres in her own unconventional way, determined for her feelings to get through to him, and finally be returned. If only she could do it without driving herself and everyone else crazy in the process…
Despite Ryuji Takasu's gentle personality, his eyes make him look like an intimidating delinquent. Class rearrangements on his second high school year put him together with his best friend, Yusaku Kitamura, and his hidden crush, Minori Kushieda. Along with these two comes Kushieda's best friend, Taiga Aisaka. Her delicate appearance contrasts with her brutal personality. Secretly in love with Kitamura, Taiga agrees to help Ryuji with his love interest as long as he helps her get closer to hers.
When they were young, the brothers Mutta and Hibito promised each other they would become astronauts. Now, in 2025, Hibito has followed his dream to become the first Japanese on the moon, but Mutta has just been fired from his job. His brother reminds him of their childhood promise, and Mutta decides once again to aim for space.
Chihaya Ayase is a frank and ebullient girl who becomes fascinated by the obscure world of competitive karuta, a card game based on Japanese poetry. Introduced to the aggressive style of the game by a quiet and thoughtful elementary school classmate named Arata Wataya, the two quickly become close friends. They start playing as a group with Taichi Mashima, Chihaya's smart and athletic childhood friend, until they have to part ways during their middle school years due to several circumstances. As their high school life begins, they meet once again.
Ao Haru Ride revolves around Futaba, a girl who was in love with a boy named Kō Tanaka in middle school. However, after a misunderstanding, their relationship as friends ends when he transfers schools over summer vacation. In high school, her world is turned around once again when she meets Kō again, this time under the name of Kō Mabuchi.
References: ANN, MyAnimeList, Wiki