9 Anime Like Ouran Highschool Host Club [Recommendations]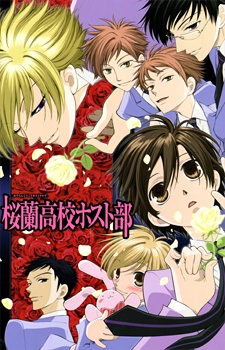 Here are my top picks for anime like Ouran Highschool Host Club. Keep in mind the list is in no particular order. Enjoy the recommendations!
Hikari Hanazono has always been second to Kei Takishima. When they were six years old, their pro-wrestling loving fathers introduced them to each other. Assuming that she was the best in wrestling, young Hikari challenged Kei to a wrestling match only to be thoroughly defeated by him.
Ever since that fateful incident, Hikari swore to beat Kei in school grades, sporting events—anything. To do this, she has enrolled in the same school as Kei since elementary. Now she attends Hakusenkan, an ultra elite school, that costs her carpenter father a lot of money. Hikari and Kei are the top two students in the school, with Kei holding firmly to that number one position. While Hikari considers Kei to be a rival and important friend, she is completely unaware that Kei loves her. The story primarily focuses on Hikari and her constant attempts to defeat her one and only rival, Kei, and how she finds love in their rivalry.
Tooru Honda is a 16-year-old orphaned girl who gets invited to live in the house of her classmate, the handsome boy Yuki Souma, and his cousins, 16-year-old Kyou and 27-year-old Shigure. However, these young men and parts of the rest of their family (both close and distant) hold a curse; if they are hugged by the opposite gender, they transform into animals of the Chinese zodiac. Everyday is an adventure for sweet Tooru, as she gets to know everyone in the large family better (especially Yuki and Kyou), in both common and bizarre situations. But, the Souma family curse is certainly no laughing matter… It also holds horrible cruelty and heartbreak.
Being the first female student council president isn't easy, especially when your school just transitioned from an all boys high school to a co-ed one. Aptly nicknamed "Demon President" by the boys for her strict disciplinary style, Misaki Ayuzawa is not afraid to use her mastery of Aikido techniques to cast judgment onto the hordes of misbehaving boys and defend the girls at Seika High School.
Yet even the perfect Ayuzawa has an embarrassing secret—she works part-time as a maid at a maid café to help her struggling family pay the bills. She has managed to keep her job hidden from her fellow students and maintained her flawless image as a stellar student until one day, Takumi Usui, the most popular boy in school, walks into the maid café. He could destroy her reputation with her secret… or he could twist the student council president around his little finger and use her secret as an opportunity to get closer to her. [Written by MAL Rewrite]
The story revolves around a young girl named Kyouko who went with her childhood friend, Shou, to Tokyo to pursue his dream of becoming an idol. Despite her supporting him, she overhears him dismissing her as a boring wallflower. Furious, Kyouko vows to get her revenge by defeating him in the entertainment world.
Risa and Otani are always being laughed at as the comedy duo. Risa, a girl, is taller than the average girl, and Otani, a boy, is shorter than the average boy. The two are always bickering and even their teacher sees them as a comedy act. But as their friendship develops, so do Risa's feelings toward Otani. (Source: AniDB)
Tsukamoto Tenma is an ordinary 2nd year high school student who has fallen in love with one of her classmates, Karasuma Ooji. However, currently she is unable to confess her feelings to him. To make things worse, she found out that Karasuma is transferring to another school in a year. On the other hand, Tenma's other classmate, Harima Kenji (who is a delinquent) is also in love with Tenma. Not being able to confess his feelings, Harima gets depressed day by day.
High school student Chiyo Sakura has a crush on schoolmate Umetarou Nozaki, but when she confesses her love to him, he mistakes her for a fan and gives her an autograph. When she says that she always wants to be with him, he invites her to his house and has her help on some drawings. Chiyo discovers that Nozaki is actually a renowned shoujo manga artist named Sakiko Yumeno. She then agrees to be his assistant in order to get closer to him. As they work on his manga, they encounter other schoolmates who assist them or serve as inspirations for characters in the stories.
Based on a popular web-released manga series by Hidekazu Himaruya, this has been described as a "cynical gag" story set in Europe in the years between WW1 and WW2 (1918-1939), using exaggerated caricatures of the different nationalities as portrayed by a gaggle of bishōnen. For example, the Italia Veneziano character is into pasta and women. The Deutsche (German) bishi loves potatoes and sausages, and Nippon is an otaku boy. Installments of the manga have jumped back and forth in setting from the ancient times to modern-day geopolitics. The manga's title comes from the Japanese words for "useless" (hetare) and Italy (Italia).
When beautiful Tooru transferred to an all-boys school, he received a warm welcome…but little did he know that his new classmates had nominated him for the academy's "Princess System." The lovely campus "Princesses" must dress as girls (in frilly Gothic Lolita costumes) at school events in order to lighten the stolid masculine atmosphere. Tooru balks at first, but soon comes to realize the advantages of being a "Princess."
References: Wiki, ANN, MyAnimeList