Anime Like Seraph of the End: Vampire Reign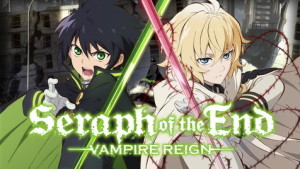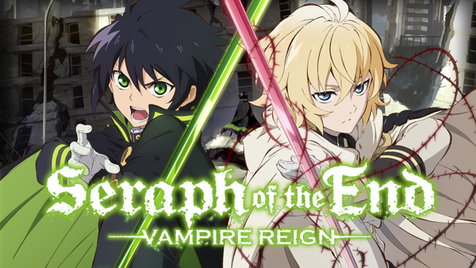 Here are my list of top picks for anime similar to Seraph of the End. Keep in mind it is in no particular order.
Humans live in the world of Assiah, demons in Gehenna. The two dimensions are not meant to interfere with each other, but demons still possess creatures in Assiah in spite of this. The humans who can fight these demons are known as exorcists. Rin Okumura is a boy who bears the curse of being Satan's illegitimate son. His foster father sacrificed himself to save him from demons. To avenge his foster father's death as well as to prove himself, Rin decides to follow the path of an exorcist.
In the year 2071, the Far East is ruled by angry gods. 20 years ago unknown life forms called "Oracle cells" begin their uncontrolled consumption of all life on Earth. Humanity both fears them and reveres them as "aragami." They are immune to all weapons and the mankind's numbers continue to dwindle. The last bastion of hope is the newly developed "God Arcs" weapons that utilize Oracle cells to fight back. The weapons wielders band together into an elite force dubbed "God Eaters."
In 1972, the Apollo 17 mission discovered a hypergate to Mars on the surface of the moon. Soon a war breaks out between Earth and Mars, and Martian soldiers begin to descend from the sky, riding steel giants, intent on exterminating humanity.
Ken Kaneki is a bookworm college student who meets a girl names Rize at a cafe he frequents. They're the same age and have the same interests, so they quickly become close. Little does Kaneki know that Rize is a ghoul – a kind of monster that lives by hunting and devouring human flesh. When part of her special organ – "the red child" – is transplanted into Kaneki, he becomes a ghoul himself, trapped in a warped world where humans are not the top of the food chain.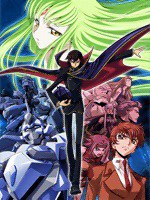 The Empire of Britannia has invaded Japan using giant robot weapons called Knightmare Frames. Japan is now referred to as Area 11, and its people the 11's. A Britannian who was living in Japan at the time, Lelouch, vowed to his Japanese friend Suzaku that he'd destroy Britannia. Years later, Lelouch is in high school, but regularly skips out of school to go play chess and gamble on himself.
One day, he stumbles on terrorists 11's who've stolen a military secret and is caught by a member of the Britannian task force sent after them, who is Suzaku. As the rest of the squad arrives, Suzaku is shot for disobeying orders, while the military secret, a young girl, gives Lelouch the power of Geass, which makes anyone obey any order. While Suzaku is secretly made the pilot of Britannia's brand new prototype Knightmare, Lancelot, Lelouch becomes the masked Zero to lead the rebellion to destroy Britannia once and for all.
Reference: