7 Anime Like Puella Magi Madoka Magica [Recommendations]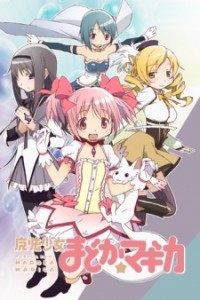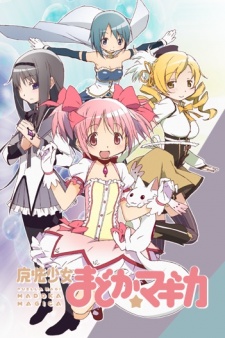 Here are my favorite picks for anime like Puella Magi Madoka Magica. Keep in mind the list is in no particular order. Enjoy the recommendations!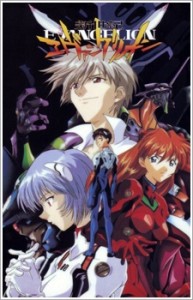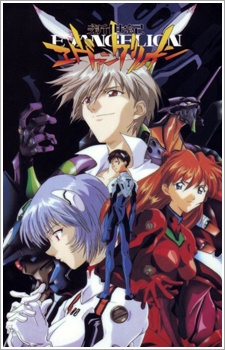 In the year 2015, the world stands on the brink of destruction. Humanity's last hope lies in the hands of Nerv, a special agency under the United Nations, and their Evangelions, giant machines capable of defeating the Angels who herald Earth's ruin. Gendou Ikari, head of the organization, seeks compatible pilots who can synchronize with the Evangelions and realize their true potential. Aiding in this defensive endeavor are talented personnel Misato Katsuragi, Head of Tactical Operations, and Ritsuko Akagi, Chief Scientist.
Face to face with his father for the first time in years, 14-year-old Shinji Ikari's average life is irreversibly changed when he is whisked away into the depths of Nerv, and into a harrowing new destiny—he must become the pilot of Evangelion Unit-01 with the fate of mankind on his shoulders.
Written by Hideaki Anno, Neon Genesis Evangelion is a heroic tale of a young boy who will become a legend. But as this psychological drama unfolds, ancient secrets beneath the big picture begin to bubble to the surface. [Written by MAL Rewrite]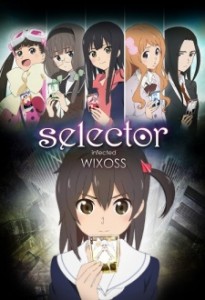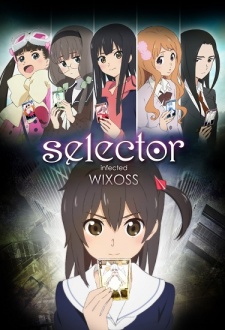 WIXOSS is a card game that's popular with teenagers. Supposedly there exist "LRIG Cards," female character cards with wills of their own. Special girls can hear the voices of the LRIGs, and those who possess them are called Selectors. These Selectors have card battles in a dimension that other humans cannot access. It's said that whoever triumphs in these battles will have their wish granted. Ruko Kominato is the latest girl to find an LRIG card. She names her card Tama, and without any further explanation is thrown into her life as a Selector. (Source: ANN)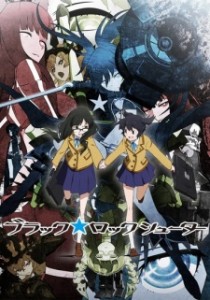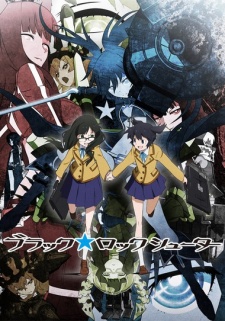 On the first day of junior high school, Mato Kuroi happens to run into Yomi Takanashi, a shy, withdrawn girl whom she immediately takes an interest in. Mato tries her best to make conversation with Yomi, wanting to befriend her. At first, she is avoided, but the ice breaks when Yomi happens to notice a decorative blue bird attached to Mato's phone, which is from the book "Li'l Birds At Play." Discovering they have a common interest, the two form a strong friendship.
In an alternate universe, the young girls exist as parallel beings, Mato as Black★Rock Shooter, and Yomi as Dead Master. Somehow, what happens in one world seems to have an effect on the other, and unaware of this fact, the girls unknowingly become entangled by the threads of fate. [Written by MAL Rewrite]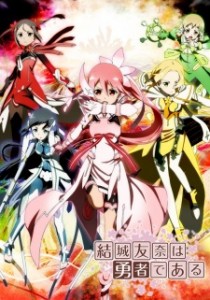 What does it mean to be a hero? Yuuki Yuuna thinks she knows. As part of the Hero Club in her middle school, Yuuki always does her best, wants to help others, and strives to bring smiles to people's faces, no matter who they are.
But Yuuki is about to become a much bigger hero. Mysterious and powerful forces are approaching and threatening to destroy the world Yuuki knows and loves, and it's up to Yuuki and the Hero Club to stop them. Together with her companions, Yuuki uses a special phone app to transform into a magical girl and battle against strange beings called vertexes.
In between studying and putting on shows for kids, Yuuki has to fight for the very existence of her world. Can five middle school girls really stop the vertexes from entering their home world and destroying it? (Source: MyAnimeList)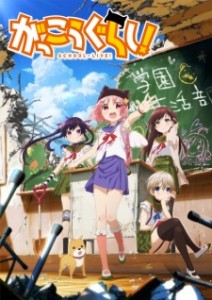 Yuki Takeya loves her school so much that she does not want to ever leave! Megurigaoka Private High School is a unique and lively place where Yuki enjoys her carefree life as a third-year high school student and member of the School Living Club. The club, consisting of the president Yuuri Wakasa, the athletic Kurumi Ebisuzawa, the mature junior Miki Naoki, the supervising teacher Megumi Sakura, and the club dog Taroumaru, prides itself on making the most of life at school. However, this illusion of endless bliss is just a bubble waiting to be burst because Yuki is unable to perceive what is truly happening around her. In reality, all is not as it seems—the real purpose of the School Living Club is to escape from the shocking and disturbing truth: the girls are in the middle of a zombie apocalypse and have barricaded themselves inside the school as the sole survivors.
Based on the manga by Kaihou Norimitsu, Gakkougurashi! follows a group of girls who are forced to adapt to a post-apocalyptic life all by themselves. They have no means of contact with the outside world and are surrounded by hostile undead waiting to devour them. The girls must not only contend with the challenge of survival; they must also strive to maintain a false appearance of normality in Yuki's presence. [Written by MAL Rewrite]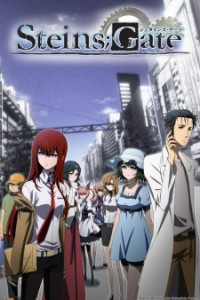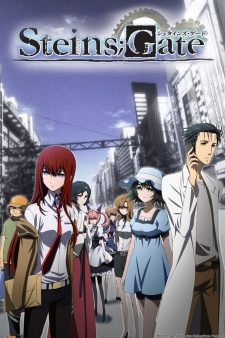 The self-proclaimed mad scientist Rintarou Okabe rents out a room in a rickety old building in Akihabara, where he indulges himself in his hobby of inventing prospective "future gadgets" with fellow lab members: Mayuri Shiina, his air-headed childhood friend, and Hashida Itaru, a perverted hacker nicknamed "Daru." The three pass the time by tinkering with their most promising contraption yet, a machine dubbed the "Phone Microwave," which performs the strange function of morphing bananas into piles of green gel.
Though miraculous in itself, the phenomenon doesn't provide anything concrete in Okabe's search for a scientific breakthrough; that is, until the lab members are spurred into action by a string of mysterious happenings before stumbling upon an unexpected success—the Phone Microwave can send emails to the past, altering the flow of history.
Adapted from the critically acclaimed visual novel by 5pb. and Nitroplus, Steins;Gate takes Okabe through the depths of scientific theory and practicality. Forced across the diverging threads of past and present, Okabe must shoulder the burdens that come with holding the key to the realm of time. [Written by MAL Rewrite]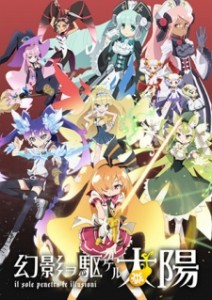 Since ancient times long past, this world has been ruled by two tarot cards.
Diablos Tarot—The tarot of the devil that feasts on the souls of living humans and uses that nourishment to bring countless pain and suffering.
Elemental Tarot—The tarot that draws its energy from the power of nature in order to oppose the Diablos Tarot.
Girls chosen from 22 different bloodlines become the wielders of the Elemental Tarot, plunging themselves into this secret battle. To maintain the balance of this world, while carrying unbearable guilt…
Are they executioners? Or saviors? This is the story of the long, long battle fought by girls who cannot escape the fate they bear. (Source: ANN)
References: MyAnimeList, Wiki, ANN