7 Anime Like Punch Line [Recommendations]
Here are my favorite picks for anime like Punch Line! Keep in mind the list is in no particular order. Enjoy the recommendations!
Ryuuko Matoi is a vagrant school girl traveling from place to place searching for clues to the truth behind her father's death—the "woman with the scissor blade." The journey has led Ryuuko to Honnouji Academy.
Honnouji Academy—where an elite group of students is granted superhuman power by their special uniforms called the "Goku uniform." With the power of the uniform, the student body president, Satsuki Kiryuin rules the students with unquestioned power and fear. Satsuki holds the secret to the "scissor blade" and Ryuuko confronts Satsuki to gain information but… Was their encounter a mere coincidence or fate? The clash between the two will soon consume the whole academy!
Masayoshi Hazama: a man who has become a superhero "by himself" with no superhuman powers or any sort of high-tech conversions, NONE!! Hidenori Goto: a cop who found out the true identity of "the superhero" by a strange twist of fate and thus constantly gets in trouble thanks to Hazama, the superhero. This is the story of the birth of a true hero featuring these two young men with a touch of comedy and serious drama, while they come face to face with hardships as they search for the true meaning of becoming a hero of justice in this world!
Naota is a normal Japanese 6th grade boy (although a little cynical), but when his older brother leaves for America to play baseball, his brother leaves his homeless 17-year-old girlfriend Mamimi behind. Mamimi is sending mixed signals and advances to Naota, and he doesn't know what to do about her. But to make matters worse, Naota's world is totally turned upside down when he is run over by a woman on a Vespa. During their first encounter, she hits him over the head with her bass guitar, which then causes a horn to grow out of his forehead. She calls herself "Haruko" and her presence changes Naota's life to even further insanity.
She has a loving family and best friends, laughs and cries from time to time… Madoka Kaname, an eighth grader of Mitakihara middle school, is one of those who lives such a life. One day, she had a very magical encounter. She doesn't know if it happened by chance or by fate yet. This is a fateful encounter that can change her destiny—this is a beginning of the new story of the magical girls.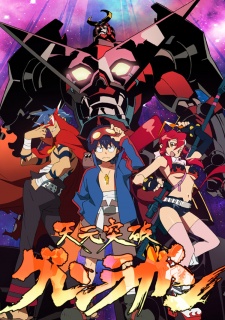 In a faraway future, mankind lives underground in huge caves, unknowing of a world above with a sky and stars.
In the small village of Jiha, Simon, a shy boy who works as a digger discovers a strange glowing object during excavation. The enterprising Kamina, a young man with a pair of rakish sunglasses and the passion of a fiery sun, befriends Simon and forms a small band of brothers, the Gurren Brigade, to escape the village and break through the ceiling of the cave to reach the surface, which few believe exist. The village elder won't hear of such foolishness and punishes the Brigade. However, when disaster strikes from the world above and the entire village is in jeopardy, it's up to Simon, Kamina, a girl with a big gun named Yoko, and the small yet sturdy robot, Lagann, to save the day.
The new friends journey to the world above and find that the surface is a harsh battlefield, and it's up to them to fight back against the rampaging Beastmen to turn the tide in the humans' favor! Pierce the heavens, Gurren Lagann!
When abandoned kittens and his good conscience force second year Sorata Kanda to move into Suimei High School's infamous Sakura Hall, the satellite dorm and its eccentric, misfit residents turn his life upside down. The decidedly average Sorata finds it difficult to fit in with the bizarre collection of dorm residents like Misaki, an energetic animator; Jin, a playwright playboy; Ryuunosuke, a reclusive programmer; and Chihiro, the dorm manager, art teacher, and party girl.
The story is set in Japan in the early summer of 2015. 180,000 people live in Tachikawa City, the "second metropolis" of the Tokyo area. Among them are "Gatchaman"—warriors who fight in special reinforced suits powered by "NOTE," the manifestation of special spiritual powers in living beings. A council has scouted a group of individuals with latent powers to protect Earth from alien criminals. In recent years, the council has assigned Gatchaman warriors to deal with the mysterious entity known as "MESS."
References: MyAnimeList, Wiki