9 Anime Like Ranpo Kitan: Game of Laplace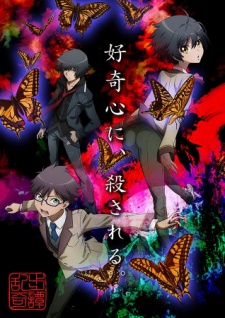 Here are my favorite picks for anime like Ranpo Kitan: Game of Leplace. Keep in mind the list is in no particular order. Enjoy!
The "life-and-death sibling" story follows Utsutsu and Yume Hasegawa, a boy and his little sister who find themselves all alone. One day, Yume sees a mysterious red butterfly and her body undergoes a strange metamorphosis—into a creature that eats humans. Utsutsu struggles to find a way to restore his sister.
Oreki Houtarou is a minimalistic high school boy. One day, he joins the Classic Literature Club at his elder sister's request. There he meets Chitanda Eru, Fukube Satoshi, and Ibara Mayaka. Chitanda is a calm beautiful girl but she turns into an embodiment of curiosity once she says, "I'm curious." Fukube is a smiling boy with a fantastic memory who calls himself a database.
Ibara is a short girl and is strict with others and herself. They begin to investigate a case that occurred 45 years ago. Hints of the mystery are buried in an old collection of works of the former members of Classics Club. The collection is titled "Hyouka."
The series takes place in the near future, when it is possible to instantaneously measure and quantify a person's state of mind and personality. This information is recorded and processed, and the term "Psycho-Pass" refers to a standard used to measure an individual's being. The story centers around the "enforcement officer" Shinya Kougami, who is tasked with managing crime in such a world. In the future, it is possible to quantitatively measure a person's emotions, desires, and every inclination. In this way, it is also possible to measure a person's criminal tendency factor, which is used to judge criminals.
This is the story of a team of policemen dedicated to maintaining public order. Some of them work in the Enforcement Division, responsible for the apprehension of criminals, while others belong to the Supervisory Division which oversees their colleagues in Enforcement.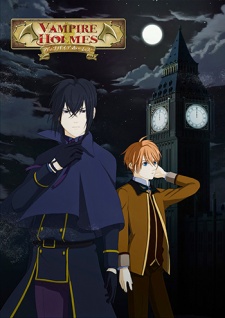 An anime adaptation of the smartphone game that features a character named Holmes in London, but against his name, he is a private detective who does not reason or even explain mysteries; however, he always solves the cases requested. He secretly undertakes a mission from the Metropolitan Police of London to search vampires.
A shinigami, as a god of death, can kill any person—provided they see their victim's face and write their victim's name in a notebook called a Death Note. One day, Ryuk, bored by the shinigami lifestyle and interested in seeing how a human would use a Death Note, drops one into the human realm.
High school student and prodigy Light Yagami stumbles upon the Death Note and—since he deplores the state of the world—tests the deadly notebook by writing a criminal's name in it. When the criminal dies immediately following his experiment with the Death Note, Light is greatly surprised and quickly recognizes how devastating the power that has fallen into his hands could be.
With this divine capability, Light decides to extinguish all criminals in order to build a new world where crime does not exist and people worship him as a god. Police, however, quickly discover that a serial killer is targeting criminals and, consequently, try to apprehend the culprit. To do this, the Japanese investigators count on the assistance of the best detective in the world: a young and eccentric man known only by the name of L.
Shinichi Kudou, a great mystery expert at only seventeen, is already well known for having solved several challenging cases. One day, when Shinichi sees two suspicious men and decides to follow them, he inadvertently becomes witness to a disturbing illegal activity. When the men catch Shinichi, they dose him with an experimental drug formulated by their criminal organization and abandon him to die. However, to his own astonishment, Shinichi is still alive and soon wakes up, but now, he has the body of a seven-year-old, perfectly preserving his original intelligence. He hides his real identity from everyone, including his childhood friend Ran Mouri and her father, private detective Kogorou Mouri, and takes on the alias of Conan Edogawa (inspired by the mystery writers Arthur Conan Doyle and Ranpo Edogawa).
Animated by TMS and adapted from the manga by Gosho Aoyama, Detective Conan follows Shinichi who, as Conan, starts secretly solving the senior Mouri's cases from behind the scenes with his still exceptional sleuthing skills, while covertly investigating the organization responsible for his current state, hoping to reverse the drug's effects someday.
The year is 1924, the place, Sauville, a small European country neatly tucked beside the Alps…
Kazuya Kujo has been studying abroad at the prestigious Saint Marguerite Academy, where urban legends and horror stories are all the rage. Kazuya ignores most of them but the story of the Queen Berry, a mysterious ghost ship, really gets to him.
Of course, his brainy friend Victorique is much more intrigued by true stories, and she uses her unrivaled logic to solve mysteries even the town's famous detective can't. Ironically, it is Victorique's inquisitive nature that leads the duo to board a ship that matches the Queen Berry's description to a tee, a ship that might just hold the key to solving a sinister mystery…
In Victorian-era Europe, a young boy loses everything he once held near and dear to a vicious plot. In his moment of death, he strikes a deal with a demon: his soul, in exchange for revenge. Ciel Phantomhive is now the head of the Phantomhive corporation, handling all business affairs as well as the underground work for the Queen of England. His new partner is a demon butler, Sebastian Michaelis, whose prowess as a butler is only surpassed by his strength as a demon.
The story follows the two along with their other servants, as they work to unravel the plot behind Ciel's parents' murder, and the horrendous tragedies that befell Ciel in the month directly after.
In 1972, a popular student in Yomiyama North Middle School's class 3-3 named Misaki passed away during the school year. Since then, the town of Yomiyama has been shrouded by a fearful atmosphere, from the dark secrets hidden deep within.
Twenty-six years later, fifteen-year-old Koichi Sakakibara transfers into class 3-3 of Yomiyama North and soon after discovers that a strange, gloomy mood seems to hang over all the students. He also finds himself drawn to the mysterious, eyepatch-wearing student Mei Misaki; however, the rest of the class and the teachers seem to treat her like she doesn't exist. Paying no heed to warnings from everyone including Mei herself, Koichi begins to get closer not only to her, but also to the truth behind the gruesome phenomenon plaguing class 3-3 of Yomiyama North.
References: ANN, MyAnimeList, Wiki