7 Anime Like RIN-NE [Kyoukai no Rinne]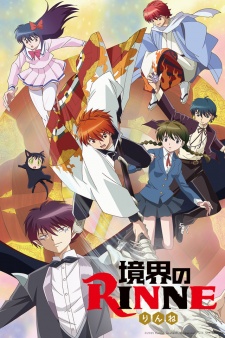 Here are my top picks for anime like RIN-NE. Keep in mind the list is in no particular order. Enjoy the recommendations!
The world consists of two parts: the near shore and far shore. The near shore is the place where people reside, while the far shore is the place for deities and ayakashi, which are emotional fragments that can posses humans and cause trouble. So it is a deity's responsibility to remove those ayakashi from the near shore with the help of weapons called Shinki, made from the spirits of dead people.
Yato is a minor deity of war without shrine. Together with his Shinki, Tomone, he runs a Delivery Wish Granting Service, granting wishes for only 5 yen. After his Shinki leaves him on less than agreeable terms, he decides to run simple errands that do not involve ayakashi-related matters. While on a mission to find a lost kitten, he is nearly hit by a bus, but saved by a girl named Iki Hiyori. Hiyori dies for a moment, but then comes back to life. This, however, causes Hiyori's soul to become unstable, leaving her body frequently. So by offering 5 yen, she asks Yato to fix her body… but Yato cannot help without a Shinki, so Hiyori accompanies him on his journey to find one, in the hopes of becoming normal again. But behind Yato's kind-hearted face lies a twisted past… (Source: AniDB)
Based on the Shogakukan award-winning manga of the same name, InuYasha follows Kagome Higurashi, a fifteen-year-old girl whose normal life ends when a demon drags her into a cursed well on the grounds of her family's Shinto shrine. Instead of hitting the bottom of the well, Kagome ends up 500 years in the past during Japan's violent Sengoku period with the demon's true target, a wish-granting jewel called the Shikon Jewel, reborn inside of her.
After a battle with a revived demon accidentally causes the sacred jewel to shatter, Kagome enlists the help of a young hybrid dog-demon/human named Inuyasha to help her collect the shards and prevent them from falling into the wrong hands. Joining Kagome and Inuyasha on their quest are the orphan fox-demon Shippo, the intelligent monk Miroku, and the lethal demon slayer Sango. Together, they must set aside their differences and work together to find the power granting shards spread across feudal Japan and deal with the threats that arise.
Hibiki Amami, a high school student, is a girl that can sense ghosts. Lots of ghosts are always around her as she treats ghosts and humans equally. Just by Hibiki being there, a boring school suddenly turns into a haunted mansion. But, humans aren't taking a loss there. The friends around Hibiki are all so amusing with a quirk or two. Surrounded by people and ghosts like that, sometimes she runs around in confusion, but for Hibiki everything is cherished and irreplaceable.
The world has become a slaughtering ground for the Crimson Denizens, mysterious beings from a parallel universe who thrive on the life energy of humans. These merciless murderers only leave behind scant remainders of souls called "Torches," which are mere residues that will eventually be destroyed, along with the very fact of the victims' existence from the minds of the living. In an ambitious endeavor to put an end to this invisible, hungry massacre, warriors called Flame Hazes relentlessly fight these monsters.
One fateful day, Yuuji Sakai ceases to be a regular high schooler—he becomes trapped in a crevice of time and is suddenly attacked by a Denizen. Coming to his rescue just in the nick of time is a nameless hunter who seems no different from an ordinary young girl except for her blazing eyes and burning crimson hair. However, before Yuuji can learn anything more about his situation, he discovers that he has already been reduced to a Torch—merely a scrap of memory waiting to be extinguished.
Saotome Ranma, a teenage martial artist, and his father Genma travel to the 'cursed training ground' of Jusenkyo in China. There, despite the warnings of the Chinese guard, they fall into the cursed springs. From now on, whenever Ranma is doused in cold water, he turns in to a girl, and a cute, well-built red-head at that. Hot water changes him back into a man again, but only until the next time. To make matters worse, his father engages him to Tendo Akane, a girl who hates boys.
Rikuo Nura appears to be an average middle school student. No one knows that he comes home every day to a house full of youkai, nor that he transforms into the all-powerful leader of these spirits at night. However, much to the disappointment of many, Rikuo is determined to live as normal a life as possible.
Set in the Shinigami technical school for weapon meisters. The series revolves around 3 groups, each consisting of a weapon meister and a human weapon. Trying to make the latter a "Death Scythe," which is the highest title for a weapon and thus fit for use by the Shinigami, they must collect the souls of 99 evil humans and 1 witch.
Soul Eater revolves around Maka & Soul Eater, Black Star & Tsubaki, and Death the Kid with Patty and Liz Thompson. Besides taking the time to gather souls, these students of Shibusen defend Death City from some of the most powerful of creatures while still attending school and trying to become stronger.
References: Wiki, ANN, MyAnimeList