8 Anime Like Rosario Vampire [Recommendations]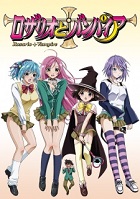 Here are my favorite picks for anime like Rosario + Vampire. Keep in mind the list is in no particular order. Enjoy!
The story is about Yuuki Rito, a high-school boy who cannot confess to the girl of his dreams, Sairenji Haruna. One day when coming home and sulking in the bath-tub a mysterious, nude girl, appears out of nowhere. Her name is Lala and she comes from the planet Deviluke, where she is the heir to the throne. Her father wants her to return to her home planet so she can marry one of the husband candidates, but she decides that she wants to marry Rito in order to stay on Earth.
In the 21st century, a family of vampires settled down on the grounds of Japan and lived a modest life whilst sucking on the blood of humans discreetly. However, the eldest daughter of the family, Karin Maaka, has an embarassing secret which cannot be revealed to anyone. Even though she is a vampire, she does not lack blood like her family members. Instead, she overproduces blood to the extent that she transfuses the excess into her victims, hence increasing their blood levels. Despite her troubling body characteristic, she attends school like any other high school student, that is until a new transfer student, Kenta Usui, enters her life.
Fortune Arterial
After a childhood full of school transfers, Hasekura Kouhei's parents finally send him to a traditionally-Christian boarding school so he won't have to move with them. Finally free to have the calm and uninterrupted school life he's always wanted, he instead find himself busy with a swarm of idiosyncratic friends.
Minato Sahashi is extremely intelligent, yet due to his inability to cope under pressure has failed the college entrance exam twice. As a result he has been branded an idiot and loser by many. One day after talking to his yet again disappointed mother he comes into contact with a girl named Musubi who was under attack.
The girl runs but takes him with her and soon finds that Minato, while unknown to him, is an Ashikabi, one of the mysterious set of masters that have the genetic trait that can become partners with some of the 108 cute girls, buxom women, and bishōnen called "Sekirei". The reason for the partnership allows the Sekirei to use all their power to win in the competition held by the mysterious MBI corporation.
The slapstick romantic comedy centers around an ordinary 16-year-old high school boy named Yūto Amakawa who is protected by a spirit—specifically, a beautiful, sword-wielding cat girl spirit named Himari. Yūto is descended from a family that has subjugated demons since time immemorial. The charm that once protected him is now impotent, but fortunately, at that same moment, Himari appears before him as his new guardian.
The story of "love, magic, and battles" revolves around Akuto Sai, a boy who aims to become part of his country's highest order of magicians and contribute to society. On the day he is admitted into the Constant Magical Academy, his aptitude test predicts the following: "Future Occupation … Devil King." Thus begins his difficult school life in which he is resented by his studious female class head, desired by a girl with mysterious powers, and guarded by a beautiful female android.
Meet Louise, a budding magician. The students at the Tristein Academy call her "Zero Louise", due to her current record of zero successes with magic. In fact, her magic tends to go spectacularly wrong. Now, as an important test of her aptitude for magic, she must summon a familiar to be her servant. At this critical moment, she summons up all her magic and wishes for a familiar that is "devoted, beautiful and powerful", and gets… Hiraga Saito, an ordinary Japanese boy. It's difficult to say who is more surprised and dismayed, but the rules don't allow for second attempts. Louise is stuck with her strange familiar, and he with her.
Three years ago, the world learned that harpies, centaurs, catgirls, and all manners of fabulous creatures are not merely fiction; they are flesh and blood – not to mention scale, feather, horn, and fang. Thanks to the "Cultural Exchange Between Species Act," these once-mythical creatures have assimilated into society, or at least, they're trying. When a hapless human teenager named Kurusu Kimihito is inducted as a "volunteer" into the government exchange program, his world is turned upside down. A snake-like lamia named Miia comes to live with him, and it is Kurusu's job to take care of her and make sure she integrates into his everyday life
References: MyAnimeList, ANN, Wiki