8 Anime Like Sabagebu! -Survival Game Club!- [Recommendations]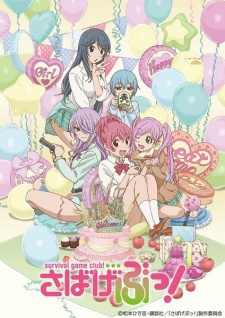 Here are my top picks for anime like Sabagebu! -Survival Game Club!-. Keep in mind the list is in no particular order. Enjoy the recommendations!
Yura Yamato has just arrived at the high school division of Stella Women's Academy, when Sonora Kashima invites her to join a club called "C³". Sonora is the third-year student who became the new head of this club for military survival games. The other members include two second-year students (part-Japanese Karila Hatsuse and G36K-wielding Honoka Mutsu) and two other new students (Rento Kirishima whose family runs a Japanese sweets shop and the really short Yachiyo Hinata).
At the expense of the people and things around her, Sakura has absorbed so much "happiness energy" that she has caused an energy imbalance in the world. In order to return balance to the world, the Poverty God, Momiji, sets out to take away Sakura's ability to absorb this energy. Will Momiji be able to put a stop to Sakura's absorbing abilities, or will the God succumb to her happiness?  (Source: FUNimation)
Kazama Kenji likes to believe he is something of a delinquent. Moreover, others seem to like to agree that he is. Of course, Kenji's gang finds their way to a group of four not-so-normal girls—Chitose, Sakura, Minami and Roka—and all at once, whatever reputation he may have is nothing compared to the outrageous behavior of the girls. Shanghaied into joining their club, what will happen to his everyday life from that point on? (Source: MU)
The story follows high school student Hotaru Tachibana, a girl disguised as a boy. Through strange circumstances she finds herself drawn into the world of survival games by a host, Masamune Matsuoka. The two form a team with ero-manga artist Tooru Yukimura and aim to be the best in Japan.
The story takes place during a conflict between the Krakozhia Dukedom and the Grania Republic. In the midst of the fighting, a savior appears to the Krakozhia Dukedom, and it is a high school student named Yano Souhei. Two female soldiers, First Lieutenant Ruto and Second Lieutenant Haruka, appear in tanks to intrude on Souhei's everyday life, followed by the enemy soldier Shachirofu, all of whom use firearms without hesitation at his house.
While the title suggests a story of simple, everyday school life, the contents are more the opposite. The setting is a strange school where you may see the principal wrestle a deer or a robot's arm hide a rollcake. However there are still normal stories, like making a card castle or taking a test you didn't study for.
Mukoujima Takurou is a lonely teenager who spends his time fishing at the pier and, to his incredible surprise, fishes up Muromi, a mermaid. Muromi first off doesn't realize she's a mermaid until she meets Takurou. Not only that, she is incredibly dense and crazy and has a drinking problem to top it off. Now every time Takurou goes fishing, Muromi appears and makes life interesting for him.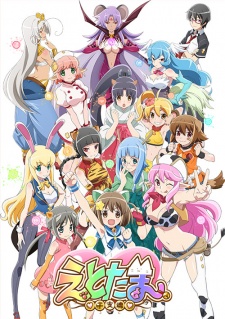 The anime's story revolves around Nyaa-tan, the cat of Chinese astrology who wants to become a member of the Chinese zodiac. Nyaa-tan is simple and suffers from memory loss, and she tries various foolish ways to become a member. She meets Takeru Amato, a high school student who lives alone in Akihabara, and becomes a freeloader at his house. Little by little, she gets closer to her goal.
References: ANN, MyAnimeList, Wiki