6 Anime Like Saekano: How to Raise a Boring Girlfriend [Recommendations]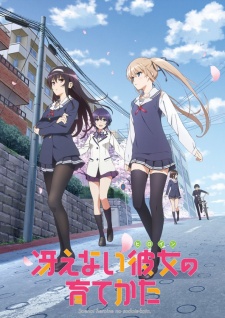 Here are my favorite picks for anime like Saekano: How to Raise a Boring Girlfriend [Saenai Heroine no Sodatekata]. Keep in mind the list is in no particular order. Enjoy the recommendations!
Keima Katsuragi, known online as the legendary "God of Conquest," can conquer any girl's heart—in dating sim games, at least. In reality, he opts for the two-dimensional world of gaming over real life because he is an unhealthily obsessed otaku of galge games (a type of Japanese video game centered on interactions with attractive girls).
When he arrogantly accepts an anonymous offer to prove his supremacy at dating sim games, Keima is misled into aiding a naïve and impish demon from hell named Elucia "Elsie" de Lute Ima with her mission: retrieving runaway evil spirits who have escaped from hell and scattered themselves throughout the human world. Keima discovers that the only way to capture these spirits is to conquer what he hates the most: the unpredictable hearts of three-dimensional girls! Shackled to Elsie via a deadly collar, Keima now has his title of "God of Conquest" put to the ultimate test as he is forced to navigate through the hearts of a multitude of real-life girls. [Written by MAL Rewrite]
Half a year ago, the four members of a literature club, as well as the elementary school niece of their faculty adviser, were bestowed with supernatural powers. The boy in the club, Ando Jurai, became able to produce black flames. The girls acquired a variety of powerful abilities: Tomoyo could slow, speed, or stop time, Hatoko could control the five elements (earth, water, fire, wind, light), little Chifuyu could create things, and Sayumi could repair objects or heal living things. However, since they gained these powers, nothing has really changed in their everyday life. Why have they been given these powers in the first place? Will the heroic fantasy life they imagined these powers would bring ever actually arrive? (Source: MangaHelpers)
Hachiman Hikigaya is an apathetic high school student with narcissistic and semi-nihilistic tendencies. He firmly believes that joyful youth is nothing but a farce, and everyone who says otherwise is just lying to themselves.
In a novel punishment for writing an essay mocking modern social relationships, Hachiman's teacher forces him to join the Volunteer Service Club, a club that aims to extend a helping hand to any student who seeks their support in achieving their goals. With the only other club member being the beautiful ice queen Yukino Yukinoshita, Hachiman finds himself on the front line of other people's problems—a place he never dreamed he would be. As Hachiman and Yukino use their wits to solve many students' problems, will Hachiman's rotten view of society prove to be a hindrance or a tool he can use to his advantage? [Written by MAL Rewrite]
When abandoned kittens and his good conscience force second year Sorata Kanda to move into Suimei High School's infamous Sakura Hall, the satellite dorm and its eccentric, misfit residents turn his life upside down. The decidedly average Sorata finds it difficult to fit in with the bizarre collection of dorm residents like Misaki, an energetic animator; Jin, a playwright playboy; Ryuunosuke, a reclusive programmer; and Chihiro, the dorm manager, art teacher, and party girl.
Sorata's friend Nanami, a second year student and aspiring voice actress, pushes him to find new owners for the many cats so that he can quickly move back into the regular dorms. However, his desire to escape Sakura Hall wavers when the pet-like and infantile second year Mashiro Shiina, a world-class artistic savant looking to become a mangaka, transfers in during the spring trimester and quickly latches onto him. [Written by MAL Rewrite]
Raku Ichijou, a first-year student at Bonyari High School, is the sole heir to an intimidating yakuza family. Ten years ago, Raku promised his childhood friend that they would get married when they reunite as teenagers. To seal the deal, the girl had given Raku a closed locket, the key to which she took with her when she left him.
Now, years later, Raku has grown into a typical teenager, and all he wants is to remain as uninvolved in his yakuza background as possible while spending his school days alongside his middle school crush Kosaki Onodera. However, when the American Bee Hive Gang invades his family's turf, Raku's idyllic romantic dreams are sent for a toss as he is dragged into a frustrating conflict: Raku is to pretend that he is in a romantic relationship with Chitoge Kirisaki, the beautiful daughter of the Bee Hive's chief, so as to reduce the friction between the two groups. Unfortunately, reality could not be farther from this whopping lie—Raku and Chitoge fall in hate at first sight, as the girl is convinced he is a pathetic pushover, and in Raku's eyes, Chitoge is about as attractive as a savage gorilla. [Written by MAL Rewrite]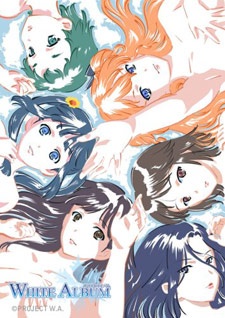 Fujii Touya, a college student, is dating a rising idol singer named Morikawa Yuki. There are numerous challenges to the couple's relationship from the other people at Fujii's college, Morikawa's work, and elsewhere.
References: MyAnimeList, ANN, Wiki