8 Anime Like Samurai Flamenco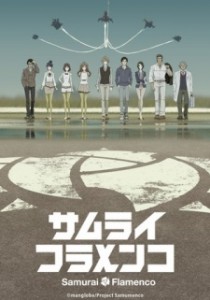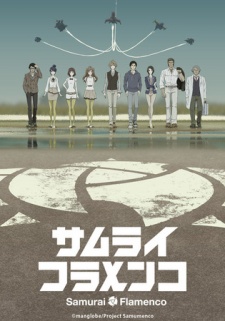 Here are my favorite picks for anime like Samurai Flamenco. Keep in my the list is in no particular order. Enjoy the recommendations!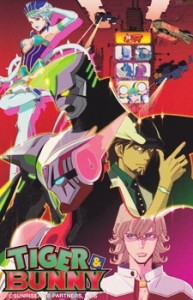 Sternbild City is home to people called "Next," who use their special abilities to protect the people as superheroes. These heroes solve cases and save lives so they can wear sponsor logos or acquire "hero points." Their activities are documented on the popular program "Hero TV," which picks the "King of Heroes" in a yearly ranking. The veteran hero Wild Tiger has always preferred to work alone, but now he's been assigned the rookie Barnaby Brooks Jr., who has a different perspective on being a superhero. (Source: ANN)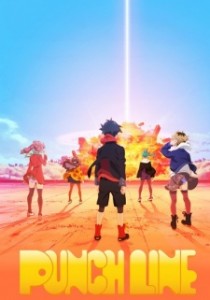 If he sees underwear, humanity will be destroyed!? An original anime series from the noitaminA block, Punch Line centers on Yuuta Iridatsu, a high school student, with a peculiar habit. When he sees a girl's panties, he gets so excited he faints! After a certain incident with a ghost cat, his soul gets separated from his body. Using his special powers, Yuuta watches the daily lives of the inhabitants of an apartment and sometimes plays tricks on them. Eventually, Yuuta decides to unlock the secrets to why Earth will be destroyed and tries to save it! (Source: Crunchyroll)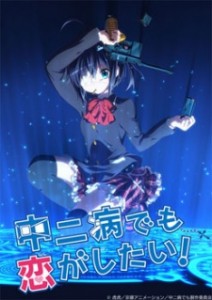 Yuuta Togashi suffered from chuunibyou while he was in middle school. When he graduated, he put that dark history behind him and forgot about it… or he was supposed to. High school was smooth sailing and full of enjoyment—until the unavoidable, sad event occurs. The event that locks Yuuta into a contract with Rikka Takanashi and disrupts his desperately ordinary life. (Source: adapted from the back of the first novel)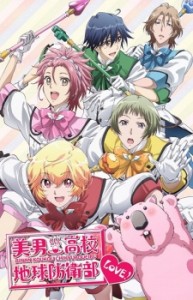 This is the tale of five unlikely heroes who unite under the name of the "Earth Defense Club" alongside a pink wombat-like alien to defend their world and restore love to all; however, does a sinister organization lurk behind the scenes of Binan High school?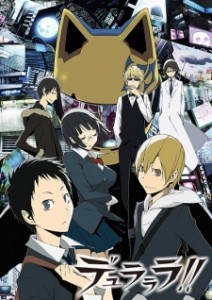 In Tokyo's downtown district of Ikebukuro, amidst many strange rumors and warnings of anonymous gangs and dangerous occupants, one urban legend stands out above the rest—the existence of a headless "Black Rider" who is said to be seen driving a jet-black motorcycle through the city streets.
Mikado Ryuugamine has always longed for the excitement of the city life, and an invitation from a childhood friend convinces him to move to Tokyo. Witnessing the Black Rider on his first day in the city, his wishes already seem to have been granted. But as supernatural events begin to occur, ordinary citizens like himself, along with Ikebukuro's most colorful inhabitants, are mixed up in the commotion breaking out in their city. [Written by MAL Rewrite]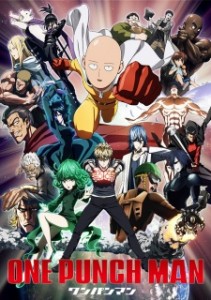 The seemingly ordinary and unimpressive Saitama has a rather unique hobby: being a hero. In order to pursue his childhood dream, he trained relentlessly for three years—and lost all of his hair in the process. Now, Saitama is incredibly powerful, so much so that no enemy is able to defeat him in battle. In fact, all it takes to defeat evildoers with just one punch has led to an unexpected problem—he is no longer able to enjoy the thrill of battling and has become quite bored.
This all changes with the arrival of Genos, a 19-year-old cyborg, who wishes to be Saitama's disciple after seeing what he is capable of. Genos proposes that the two join the Hero Association in order to become certified heroes that will be recognized for their positive contributions to society, and Saitama, shocked that no one knows who he is, quickly agrees. And thus begins the story of One Punch Man, an action-comedy that follows an eccentric individual who longs to fight strong enemies that can hopefully give him the excitement he once felt and just maybe, he'll become popular in the process. [Written by MAL Rewrite]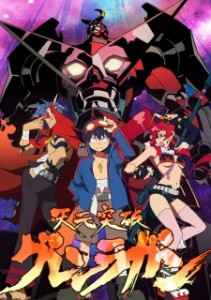 In a faraway future, mankind lives underground in huge caves, unknowing of a world above with a sky and stars.
In the small village of Jiha, Simon, a shy boy who works as a digger discovers a strange glowing object during excavation. The enterprising Kamina, a young man with a pair of rakish sunglasses and the passion of a fiery sun, befriends Simon and forms a small band of brothers, the Gurren Brigade, to escape the village and break through the ceiling of the cave to reach the surface, which few believe exist.
The village elder won't hear of such foolishness and punishes the Brigade. However, when disaster strikes from the world above and the entire village is in jeopardy, it's up to Simon, Kamina, a girl with a big gun named Yoko, and the small yet sturdy robot, Lagann, to save the day.
The new friends journey to the world above and find that the surface is a harsh battlefield, and it's up to them to fight back against the rampaging Beastmen to turn the tide in the humans' favor! Pierce the heavens, Gurren Lagann!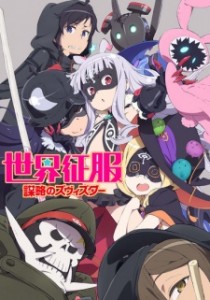 What does it take to conquer the world?! Every leader of the past has thought of it… but all they have done was to merely dream of its greatness. World domination… nobody has been able to achieve it. Until one little girl by the name of Kate Hoshimiya came along. Kate Hoshimiya will shock the world! How was she able to carry out such a magnificent stunt? So frightful! So glorious! Could this be… the Zvezda Plot?! Let the light of our great Zvezda shine upon this land far and wide! (Source: Aniplex USA)
References: MyAnimeList, Wiki, ANN