7 Anime Like School Live! [Gakkougurashi!]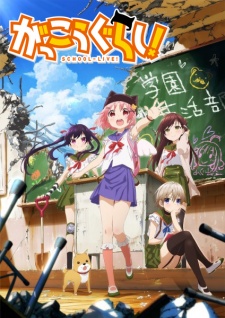 Here are my top picks for anime like School Live!. Keep in mind the list is in no particular order. Enjoy!
After experiencing a bizarre dream, Madoka Kaname, a kind 14-year-old girl, encounters a magical creature named Kyube. Madoka and her friend Sayaka Miki are offered the opportunity of gaining magical powers if they agree to make a contract with the strange little being. He will also grant them one wish, but in exchange they shall risk their lives by accepting the responsibility of fighting witches.
Invisible to human eyes, witches are catalysts of despair in the areas they inhabit. An ally of Kyube, a magical girl named Mami Tomoe, befriends and encourages the two girls to accept the contract. For an unknown reason, another magical girl named Homura Akemi is determined to prevent Madoka from accepting the deal.
On one hot summer day in 1983, a transfer student named Maebara Keiichi comes to a peaceful rural village in Hinamizawa. There, he befriends his classmates Rena, Mion, Rika, and Satoko. Accepted as a full-fledged member of the "club," Keiichi and the gang plays all sorts of activities ranging from card and board games to hide-and-seek. But just as Keiichi was beginning to be assimilated in simple rural life, he stumbles upon the dark history of Hinamizawa. As Keiichi dives deeper into the mystery, he finds that his new found friends may not be all what they claim to be.
Takashi Komuro is a normal high school boy, until an infection breaks out that turns people into zombie-like creatures. Along with his friends & the school nurse, they fight their way out and continue their journey to find out what exactly has happened to the world.
One rainy night after a school festival, a group of students from Kisaragi Academy decide to perform the "Sachiko Ever After" charm, which will unite them forever as friends. Once the ritual is done, a sudden earthquake transports them to Heavenly Host, a torn down elementary school. Unbeknownst to Satoshi and his friends, however, is the horrific past behind it which culminated in its demolition. As they look for each other and try to escape from Heavenly Host, they soon find out their lives are at the mercy of those affected by that same bloodied past.
At the Private Seikyō Academy, there is a legend that all students have heard. Sixty years ago, there was a girl who for some reason, was left behind in the old, abandoned school building to die. Teiichi Niiya one day meets a beautiful, mysterious girl named Yūko Kanoe at the old school building and gets a surprise—she's the ghost of the girl who died 60 years ago, but does not remember her past or how she died. Teiichi becomes determined to help her remember, and together, they seek the truth behind the gruesome legend.
In a world after death, angels fight for their fate and their future. Yuri, the leader of the Shinda Sekai Sensen, rebels against the god who destined her to have an unreasonable life. On the otherhand, Tenshi, the chairperson of the student council for the world after death, battles against the SSS members. SSS members utilize armed weaponry to battle it out against the angels harnessing supernatural powers.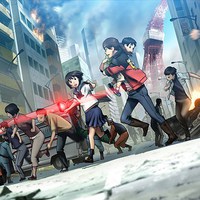 There is an estimated 70% or higher possibility that a magnitude 7.0 earthquake will occur in Tokyo in the next 30 years. In 2012, Mirai, a middle school freshman girl, goes to Tokyo's artificial Odaiba Island for a robot exhibition with her brother Yuuki at the start of summer vacation. A powerful tremor registering 8.0 on the JMA scale emanates from an ocean trench, the famed Tokyo Tower and Rainbow Bridge crumble and fall, and the landscape of Tokyo changes in seconds. With the help of a motorcycle delivery woman named Mari who they meet on Odaiba, Mirai and Yuuki strive to head back to their Setagaya home in western Tokyo.
References: MyAnimeList, Wiki, ANN