7 Anime Like World Break: Aria of Curse for a Holy Swordsman [Recommendations]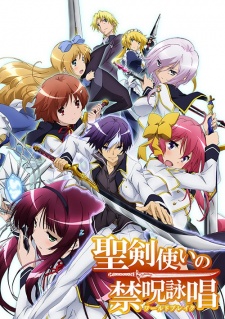 Here are my favorite picks for anime like World Break: Aria of Curse for a Holy Swordsman [Seiken Tsukai no World Break]. Keep in mind the list is in no particular order. Enjoy the recommendations!
Twenty-five years ago, the world suddenly changed when monsters called "Dragons" appeared; seeking to ravage the earth and find mates. Over time, superhuman girls possessing the powers of the dragons, called "D girls" were born. Yuu Mononobe is the only male "D" in existence and is forced to enroll at Midgar – an academy for D girls. At the academy, he accidentally runs into Iris, a delinquent D girl, and even reunites with this long lost sister, Mitsuki. Will Iris and Yuu be able to challenge the seven dragons that threaten to destroy the world?  (Source: Crunchyroll)
The Academy City on the water, Rikka (otherwise known as Asterisk) is the world's largest stage for the integrated battle entertainment, "Star Wars Festival." The young boys and girls of the "Starpulse Generation" belonging to the six academies made their wishes with Shining Armaments in their hands, vying for supremacy—Amagiri Ayato is one of them.
Ayato arrived at Rikka at the invitation of the Student Council President of the Seidoukan Academy, Claudia, and right after that he incurred the wrath of the "Petalblaze Witch" Julis, and ended up having to duel her. The greatest academy battle entertainment, begins here!(Source: jCafe24)
Bonus Read: 7 Reasons to Watch Gakusen Toshi Asterisk
Hero defeats bad guy. Good triumphs over evil. The end. Or, at least that's how it usually goes. But what happens after the hero goes home? Our hero, Akatsuki Ousawa, is about to find out that sometimes the greatest adventure starts once happily ever after ends. (Source: FUNimation)
Magic—A century has passed since this concept has been recognized as a formal technology instead of the product of the occult or folklore.
The season is spring and it is time for a brand new school year.
At the National Magic University First Affiliate High School, a.k.a. Magic High School, students are divided into two distinct groups according to their academic performances. The "Bloom," who demonstrate the highest grades and are enrolled in the "First Course," and the "Weed," who have a poor academic record and are enrolled in the "Second Course."
This spring, a very peculiar brother and sister enroll as new students. The brother is an under achiever with some deficiencies and enrolls as a "Weed," while his younger sister is an honor student, who enrolls as a "Bloom." The brother, with a somewhat philosophical expression, and the younger sister who holds feelings a little stronger than sibling love for him… Ever since these two have entered through the gates of this prestigious school, the calm campus was beginning to change…(Source: Aniplex USA)
Some people suddenly find religion, but for 16-year-old Kusanagi Godou, it's that REALLY old time religion that's found him! As the result of defeating the God of War in mortal combat, Godou's stuck with the unwanted position of Campione!, or God Slayer, whose duty is to fight Heretical Gods whenever they try to muscle in on the local turf. Not only is this likely to make Godou roadkill on the Highway to Heaven, it's also a job that comes with a lot of other problems. Like how to deal with the fact that his "enhanced status" is attracting a bevy of overly-worshippy female followers. After all, they're just there to aid him in his demi-godly duties, right? So why is it that their leader, the demonically manipulative sword-mistress Erica Blandelli, seems to have such a devilish interest in encouraging some VERY unorthodox activities? Get ready for immortal affairs, heavenly harems and lots of dueling deities taking pious in the face as the ultimate smash, bash and thrash of the Titans rocks both Heaven and Earth. (Source: Sentai Filmworks)
Only a pure maiden can have the privilege to contract with a spirit. In here, Areishia Spirit Academy, trained maidens of noble families are gathered and given an elite's education to become spirit contractors. A boy, Kamito, peeped by accident at a girl, Claire, while she was taking a bath and he ended up making a contract with the spirit she wanted. Yes, Kamito is an irregular boy spirit contractor whose existence was thought impossible until now. "You stole…my spirit…you have to take responsibility for it!" "Huh?" "You have to become my contracted spirit!" What will Kamito's destiny lead to? (Source: Baka-Tsuki)
After a traumatic accident takes his loved one, Tooru Kokonoe enrolls Kouryou Academy, a school where every student has a weapon that is their soul manifestation. Fueled by his desire for revenge, Tooru is dismayed to discover his soul is not a weapon… but a shield. (Source: FUNimation)
References: Wiki, MyAnimeList, ANN