7 Anime Like Rage of Bahamut: Genesis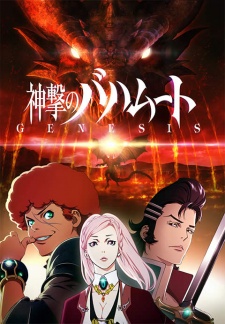 Here are my favorite picks for anime like Rage of Bahamut: Genesis. Keep in mind the list is in no particular order. Enjoy!
Mugen's a buck wild warrior—violent, thoughtless and womanizing. Jin is a vagrant ronin—mysterious, traditional, well-mannered, and very strong as well. These two fiercely independent warriors can't be any more different from one another, yet their paths cross when Fuu, a ditzy waitress, saves them from being executed when they are arrested after a violent swordfight. Fuu convinces the two vagrant young men to help her find a mysterious samurai "who smells of sunflowers." And their journey begins. This is a story about love, friendship, and courage… NOT!
Toru Acura is a 20-year-old retired soldier meandering through life post-war. He encounters Chaika Trabant, a 14-year-old sorceress carrying a coffin, and follows her in hopes of finding some semblance of meaning in his life again. The two are accompanied by Toru's adopted sister Akari, the sole employed member of the group and thereby their source of sustenance.
When the Demon God awakes from the depths of darkness, the Goddess of Fate selects six heroes and bequeaths them with the power to save the world. Adlet, a boy who proclaims himself the strongest man in the world, has been selected among "The Heroes of the Six Flowers." However, as the heroes gather, they soon begin to suspect that someone amongst them is an imposter, as this time, there are seven of them.
The story of the anime begins when the king's adviser launches a witch hunt, which endangers the Makai Knights and Makai Priests, who are supposed to protect people. A Makai Priest who has been condemned to die at the stake gives birth to a child, Leon Lewis. The child is rescued by his father, a Makai Knight, but never meets his mother. When he grows up he inherits the Gold Armor as a descendant of the Gold Knights. Meanwhile the king's adviser has taken over the country as the king has become ill, and Prince Alfonso has been driven out with his mother. He comes seeking the legendary Gold Knight in hopes of retaking his kingdom.
Holo is a powerful wolf deity who is celebrated and revered in the small town of Pasloe for blessing the annual harvest. Yet as years go by and the villagers become more self-sufficient, Holo, who stylizes herself as the "Wise Wolf of Yoitsu," has been reduced to a mere folk tale. When a traveling merchant named Kraft Lawrence stops at Pasloe, Holo offers to become his business partner if he eventually takes her to her northern home of Yoitsu.
The savvy trader recognizes Holo's unusual ability to evaluate a person's character and accepts her proposition. Now in the possession of both sharp business skills and a charismatic negotiator, Lawrence inches closer to his goal of opening his own shop. However, as Lawrence travels the countryside with Holo in search of economic opportunities, he begins to realize that his aspirations are slowly morphing into something unexpected.   [Written by MAL Rewrite]
The story takes place in a time when the world is in the pits of despair after being ravaged by a poison called "shinobi" that came to earth via an asteroid. The people run away to the place called "Kairiku," a place that used to be the bottom of the ocean. Here, the people try and protect themselves against the effects of the poison. In such a world, there was a single light of hope. The "Holy Weapon Giga Road" and the legendary warrior "Yagyuu" are needed in order to counter the effects of the poison. In order to save the world, Ame, a princess of a fallen nation, stands up in order to save the world.
Beginning its tale in 19th century England, young aristocrat Jonathan Joestar finds himself locked in bitter rivalry with Dio Brando, a low-born boy who Jonathan's father took under his wing after the death of Dio's father. Discontent with his station in life,
Dio's fathomless lust to reign over all eventually leads him to seek the supernatural powers of an ancient Aztec stone mask in the Joestar's possession—an artifact that will forever change the destiny of Dio and Jonathan for generations to come. Fifty years later, in 1938 New York City, Jonathan's grandson Joseph Joestar must take up his grandfather's mission and master the abilities necessary to destroy the stone mask and its immensely powerful creators who threaten humanity's very existence, the Pillar Men.
References: MyAnimeList, ANN, Wiki