6 Anime Like Shirobako [Recommendations]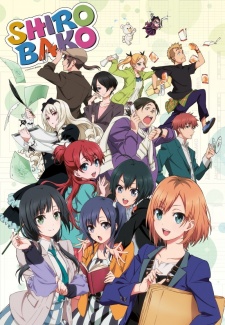 Here are my favorite picks for anime like Shirobako. Keep in mind the list is in no particular order. Enjoy the recommendations!
Moritaka Mashiro and Akito Takagi are pretty much foils of each other. Mashiro, an average 9th grade student but talented artist, and Takagi, an overall advanced 9th grader and aspiring writer. After great convincing, Takagi convinces Mashiro to join him in becoming the greatest mangakas Japan has ever seen. Takagi, with his gift of writing, hopes to become a successful mangaka, and Mashiro, with his gift of art, hopes to marry the girl of his dreams, Azuki Miho.
Based on the Doujinshi (self-published works) created by accomplished voice actress Masumi Asano and Hayate the Combat Butler creator Kenjiro Hata, Seiyu's Life! gives a true insider's view of the strange little things that happen in the industry.
Follow a rookie seiyu in her first steps into the world of professional voice acting! She might be unsure of herself, but Futaba Ichinose is ready to make it as a professional seiyu. She meets Ichigo Moesaki, an actress who won't stop until she's an idol seiyu who not only acts but also enchants audiences with singing and dancing performances. These two rookies are joined by Rin Kohana, who is already a seasoned professional who made her debut when she was 5, who has a middle school life while working as a professional seiyu. (Source: FUNimation)
After her single mother decides to run off with a boyfriend to dodge debt collectors, the young and energetic Ohana is sent to live with her grandmother. However, her grandmother is the strict owner of a hot springs inn and requires her to work at the inn to pay for her living expenses. Although Ohana is unhappy about this situation at first, she decides to make the best of her situation and work hard. Ohana's life is suddenly filled with fun, mischief, and drama!  [Written by MAL Rewrite]
Sasahara Kanji is a college freshman who decides to join a student society to share his hidden thoughts on manga, anime and gaming.
When he first visited Genshiken, short for "Gendai Shikaku Bunka Kenkyuu Kai" (Society for the Study of Modern Visual Culture), his groundless pride was destroyed by the plotting of Madarame, a sophomore student in Genshiken, but he still couldn't admit that he is an otaku.
However, as he participates in society activities such as visiting dojin (private publishing) shops and anime festivals, and hangs out with other society members Kosaka (a hardcore otaku despite his extreme eccentricities and good looks), Kosaka's girlfriend Kasukabe Saki (who isn't really an otaku), Ohno (a cosplayer) and the others, he opens his mind and resolves that he will make his way into the otaku world. With their help, Sasahara slowly adjusts to otaku life in Genshiken. (Source: AnimeNfo)
After being inspired by the fictional anime, "Luis Monde III", Mikiko "Kuromi" Oguro goes to animation school and and finally lands the job of her dreams at Studio Petit. Upon arriving, she meets the head of production. Unfortunately for her, he dies soon after meeting her and passes his position unto her. Now that she's head of production of "Time Journeys", it's up to her to rally up the lazy animator's and finish the second episode in a week.
Hirasawa Yui, a young, carefree girl entering high school, has her imagination instantly captured when she sees a poster advertising the "Light Music Club." Being the carefree girl that she is, she quickly signs up; however, Yui has a problem, she is unable to play an instrument.
When Yui goes to the clubroom to explain, she's greeted by the other members: Ritsu, Mio, and Tsumugi. Although disheartened at Yui's lack of musical know-how, they still try to convince her to stay to prevent the club's disbandment. After playing Yui a short piece which re-ignites her imagination, they succeed in keeping their new member and guitarist.
Along with the tasks of school and homework, Yui begins to learn the guitar with the help of the other band members, experiencing many mishaps along the way. However, with the school festival drawing near and Yui getting stuck with her practice, will the Light Music Club be ready in time for their debut? [Written by MAL Rewrite]
References: Wiki, MyAnimeList, ANN