9 Anime Like Space Brothers [Uchuu Kyoudai] [Recommendations]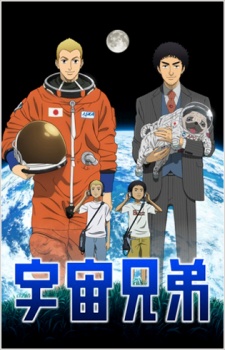 Here are my favorite picks for anime like Space Brothers. Keep in mind the list is in no particular order. Enjoy the recommendations!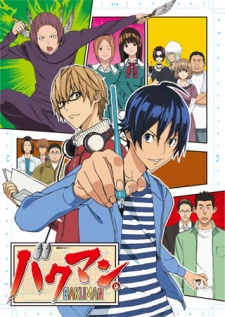 As a child, Moritaka Mashiro dreamt of becoming a mangaka, just like his childhood hero and uncle, Tarou Kawaguchi, creator of a popular gag manga. But when tragedy strikes, he gives up on his dream and spends his middle school days studying, aiming to become a salaryman instead.
One day, his classmate Akito Takagi, the school's top student and aspiring writer, notices the detailed drawings in Moritaka's notebook. Seeing the vast potential of his artistic talent, Akito approaches Moritaka, proposing that they become mangaka together. After much convincing, Moritaka realizes that if he is able to create a popular manga series, he may be able to get the girl he has a crush on, Miho Azuki, to take part in the anime adaptation as a voice actor. Thus the pair begins creating manga under the pen name Muto Ashirogi, hoping to become the greatest mangaka in Japan, the likes of which no one has ever seen. [Written by MAL Rewrite]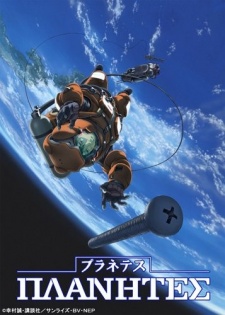 In 2075, space travel is no longer just a dream, but an everyday reality for mankind. Advancements in science and technology have led to the colonization of the moon, the commercialization of outer space, and the formation of large space corporations. Ai Tanabe, an upbeat woman whose interests lie in the cosmos, joins Technora Corporation as a member of their Debris Section, a department dedicated to the removal of dangerous space junk between the orbits of the Earth and Moon.
However, Ai soon discovers how unappreciated her job is. As the laughingstock of Technora, the Debris Section is severely understaffed, poorly funded, and is forced to use a dilapidated spaceship nicknamed the "Toy Box" for debris retrieval. Undeterred, Ai perseveres and gradually becomes acquainted with the strange personalities that make up the Debris Section's staff, such as the bumbling but good-natured chief clerk Philippe Myers; the mysterious and tight-lipped temp worker Edelgard Rivera; and the hotheaded and passionate Hachirota Hoshino, who longs for a spaceship to call his own. [Written by MAL Rewrite]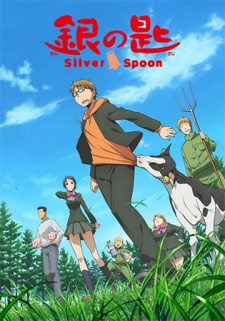 Yuugo Hachiken is studious, hard-working, and tired of trying to live up to expectations he just cannot meet. With the ushering in of a brand new school year, he decides to enrol in Ooezo Agricultural High School, a boarding school located in the Hokkaido countryside, as a means to escape from the stress brought upon by his parents.
Initially convinced that he would do well at this institution, Hachiken is quickly proven wrong by his talented classmates, individuals who have been living on farms their entire lives and know just about everything when it comes to food, vegetables, and even the physiology of livestock! Whether it be waking up at five in the morning for strenuous labor or to take care of farm animals, Hachiken is a complete amateur when it comes to the harsh agricultural life. [Written by MAL Rewrite]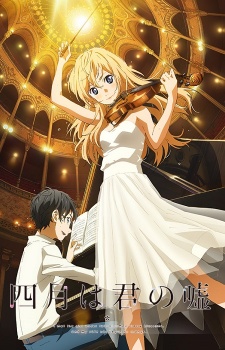 Music accompanies the path of the human metronome, the prodigious pianist Kousei Arima. But after the passing of his mother, Saki Arima, Kousei falls into a downward spiral, rendering him unable to hear the sound of his own piano.
Two years later, Kousei still avoids the piano, leaving behind his admirers and rivals, and lives a colorless life alongside his friends Tsubaki Sawabe and Ryouta Watari. However, everything changes when he meets a beautiful violinist, Kaori Miyazono, who stirs up his world and sets him on a journey to face music again.
Based on the manga series of the same name, Shigatsu wa Kimi no Uso approaches the story of Kousei's recovery as he discovers that music is more than playing each note perfectly, and a single melody can bring in the fresh spring air of April. [Written by MAL Rewrite]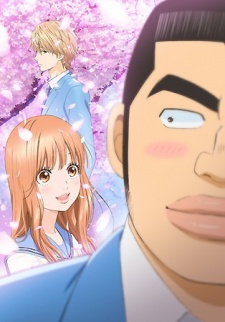 With his muscular build and tall stature, Takeo Gouda is not exactly your average high school freshman. However, behind his intimidating appearance hides a heart of gold, and he is considered a hero by the boys for his courage and chivalry. Unfortunately, these traits do not help much with his love life. As if his looks are not enough to scare the opposite sex away, Takeo's cool and handsome best friend and constant companion Makoto Sunakawa easily steals the hearts of the female students—including every girl Takeo has ever liked.
When Takeo gallantly saves cute and angelic Rinko Yamato from being molested, he falls in love with her instantly, but suspects that she might be interested in Sunakawa. With his own love for Yamato continuing to bloom, Takeo unselfishly decides to act as her cupid, even as he yearns for his own love story. [Written by MAL Rewrite]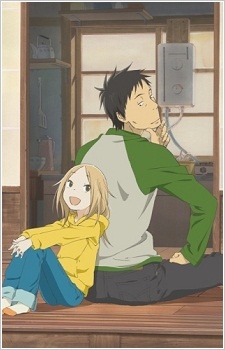 While attending his grandfather's funeral, thirty-year-old bachelor Daikichi is surprised to discover that his grandfather had an illegitimate child with an unknown mother! The rest of his family, fearing the obligation and embarrassment, want nothing to do with the silent little girl, Rin. Sensing her imminent abandonment and outraged by his complacent family members, Daikichi decides to adopt her himself! …yet he may have underestimated the difficulty of balancing his work, family, and love life with his role as her guardian. (Source: MyAnimeList)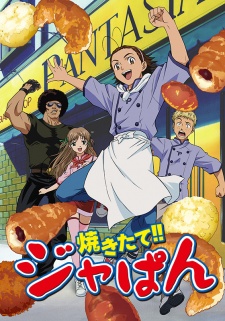 Yakitate means "fresh baked", but the word "Japan" is actually a pun – pan means bread in Japanese, so Kazuma is out to make Japan, a unique Japanese bread to compete with the best bread from around the world!
Azuma became obsessed with bread when he was six years old. His sister yelled that their family should start having bread for breakfast sometimes, but their grandfather refused to even consider it, as he would only eat natto, miso soup, and rice for breakfast. Kazuma agreed, saying he didn`t like bread, but his sister kidnaps him and takes him to a bread store to show him the wonders of fresh-baked bread. Not only is Kazuma converted, but the owner discovers that Kazuma has the magical "Hands of the Sun" whose warmth makes them particularly suited to making bread. The owner packs up shop and goes to Tokyo to fulfill his dream of making Japan, but Kazuma continues his bread-baking dream as well, and ends up going to Tokyo himself when he`s sixteen, to compete for a spot at the foremost bread store in Japan – Pantasia! (Source: MyAnimeList)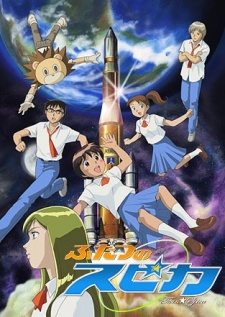 When Kamogawa Asumi was just a baby, her mother was grievously injured when a rocket crashed to the ground. Five years later, having been in a coma all the time, Asumi's mother finally dies, and the little girl struggles to come to terms with the death of a mother she barely remembers. In the midst of her turmoil, she meets "Lion-san," a strange figure wearing a lion mask and claiming to be a ghost. Lion-san helps Asumi to bury her mother's ashes, and finally, Asumi reaches her own decision: "When I grow up, I'm going to be a rocket pilot." (Source: ANN)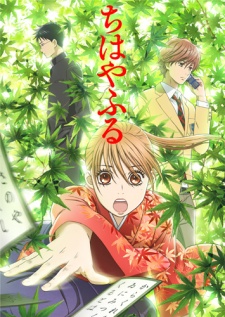 Chihaya Ayase, a strong-willed and tomboyish girl, grows up under the shadow of her older sister. With no dreams of her own, she is contented with her share in life till she meets Arata Wataya. The quiet transfer student in her elementary class introduces her to competitive karuta, a physically and mentally demanding card game inspired by the classic Japanese anthology of Hundred Poets. Captivated by Arata's passion for the game and inspired by the possibility of becoming the best in Japan, Chihaya quickly falls in love with the world of karuta. Along with the prodigy Arata and her haughty but hard-working friend Taichi Mashima, she joins the local Shiranami Society. The trio spends their idyllic childhood days playing together, until circumstances split them up.
Now in high school, Chihaya has grown into a karuta freak. She aims to establish the Municipal Mizusawa High Competitive Karuta Club, setting her sights on the national championship at Omi Jingu. Reunited with the now indifferent Taichi, Chihaya's dream of establishing a karuta team is only one step away from becoming true: she must bring together members with a passion for the game that matches her own. [Written by MAL Rewrite]
References: MyAnimeList, Wiki, ANN