7 Anime Like Rolling Girls [Recommendations]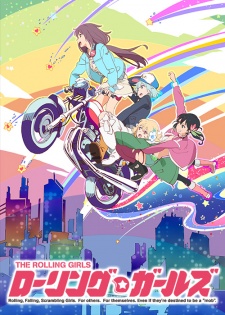 Here are my favorite picks for anime like Rolling Girls. Keep in mind the list is in no particular order. Enjoy the recommendations!
Ryuuko Matoi is a vagrant school girl traveling from place to place searching for clues to the truth behind her father's death—the "woman with the scissor blade." The journey has led Ryuuko to Honnouji Academy.
Honnouji Academy—where an elite group of students is granted superhuman power by their special uniforms called the "Goku uniform." With the power of the uniform, the student body president, Satsuki Kiryuin rules the students with unquestioned power and fear.
Satsuki holds the secret to the "scissor blade" and Ryuuko confronts Satsuki to gain information but… Was their encounter a mere coincidence or fate? The clash between the two will soon consume the whole academy! (Source: killlakill.com)
Metropolis of music, MIDICITY. A kitty girl wearing gothic lolita clothing named Cyan is scouted by Maple Arisugawa, the president of a music agency. From there, she meets Chuchu (a pun off of the sound that rabbits make) the honor student rabbit girl, a net geek dog girl named Retoree (from "Retriever"), and an alien sheep (?) girl named Moa. Together, they form the band named "Plasmagica," and aim for the top of the world.
However, the path there is long and tough, and keeping in high spirits is important. By battling against other strange bands, Plasmagica slowly grows toward a top-grade band. In the end, they'll be a band that becomes the driving force of MIDICITY's music industry… Maybe? Gonna be a music millionaire! (Source: Sanrio)
Naota is a normal Japanese 6th grade boy (although a little cynical), but when his older brother leaves for America to play baseball, his brother leaves his homeless 17-year-old girlfriend Mamimi behind. Mamimi is sending mixed signals and advances to Naota, and he doesn't know what to do about her. But to make matters worse, Naota's world is totally turned upside down when he is run over by a woman on a Vespa. During their first encounter, she hits him over the head with her bass guitar, which then causes a horn to grow out of his forehead. She calls herself "Haruko" and her presence changes Naota's life to even further insanity. (Source: ANN)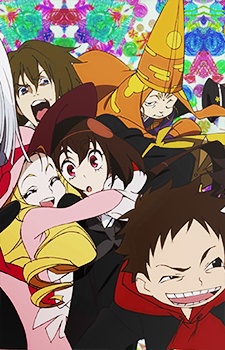 Hidden within Kyoto is the "mirror capital" where youkai and humans live together and no one ever dies. It is protected by three people—Kurama, Yase, and Myoue—as they await the return of their parents, Myoue Jonin and Koto. One day, a young girl named Koto (same name, different spelling) and her little brothers A and Un wander into the city from a different dimension looking for her mother. A mecha-geek with red eyes, it's not immediately clear whether she's human or youkai. Her arrival upsets the long peace that had ruled the city. (Source: ANN)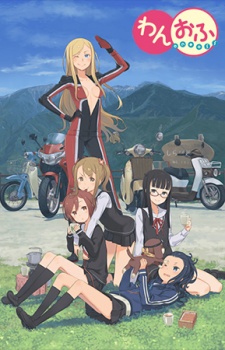 A slice of life of high school girls in the early summer. Shiozaki Haruno is a 17-year-old girl who loves her motor cycle, HONDA's Giorno. She lives in remote highlands and longs for a vivid life in a city. Encounters with people staying at Haruno's parents' boardinghouse encourage her to step forward to her dream.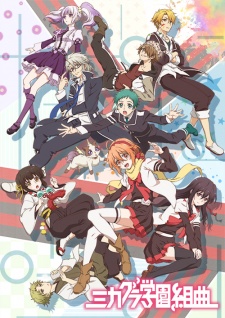 A story based on the super popular song series from NND. Eruna Ichinomiya, a freshman who dreamed of a school life filled with cuteness, entered a boarding school—Mikagura Private School. In this school, each of the cultural club representatives has to battle each other, with unique powers…!! What will happen to Eruna, who somehow ended up becoming the representative of a certain club?! (Source: Batoto)
It's been seven years since an unusual saucer mysteriously appeared in the sky above Kiriya Lake. With no one knowing what this strange object was or where it came from, concern and panic spread amongst the people. But as time went on this occurrence went from oddity to tourist attraction. Before long, the world lost interest entirely, and the saucer remained nearly forgotten in the sky. Now, former resident Nonoka Komiya returns to the small town after seven years in Tokyo. With only vague memories of her time in the town, the appearance of a spritely girl named Noel causes Nonoka to slowly remember wishes she and four of her friends made in an old observatory. (Source: Sentai Filmworks)
References: Wiki, MyAnimeList, ANN