7 Anime Like The Severing Crime Edge [Dansai Bunri no Crime Edge]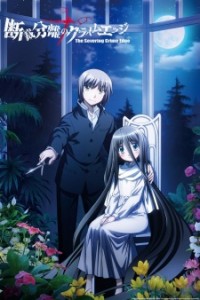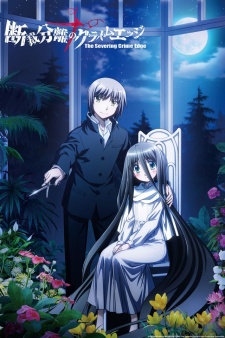 Here are my favorite picks for anime like Dansai Bunri no Crime Edge. Keep in my the list is in no particular order. Enjoy the recommendations!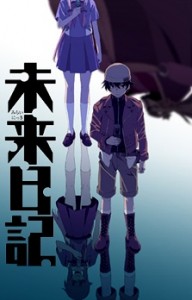 Mirai Nikki is focused around the main character, 15 year-old Yukiteru Amano, who is a bit more submissive than your average teenager. Yukiteru even has a habit of conversing with imaginary friends through his cellphone, in a record he calls his diary. Despite Yukiteru's lack of social skills, he inadvertently gets thrown into a relationship with Yuno Gasai, a very passionate girl of similar age that attends his school. The characters' impending collaboration is forced by the take-off of the story's setting theme, a survival game.
Yukiteru and Yuno confront their connection and contemplate working together in the midst of this survival game upon being connected to each other in an interesting and subtlety disturbing way. There are 12 total combatants, including Yukiteru and Yuno. They are all given special diaries that possess unique powers to assist the individual regarding their survival chance. This survival game is conducted and monitored by God himself and the winner shall ascend to his throne, becoming the universe's new one-and-only god. There is but one victor. Who will be this world's champion? Watch as these combatants fight for survival and a chance at godhood.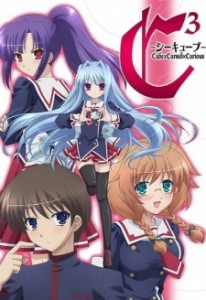 From the light novel series written by Minase Hazuki, comes a story of love, action, and comedy. Yachi Haruaki is a high school boy who is naturally resistant to curses. After his father sends him a mysterious black cube, Haruaki awakes to find a nude girl named Fear standing in his kitchen. She's the human form of the cursed black cube – and an instrument of torture! Utilizing her special abilities, Fear fights alongside Haruaki to defeat other cursed instruments and their owners. (Source: FUNimation)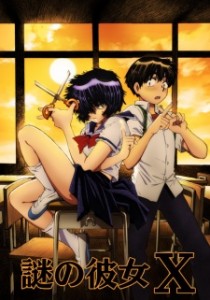 When the oddly peculiar Mikoto Urabe transfers into Akira Tsubaki's class, he finds that life has thrown him the weirdest curve ball ever. Because while Urabe may be an anti-social loner who sleeps on her desk, carries a pair of scissors in her underwear and breaks out in sudden fits of insane laughter, there's something about her that Tsubaki just can't quite put his finger on. Until he accidentally puts his finger in it, and suddenly the phrase "sharing spit with a girl" takes on an entirely new meaning! Before he can wipe her drool off his face, Tsubaki is mysteriously addicted to Urabe, which isn't half as strange as the fact that she not only finds this normal, but already seems to have plans for her new drooling boyfriend. (Source: Sentai Filmworks)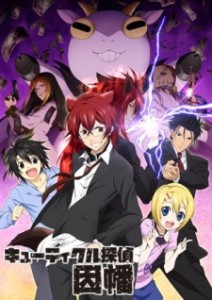 In a world where half-human, half-animal chimeras live and work alongside normal people, there are sure to be a few bad apples in the bunch. Unfortunately, half-human criminals means non-human clues that often leave the police stumped. That's where lone wolf detectives like Hiroshi Inaba come in. He's literally part wolf and has the amazing ability to extract critical information just by examining or tasting a sample of someone's hair! Of course, that ability has also resulted in Inaba having a little bit of a hair fetish, but that doesn't seem to be a problem for his two assistants. (Well, at least the cross-dressing one isn't complaining much.) And it's nothing compared to the strange tastes of Inaba's nemesis, the omnivorous (and half goat) crime boss Don Valentino, who has an appetite for green legal tender instead of tender young greens! Inaba's sworn to cut Valentino out of the criminal flock before the Don can wolf down more ill-gotten dough, but he's going to have to chew his way through a lot of evidence to get his goat. Can sheer dogged detective work put the baaaaad guys behind bars? (Source: Sentai Filmworks)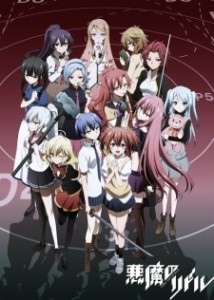 The story is set at Myoujou Academy, a private girls' boarding school. The 10th year's Kurogumi class has 12 assassins with their sights on one target, Haru Ichinose. Tokaku Azuma is a recent transfer student who is also targeting Ichinose, but she gradually develops feelings for Ichinose. (Source: ANN)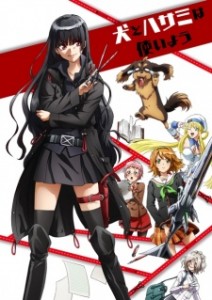 The absurd mystery comedy centers around Harumi Kazuhito, a high school boy who is obsessed with reading books. One day, he is killed in the middle of a robbery—and resurrected as a dachshund dog. Unable to read in his new form, the hapless Kazuhito now belongs to Natsuno Kirihime, who is both a sadistic girl who uses scissors like a weapon and his favorite author. (Source: ANN)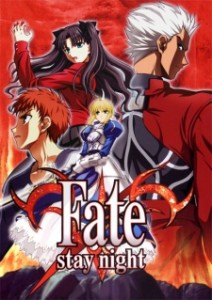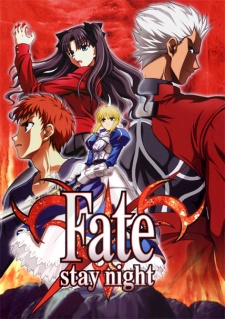 Rescued from a hellish inferno as a child and taught the art of magecraft by Kiritsugu Emiya, Shirou Emiya idolized his adoptive father. After his father's untimely death, Shirou vowed to follow in his footsteps and fight for the good of the world.
Years later, Shirou lingers at his school after nightfall and comes across a battle being waged by two superhuman beings known as Servants. When one of these Servants tries to kill him, Shirou ends up summoning a Servant of his own, a knight by the name of Saber. Together, they become the final participants in the fifth Holy Grail War, a free-for-all battle carried out by seven Servants and their summoners, with the prize being a magical device that can grant any wish.
Based off the famous visual novel by Type-Moon, Fate/Stay Night chronicles the trials and challenges that Shirou faces as he enters a battle that he knew nothing about, but that may very well lead him towards the path of becoming a hero like his father… if he survives, that is.
References: MyAnimeList, Wiki, ANN