8 Anime Like This Art Club Has a Problem! [Kono Bijutsubu ni wa Mondai ga Aru!] [Recommendations]
Being in an art club is one of the coolest things in the world if you are an artist. Although, for Subaru Uchimaki,  Colette, and the club president, of whom they whether want to be trouble makers, only draw the perfect wife or sleep. Mizuki Usami is the only one who actually wants to do art like activities and she will do all she can to get the members into doing art or die trying.
The series is a funny show, that has some romantic elements in it.  And if you ever feel a bit down, this is the perfect show to watch when you are in that mood. Trust me I know.
For that, I want to share more of those good feelings as well. So here's 8 Anime Like This Art Club Has a Problem! [Kono Bijutsubu ni wa Mondai ga Aru!]
Monthly Girls' Nozaki-kun (Gekkan Shoujo Nozaki-kun)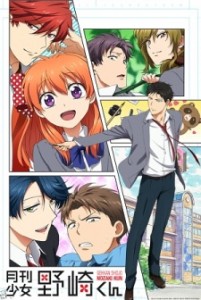 Let's start off with a series that can be best describe as silly.
Not being subtle about her crushing over Umetarou Nozaki, Chiyo Sakura tries to confess her undying love to Nozaki. When she does, he mistakenly takes it as her wanting an autograph since as it turns out he's a respected shoujo mangaka going under the pen name Sakiko Yumeno. Later on, she becomes his assistants to get his manga publish and hopes that one day he will see's her true feelings for him.
This show is fun, refreshing, and very easy to get into. It goes over the top and can't help but laugh. A must watch for those who wants something that's not taking itself too seriously.
And you thought there is never a girl online? (Netoge no Yome wa Onnanoko ja Nai to Omotta?)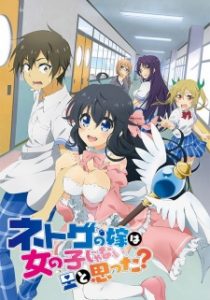 We have a anime that is a cross between Sailor Moon and Swords Art Online.
Hideki "Rusian" Nishimura has finally built up the courage to propose to a girl on an online game, however, not only does she reject him but also reveals that she's actually a man. So after that ordeal, he swears to never trust a girl while playing an online game ever again. As time passes, Rusian has joined a guild and is being proposed to one of his teammates, although he thinks that it might be a man in real life but accepts it anyway.
They all discuss to meet each other outside the game and to Rusian surprise, they're all girls, as well as his classmates.
If you are a gamer and need that sweet spot for something to laugh then this anime is for you.
Place to Place (Acchi Kocchi)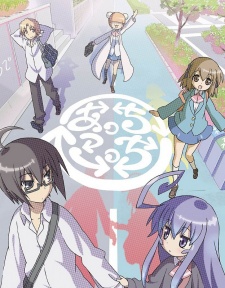 Being in love with your best friend is one thing but it seems impossible to tell them how you really. Or at least that's the problem for Tsumiki Miniwa, who seem she can't bring herself to express her feelings towards Io Otonashi. Will she ever pull herself together to tell Io that she loves him?
There might be a chance that you will get addictive watching this series, I know I did and it's not hard to see why. It has a very colorful cast, even the art is colorful, and the story is pretty good. Don't miss out on this series.
 Tamako Market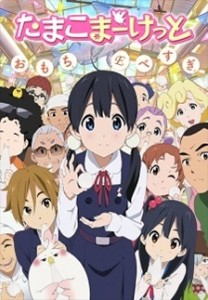 The very clumsy yet adorable Tamako Kitashirakawa belongs a family of bakers who owns a shop called Tama-ya. She happens to find a talking bird named Dera Mochimazzi, who is royalty from a distant land. Dera follows Tamako to her home and eats a lot of their mochi, which he becomes overweight and is unable to fly.
Now, he lives with the Tamako family and becomes their mascot.
It's a lighthearted show with a slice of life in it. So if you need some very good fluff this is the show for you.
 My Teen Romantic Comedy SNAFU (Yahari Ore no Seishun Love Comedy wa Machigatteiru.)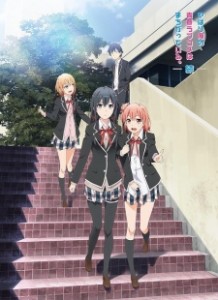 Here's a series that I wrote a while ago but never see the harm to take a quick look.
As punishment for an essay that he wrote in which he mocks today's social relationships, Hachiman Hikigaya is forced to join a  Volunteer Service Club, where they are there to help other students achieve their goals. Hachiman meets Yukino Yukinoshita, beautiful but cold person, where they team up to solve as many people problems as they can.
It's very good series as already, if you haven't checked it then you really should.
Saekano: How to Raise a Boring Girlfriend (Saenai Heroine no Sodatekata)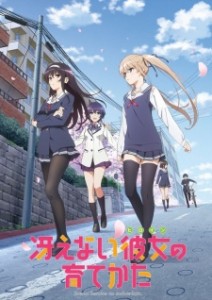 Now a series that's about making a video game.
Tomoya Aki has the chance of the lifetime to create his own video game, with the help of some of his friends but needs the inspiration that he needs for his character. Luckily, he finds it from a girl named Megumi Katou which she agreed upon to be model after. However, will his feelings get in the way of his project?
It's a touching and cute series. It may not be for everyone but take a chance with it and see if you enjoy it.
The World God Only Knows (Kami nomi zo Shiru Sekai)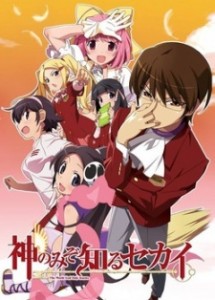 He's the greatest dating sim player of all time but in reality, Keima Katsuragi can't really stand to talk to real people. Then when he arrogantly accepts to put his dating sims skills to the test, he wouldn't imagine that he would be helping a demon. What's worse, the demon's mission is to find the evil spirits scattered throughout the human, which Keima most conquered the hearts the girls he must interact with.
An amazing series that blends comedy and adventure very well. Good story with likable character, you must check this show out.
Choboraunyopomi Gekijou Ai Mai Mii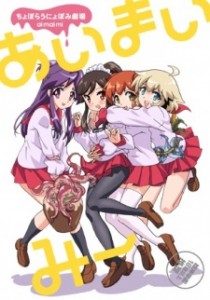 The show follows four girls Ai, Mai, Mii, and Ponoka, as they get into wacky shenanigan when they are not drawing any manga's. Such as facing off in tournaments and fighting off alien invaders.
A very funny show that people just need to watch, simple as that.