6 Anime Like Triage X [Recommendations]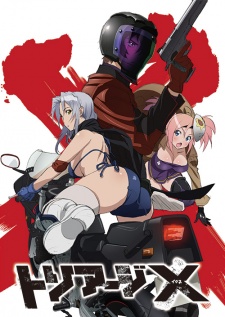 Here are my favorite picks for anime like Triage X! Keep in mind the list is in no particular order. Enjoy the recommendations!
A mysterious, lethal disease is on the loose worldwide, resulting in a catastrophic death rate of humanity, and the increasing rise of attacks, caused by the living dead. In Japan, several high school students and a school nurse have banded together to escape Fujimi High School shortly after it was attacked by zombies. The group now attempts to figure who or what was responsible for this plague, and in the meantime, attempt to survive the present apocalypse.
Night Raid is the covert assassination branch of the Revolutionary Army, an uprising assembled to overthrow Prime Minister Honest, whose avarice and greed for power has lead him to take take advantage of the child emperor's inexperience. Without a strong and benevolent leader, the rest of the nation is left to drown in poverty, strife, and ruin. Though the Night Raid members are all experienced killers, they understand that taking lives is far from commendable and that they will likely face retribution as they mercilessly eliminate anyone who stands in the revolution's way.
Okajima Rokuro is a Japanese businessman in a town full of Japanese businessmen. His normal day consists of social drinking with clients and being kicked around by his bosses. He finally gets a break though, as he's sent by his company to the tropical seas of Eastern China to deliver a disc. But his boat gets hijacked by a band of mercenaries hired to retrieve the disc. Rock (as he is newly dubbed by his captors) catches the interest of the only female merc Revy as she thinks he's worth a ransom, taking him hostage. However, the disc that was stolen has a terrible secret that's unknown to Rock, which causes massive confusion and chaos for both him and his kidnappers.
In the city of Ergastulum, a shady ville filled with made men and petty thieves, whores on the make and cops on the take, there are some deeds too dirty for even its jaded inhabitants to touch. Follow the "Handymen," Nic and Worick, who take care of the jobs no one else will handle. A new group attempts to muscle in on their block and the cops enlist them to weed out the upstarts no questions asked. The only thing is, there's a witness to the slaughter that they absolutely refuse to silence, so they decide to take her in instead.
Mihama Academy is a prison-like school built to preserve "fruit" that has fallen too far from its tree. It is home to five female students who each have their own reasons for enrolling in the academy and live their life idly within the walls of Mihama. One day, Kazami Yuuji—the institute's first male student—arrives and throws the orderly rhythm of Mihama off balance. Is Yuuji what the girls need to grab hold of their lives once more, or will the weight of their pasts prove too steep a wall to overcome? Or, is his past even heavier than any of the others? (Source: Crunchyroll)
The series takes place in the near future, when it is possible to instantaneously measure and quantify a person's state of mind and personality. This information is recorded and processed, and the term "Psycho-Pass" refers to a standard used to measure an individual's being. The story centers around the "enforcement officer" Shinya Kougami, who is tasked with managing crime in such a world.
In the future, it is possible to quantitatively measure a person's emotions, desires, and every inclination. In this way, it is also possible to measure a person's criminal tendency factor, which is used to judge criminals. This is the story of a team of policemen dedicated to maintaining public order. Some of them work in the Enforcement Division, responsible for the apprehension of criminals, while others belong to the Supervisory Division which oversees their colleagues in Enforcement.
References: Wiki, ANN, MyAnimeList