10 Anime Like UN-GO [Recommendations]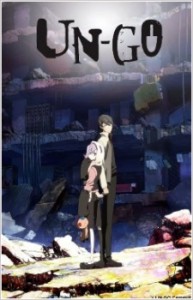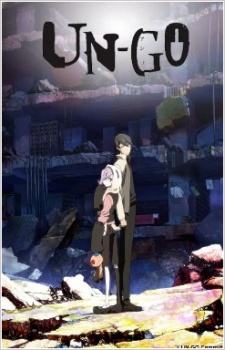 Here are my favorite picks for anime like UN-GO. Keep in mind the list is in no particular order. Enjoy the recommendations!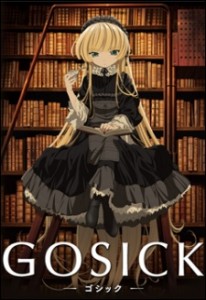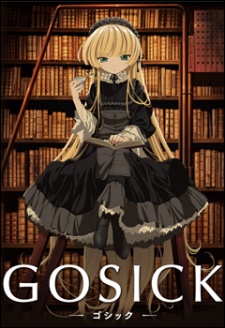 The year is 1924, the place, Sauville, a small European country neatly tucked beside the Alps…
Kazuya Kujo has been studying abroad at the prestigious Saint Marguerite Academy, where urban legends and horror stories are all the rage. Kazuya ignores most of them but the story of the Queen Berry, a mysterious ghost ship, really gets to him.
Of course, his brainy friend Victorique is much more intrigued by true stories, and she uses her unrivaled logic to solve mysteries even the town's famous detective can't. Ironically, it is Victorique's inquisitive nature that leads the duo to board a ship that matches the Queen Berry's description to a tee, a ship that might just hold the key to solving a sinister mystery. (Source: Tokyopop, edited)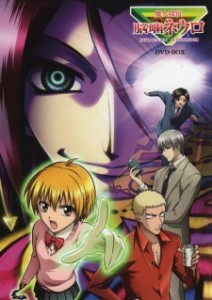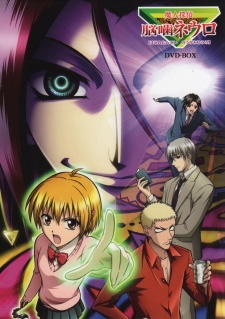 The series focuses on Neuro Nougami, a demon who feeds on mysteries and puzzles, who comes to the human world to feast on the mysteries offered by humans who release negative energy from their planned crimes. As a demon, he must not make his presence noticed by the humans as it is the law in the human world. Because of this, he makes a permanent deal with Yako Katsuragi (who has her own personal mystery she has to solve), and together they solve crimes for Neuro's appetite. (Source: MyAnimeList)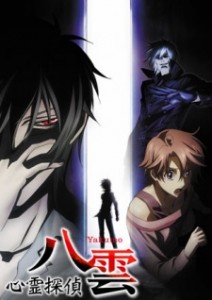 Haruka Ozawa's sophomore year is getting seriously scary. One of her friends is possessed, another has committed suicide and Haruka could be the next one to flunk the still-breathing test. Her only way out of this potentially lethal dead end? Yakumo Saito, an enigmatic student born with a mysterious red eye that allows him to see and communicate with the dead. But the deceased don't always desist and some killers are more than ready to kill again to keep dead men from telling any more tales. That doesn't stop Haruka's knack for digging up buried secrets, and there's even more evidence of bodies being exhumed by both Yakumo's police contact and an investigative journalist with a newly made corpse in her closet! Can this pair of anything but normal paranormal detectives solve the ultimate dead case files or will they end up in cold storage themselves? (Source: Sentai Filmworks)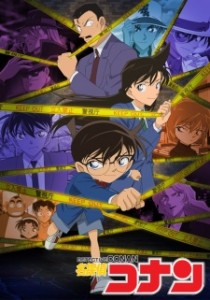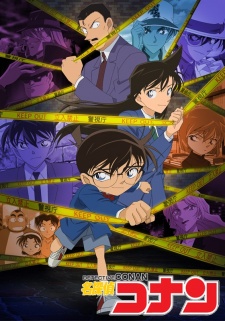 Shinichi Kudou, a great mystery expert at only seventeen, is already well known for having solved several challenging cases. One day, when Shinichi sees two suspicious men and decides to follow them, he inadvertently becomes witness to a disturbing illegal activity. When the men catch Shinichi, they dose him with an experimental drug formulated by their criminal organization and abandon him to die. However, to his own astonishment, Shinichi is still alive and soon wakes up, but now, he has the body of a seven-year-old, perfectly preserving his original intelligence. He hides his real identity from everyone, including his childhood friend Ran Mouri and her father, private detective Kogorou Mouri, and takes on the alias of Conan Edogawa (inspired by the mystery writers Arthur Conan Doyle and Ranpo Edogawa).
Animated by TMS and adapted from the manga by Gosho Aoyama, Detective Conan follows Shinichi who, as Conan, starts secretly solving the senior Mouri's cases from behind the scenes with his still exceptional sleuthing skills, while covertly investigating the organization responsible for his current state, hoping to reverse the drug's effects someday. [Written by MAL Rewrite]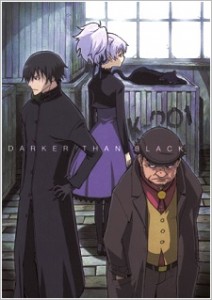 It has been 10 years since Heaven's Gate appeared in South America and Hell's Gate appeared in Japan, veiling the once familiar night sky with an oppressive skyscape. Their purposes unknown, these Gates are spaces in which the very laws of physics are ignored. With the appearance of the Gates emerged Contractors, who, in exchange for their humanity, are granted supernatural abilities.
In the Japanese city surrounding Hell's Gate, Section 4 Chief Misaki Kirihara finds herself at odds with an infamous Contractor codenamed Hei. Called "Black Reaper" in the underground world, Hei, like his associates, undertakes missions for the mysterious and ruthless Syndicate while slowly peeling back the dark layers covering a nefarious plot that threatens the very existence of Contractors.
From the mind of Tensai Okamura comes a sci-fi thriller taking the form of a subtle exposé on a war in which political positions and justice have no sway—a war waged exclusively in the shadows. [Written by MAL Rewrite]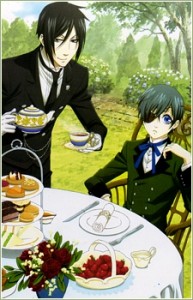 Young Ciel Phantomhive is known as "the Queen's Guard Dog," taking care of the many unsettling events that occur in Victorian England for Her Majesty. Aided by Sebastian Michaelis, his loyal butler with seemingly inhuman abilities, Ciel uses whatever means necessary to get the job done. But is there more to this black-clad butler than meets the eye?
In Ciel's past lies a secret tragedy that enveloped him in perennial darkness—during one of his bleakest moments, he formed a contract with Sebastian, a demon, bargaining his soul in exchange for vengeance upon those who wronged him. Today, not only is Sebastian one hell of a butler, but he is also the perfect servant to carry out his master's orders—all the while anticipating the delicious meal he will eventually make of Ciel's soul. As the two work to unravel the mystery behind Ciel's chain of misfortunes, a bond forms between them that neither heaven nor hell can tear apart. [Written by MAL Rewrite]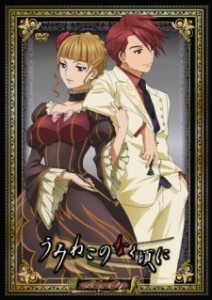 Considered as the third installment in the highly popular "When They Cry" series by 07th Expansion, Umineko no Naku Koro ni takes place on the island of Rokkenjima, owned by the immensely wealthy Ushiromiya family. As customary per year, the entire family is gathering on the island for a conference that discusses the current financial situations of each respective person. Because of the family head's poor health, this year involves the topic of the head of the family's inheritance and how it will be distributed.
However, the family is unaware that the distribution of his wealth is the least of Ushiromiya Kinzo's (family head) concerns for this year's family conference. After being told that his end was approaching by his longtime friend and physician, Kinzo is desperate to meet his life's true love one last time: the Golden Witch, Beatrice. Having immersed himself in black magic for many of the later years in his life, Kinzo instigates a ceremony to revive his beloved upon his family's arrival on Rokkenjima. Soon after, a violent typhoon traps the family on the island and a string of mysterious murders commence, forcing the eighteen people on the island to fight for their lives in a deadly struggle between fantasy and reality. [Written by MAL Rewrite]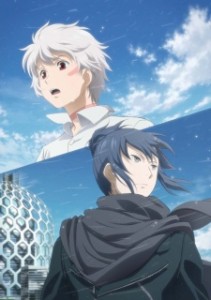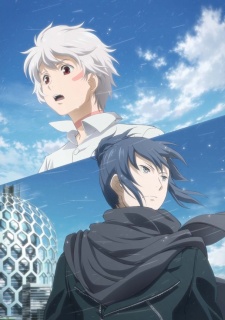 In a near future world, after the last great war, most of mankind lives in a handful of city states. There, for the privileged elite, life should be perfect. But for young Shion, the only thing perfect has been the nightmare his life has become since letting a strange boy called Nezumi spend the night in his apartment.
Banished to the outskirts of the city and stripped of all privileges for helping the mysterious stranger who has since disappeared, Shion now finds himself in even worse danger as his inquiry into a new series of mysterious deaths results in his being arrested on suspicion of murder!
But even as Shion is being sent to the city's Correctional Institute, the long-missing Nezumi reappears to rescue him! Now on the run, the two young men have only one chance at survival: uncover the mysterious secrets that lie at the sinister heart of No. 6! (Source: RightStuf)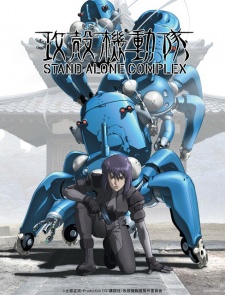 In the not so distant future, mankind has advanced to a state where complete body transplants from flesh to machine is possible. This allows for great increases in both physical and cybernetic prowess and blurring the lines between the two worlds. However, criminals can also make full use of such technology, leading to new and sometimes, very dangerous crimes. In response to such innovative new methods, the Japanese Government has established Section 9, an independently operating police unit which deals with such highly sensitive crimes.
Led by Daisuke Aramaki and Motoko Kusanagi, Section 9 deals with such crimes over the entire social spectrum, usually with success. However, when faced with a new A level hacker nicknamed "The Laughing Man," the team is thrown into a dangerous cat and mouse game, following the hacker's trail as it leaves its mark on Japan. [Written by MAL Rewrite]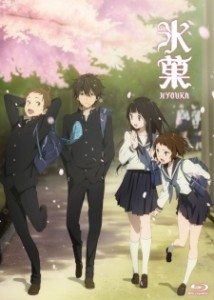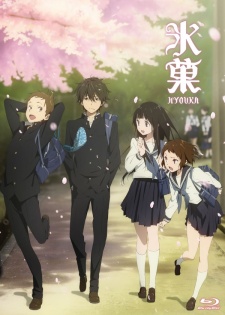 Energy-conservative high school student Houtarou Oreki ends up with more than he bargained for when he signs up for the Classics Club at his sister's behest—especially when he realizes how deep-rooted the club's history really is. Begrudgingly, Oreki is dragged into an investigation concerning the 45-year-old mystery that surrounds the club room.
Accompanied by his fellow club members, the knowledgeable Satoshi Fukube, the stern but benign Mayaka Ibara, and the ever-curious Eru Chitanda, Oreki must combat deadlines and lack of information with resourcefulness and hidden talent, in order to not only find the truth buried beneath the dust of works created years before them, but of other small side cases as well.
Based on the award-winning Koten-bu light novel series, and directed by Yasuhiro Takemoto of Suzumiya Haruhi no Shoushitsu, Hyoukashows that normal life can be full of small mysteries, be it family history, a student film, or even the withered flowers that make up a ghost story. [Written by MAL Rewrite]
References: MyAnimeList, Wiki, ANN