7 Anime Like Unlimited Fafnir [Juuou Mujin no Fafnir]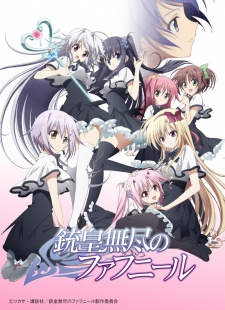 Here are my favorite picks for anime like Unlimited Fafnir. Keep in mind the list is in no particular order. Enjoy the recommendations!
Only a pure maiden can have the privilege to contract with a spirit. In here, Areishia Spirit Academy, trained maidens of noble families are gathered and given an elite's education to become spirit contractors. A boy, Kamito, peeped by accident at a girl, Claire, while she was taking a bath and he ended up making a contract with the spirit she wanted. Yes, Kamito is an irregular boy spirit contractor whose existence was thought impossible until now. "You stole…my spirit…you have to take responsibility for it!" "Huh?" "You have to become my contracted spirit!" What will Kamito's destiny lead to? (Source: Baka-Tsuki)
Written by Akamitsu Awamura, the series takes place in a private high school involving the concept of "saviors." They are known as people who possess awakened memories of their past lives. The story tells of a young boy named Moroha Haimura who comes to this private school.
At the school, there are two types of people: Saviors, who fight enemies with weapons and techniques gleaned from the Puraana powers from their own bodies, and Kuroma, who wipe out enemies with magic to manipulate the Maana powers that surpass physics. Moroha Haimura is the first person with past lives of both Saviors and Kuroma. (Source: ANN, edited)
Japan engineered an armed powered exoskeleton "Infinite Stratos" (IS) and it became the mainstream of weapons. Since only women can operate IS, women dominate the society over men. Orimura Ichika is a 15-year-old boy and accidentally touches an IS placed in the IS pilot training school. He is found to be the only man who can operate IS and forced to enter the training school. Ichika's busy school life surrounded by girls has begun.
Bonus Read: 7 Reasons to Watch Gakusen Toshi Asterisk
The Gastrea virus spreads like wildfire, causing each infected host to rapidly mutate, gaining new powers and abilities with every stage of development, even while they continue to attack, kill and infect multiple new hosts.
Unable to fight a pandemic enemy that turns defenders into adversaries, the shocked remnants of the human race are forced to retreat into cities surrounded by giant monoliths made of Varanium, one of the few materials that can stop the Gastrea. Now mankind's last hope lies in the Cursed Children: young girls infected with the virus who have managed to retain a hold on their humanity. Paired with a partner, they alone have the strength to take on a Gastrea in one-on-one combat. But the very thing that gives them power is a ticking time bomb, so even as they protect humanity, they are also feared and shunned.(Source: Sentai Filmworks)
After a traumatic accident takes his loved one, Tooru Kokonoe enrolls Kouryou Academy, a school where every student has a weapon that is their soul manifestation. Fueled by his desire for revenge, Tooru is dismayed to discover his soul is not a weapon… but a shield. (Source: FUNimation)
The story is set in a world where humanity, driven off the land by the threat of magical armored insects, now live in aerial floating cities. Thus wizards—aerial combat mages who fight the insects with magical powers—came into being.
Kanata Age is a young man who lives on the floating wizard academy city of "Misutogan." He was once celebrated as the "Black Master Swordsman," the elite ace of the S128 special team; however, he is now despised as the "traitor of the special team." One day, he is assigned as the instructor of E601, a team that has suffered ten consecutive defeats. E601 has three girls—Misora Whitale, Lecty Eisenach, and Rico Flamel—with one or two peculiar quirks. (Source: ANN)
Magic—A century has passed since this concept has been recognized as a formal technology instead of the product of the occult or folklore. The season is spring and it is time for a brand new school year. At the National Magic University First Affiliate High School, a.k.a. Magic High School, students are divided into two distinct groups according to their academic performances. The "Bloom," who demonstrate the highest grades and are enrolled in the "First Course," and the "Weed," who have a poor academic record and are enrolled in the "Second Course."
This spring, a very peculiar brother and sister enroll as new students. The brother is an under achiever with some deficiencies and enrolls as a "Weed," while his younger sister is an honor student, who enrolls as a "Bloom." The brother, with a somewhat philosophical expression, and the younger sister who holds feelings a little stronger than sibling love for him… Ever since these two have entered through the gates of this prestigious school, the calm campus was beginning to change… (Source: Aniplex USA)
References: Wiki, ANN, MyAnimeList