10 Anime Like Waiting in the Summer[Ano Natsu de Matteru] [Recommendations]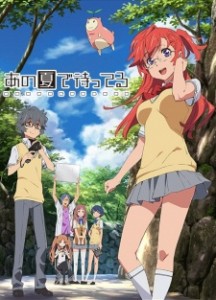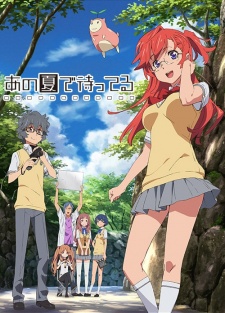 Here are my favorite picks for anime like Waiting In The Summer. Keep in mind the list is in no particular order. Enjoy the recommendations!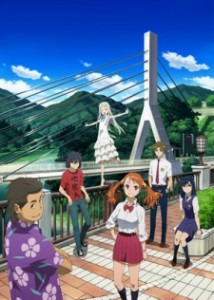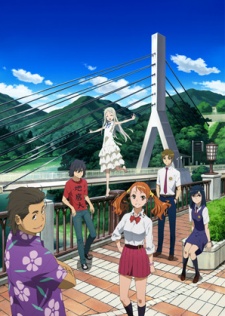 After a tragic accident during their childhood, Jinta and his group of friends split apart and live separate lives. Now in high school, the group is drawn together once more by an unknown force. Ano Hana, short for Ano Hi Mita Hana no Namae wo Bokutachi wa Mada Shiranai (We Still Don't Know the Name of the Flower We Saw That Day), is a drama and slice of life anime series following the lives of these students and the friendship they once had, as they re-discover guilt, anger, friendship, happiness, and so much more.
Will Jinta Yadomi, Tetsudou Hisakawa, Naruko Anjou, Matsuyuki Atsumu and Chiriko Tsurumi find the strength to repair broken bonds? (Source: MyAnimeList)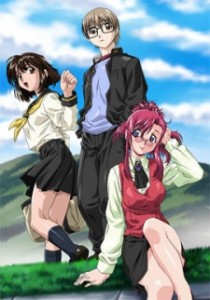 Kusanagi Kei, a high-school student living with his aunt and uncle, has an encounter with a female alien. This alien is revealed to be a new teacher at his school. Later, he is forced to marry this alien to preserve her secrets. From there, various romantically-inclined problems crop up repeatedly. (Source: ANN)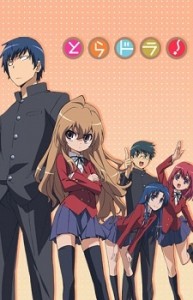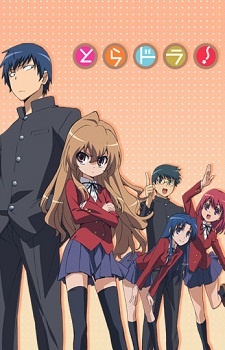 Ryuuji Takasu is a gentle high school student with a love for housework; but in contrast to his kind nature, he has an intimidating face that often gets him labeled as a delinquent. On the other hand is Taiga Aisaka, a small, doll-like student, who is anything but a cute and fragile girl. Equipped with a wooden katana and feisty personality, Taiga is known throughout the school as the "Palmtop Tiger."
One day, an embarrassing mistake causes the two students to cross paths. Ryuuji discovers that Taiga actually has a sweet side: she has a crush on the popular vice president, Yuusaku Kitamura, who happens to be his best friend. But things only get crazier when Ryuuji reveals that he has a crush on Minori Kushieda—Taiga's best friend!
Toradora! is a romantic comedy that follows this odd duo as they embark on a quest to help each other with their respective crushes, forming an unlikely alliance in the process. [Written by MAL Rewrite]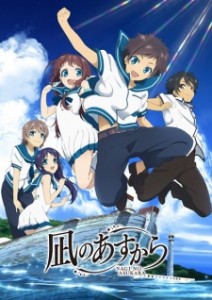 Long ago, all humans lived beneath the sea. However, some people preferred the surface and abandoned living underwater permanently. As a consequence, they were stripped of their god-given protection called "Ena" which allowed them to breathe underwater. Over time, the rift between the denizens of the sea and of the surface widened, although contact between the two peoples still existed.
Nagi no Asukara follows the story of Hikari Sakishima and Manaka Mukaido, along with their childhood friends Chisaki Hiradaira and Kaname Isaki, who are forced to leave the sea and attend a school on the surface. There, the group also meets Tsumugu Kihara, a fellow student and fisherman who loves the sea.
Hikari and his friends' lives are bound to change as they have to deal with the deep-seated hatred and discrimination between the people of sea and of the surface, the storms in their personal lives, as well as an impending tempest which may spell doom for all who dwell on the surface. [Written by MAL Rewrite]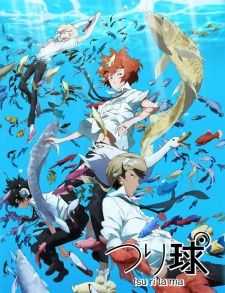 You can't catch fish if you don't go fishing, and you can't make friends if you don't at least try.
Which is how relationship-challenged student Yuki finds himself on a fishing trip to a tiny island with three other boys he barely knows. Well, two other boys and Haru, who claims that he's an alien. Not that constantly stewing Natsuki or mysterious Akira are any more likely as prospects for good companionship.
But there's something about fishing that makes it unlike any other pastime, and maybe that quiet sense of companionship and hopeful expectation is just what Yuki needs to start charting the unfamiliar waters of personal connections. Or maybe it will turn out that Haru's right and they're going to have to save the entire planet.
There are lots of different kinds of fish stories, from the "ones that got away" to the "best catches ever," but whichever way the currents of life take them, for four young men, this trip may turn out to be the biggest whopper ever! (Source: Sentai Filmworks)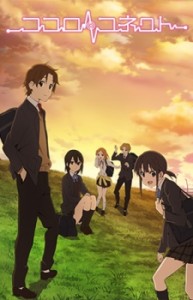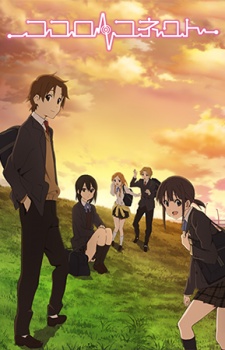 The five members of the Cultural Research Club—Taichi Yaegashi, Iori Nagase, Himeko Inaba, Yui Kiriyama, and Yoshifumi Aoki—encounter a bizarre phenomenon one day when Aoki and Yui switch bodies without warning. The same begins to happen to the other club members, throwing their daily lives into disarray.
At first the five students find some amusement amidst the confusion, but this unwarranted connection also exposes the painful scars hidden within their hearts. As their calm lives are shattered, the relationships between the five students also begin to change… (Source: Crunchyroll, edited)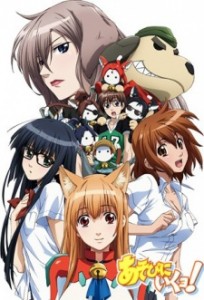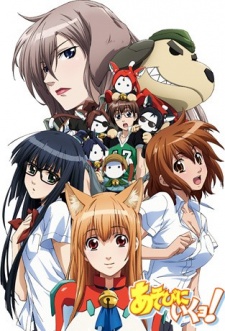 The story revolves around Kakazu Kio, an ordinary high school freshman living in Okinawa. A girl with cat ears appears before him during a memorial service for one of his family ancestors. The girl calls herself Eris and claims she is an alien. Before long, fanatical alien worshipers and a mysterious government agency are in hot pursuit of Eris, but Kio's childhood friend Manami—who wants to follow in her father's footsteps in the CIA—captures Eris. Kio finds himself having to protect Eris from everyone. (Source: ANN)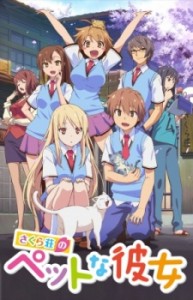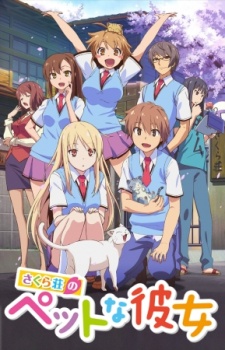 When abandoned kittens and his good conscience force second year Sorata Kanda to move into Suimei High School's infamous Sakura Hall, the satellite dorm and its eccentric, misfit residents turn his life upside down. The decidedly average Sorata finds it difficult to fit in with the bizarre collection of dorm residents like Misaki, an energetic animator; Jin, a playwright playboy; Ryuunosuke, a reclusive programmer; and Chihiro, the dorm manager, art teacher, and party girl.
Sorata's friend Nanami, a second year student and aspiring voice actress, pushes him to find new owners for the many cats so that he can quickly move back into the regular dorms. However, his desire to escape Sakura Hall wavers when the pet-like and infantile second year Mashiro Shiina, a world-class artistic savant looking to become a mangaka, transfers in during the spring trimester and quickly latches onto him.
Supported by each other's quirks, Sorata and Mashiro come out of their shells and trigger change in the lives of those around them. Based on the light novel series of the same name, Sakurasou no Pet na Kanojo explores the fine threads connecting talent, hard work, romance, and friendship with its ensemble cast. [Written by MAL Rewrite]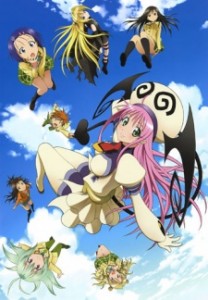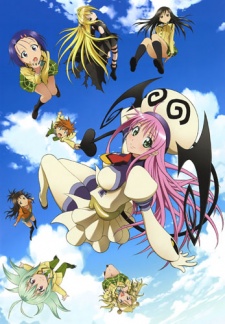 Timid 16-year-old Rito Yuuki has yet to profess his love to Haruna Sairenji—a classmate and object of his infatuation since junior high. Sadly, his situation becomes even more challenging when one night, a mysterious, stark-naked girl crash-lands right on top of a bathing Rito.
To add to the confusion, Rito discovers that the girl, Lala Satalin Deviluke, is the crown princess of an alien empire and has run away from her home. Despite her position as the heiress to the most dominant power in the entire galaxy, Lala is surprisingly more than willing to marry the decidedly average Rito in order to avoid an unwanted political marriage.
To LOVE-Ru depicts Rito's daily struggles with the bizarre chaos that begins upon the arrival of Lala. With an evergrowing legion of swooning beauties that continuously foil his attempted confessions to Haruna, To LOVE-Ru is a romantic comedy full of slapstick humor, sexy girls, and outlandishly lewd moments that defy the laws of physics. [Written by MAL Rewrite]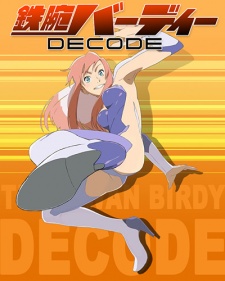 Federation investigator Birdy chases the space criminal Geega through space to Earth, where he hides in the entertainment industry under a human disguise. Birdy goes undercover herself, posing as famous model "Arita Shion" that often uses a 'space girl' look. A male student, Senkawa, stumbles upon a fight between the two one night in an abandoned building only to be severed in half as he is used as a shield by Geega against Birdy. Birdy heals him from imminent death in some fashion- but Senkawas body, and life, are now changed and permanently linked to Birdy. (Source: ANN)
References: MyAnimeList, Wiki, ANN