8 Anime Like Wakaba Girl [Series Recommendations]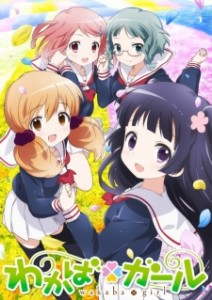 Here are my favorite picks for anime like Wakaba*Girl. Keep in mind the list is in no particular order. Enjoy!
The story begins with Oomiya Shinobu, a 15-year-old, seemingly pure Japanese girl who actually did a homestay in Great Britain. Even after coming back to Japan, she still misses her time overseas. One day, an airmail letter arrives from Alice, the girl in Shinobu's host family in Great Britain. The letter reads: Shinobu, I'm coming to Japan! The Japanese/British girls' mixed comedy follows the lives of Shinobu, Alice, and other girls from both Japan and Great Britain.
The story centers around Amaya, Iwasawa, and Uehara—three "annoying, spirited high school girls with zero motivation"—and their classmates. Their daily life is "what happens when there is nothing happening."
Cocoa arrives at the cafe Rabbit House one day, excited for rabbits. She actually all but lives in that cafe. She meets lots of different girls there, including a tiny and cool girl named Chino, a tough and soldier-esque girl named Rize, a spacey and quintessentially Japanese girl named Chiyo, and the ordinary but dignified Sharo.
Normal appearance, normal intelligence, normal in arts and sports… just normal. This is the entirely normal 14-year-old, Naru Sekiya. While she admires "Heroines" she continues to live a normal life until one moonlit night she meets a fairy. This foreign girl then guides her into the extraordinary world of the yosakoi dance.
The story revolves around Haruka and Yuu, two girls who go to a high school that is slated to be shut down in three years. To share something special between them, they share a kiss, and their relationship deepens from that moment onward.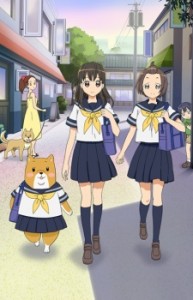 Shiba Inuko-san is a 14-year-old girl who looks exactly like a Shiba Inu dog. One of her classmates, Ishibashi Chako, wonders about her appearance, but no one else thinks it is strange.
Lucky Star
Portrays the lives of several school girls attending a Japanese high school with a very loose humor tone. The main heroine is Konata Izumi, an athletic and intelligent girl who, despite these attributes, is not in a sports club, and her grades remain low. Her laziness at school is due to her love for anime and video games, and she is not interested in much else.
Morita Mayu, a high school girl. She is extremely reticent and her silence and habit of looking at people's eyes straightly sometimes cause misunderstanding. The reason behind it is not because she doesn't like to talk nor because she has nothing to say. The reason she rarely speaks is due to the fact she thinks too much before speaking, thus losing the timing to speak altogether. But she lives a happy school life with her classmates.
References: Wiki, MyAnimeList, ANN