6 Anime Like World Trigger Recommendations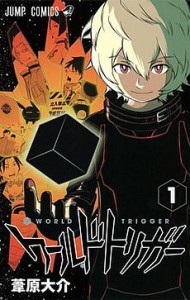 Here is my list of picks for animes like World Trigger. Keep in mind the list is in no particular order! Enjoy!
A.D. 2115—the island nation once called Japan is now known as the "17th Far East Imperial City Management District."
The citizens were promised a life of peace in exchange for some of the comfort they were used to having. People believed their lives would never change and tomorrow will be the same as today. No one suspected the impending doom which their society was about to face.
"Degradation"—a rare disease which led to the total disintegration of the human body to a mere pile of sand was slowly but surely spreading throughout the world.
Tohru Kazasumi, an ordinary student becomes embroiled in a multi universal battle between his world and the parallel world of "Frontier S (Stratos)." This meant that Tohru must fight himself from an alternate world. Their futures collide as their paths cross. Will both worlds ever find peace?
Shio Ogura is a Japanese high school student, who is visiting Taiwan on a school trip when she is suddenly attacked by monsters. Agents known as "E-Gene Holders" from the government agency DOGOO also arrive, who wield weapons infused with the spirits of historical figures. Shio is revealed to also be an E-Gene Holder when the soul of Oda Nobunaga awakens after she tries to rescue a friend.
Several hundred years ago, humans were nearly exterminated by giants. Giants are typically several stories tall, seem to have no intelligence, devour human beings and, worst of all, seem to do it for the pleasure rather than as a food source. A small percentage of humanity survived by enclosing themselves in a city protected by extremely high walls, even taller than the biggest of giants. Flash forward to the present and the city has not seen a giant in over 100 years.
Teenage boy Eren and his foster sister Mikasa witness something horrific as the city walls are destroyed by a super giant that appears out of thin air. As the smaller giants flood the city, the two kids watch in horror as their mother is eaten alive. Eren vows that he will murder every single giant and take revenge for all of mankind.
After an unknown virus wiped out all adults on earth, vampires appeared and ruled over the surviving children, treating them like livestock. Yuichiro Hyakuya survived along with other orphans by giving their blood to vampires, until Yuichiro escaped four years ago. Now he is a member of the Moon Demon Company, a unit in the Japanese army dedicated to hunting down the vampires he blames for the death of his family.
Ichigo Kurosaki is a 15-year-old-boy who has an ability to see ghosts/spirits. Because of his ability, he is able to meet a female death god (AKA Shinigami) named Rukia Kuchiki. To save his family and friends from unwanted soul-eating spirits (Hollows), Rukia transfers her Shinigami powers to Ichigo.
As Rukia takes on a human shell, together they solve mysteries involving spirits and Hollows until from the spirit world come two other Shinigami, who explain that it is illegal to transfer Shinigami powers to humans and that Rukia exceeded the time limit to stay in the human world. After they sentence her death for breaking the law, Ichigo snaps and swears to everyone he will retrieve Rukia by breaking into the spirit world.
Naruto closely follows the life of a boy who is feared and detested by the villagers of the hidden leaf village of Konoha. The distrust of the boy has little to do with the boy himself, but it's what's inside him that causes anxiety. Long before Naruto came to be, a Kyuubi (demon fox) with great fury and power waged war taking many lives. The battle ensued for a long time until a man known as the Fourth Hokage, Yondaime, the strongest ninja in Konoha, fiercely fought the Kyuubi.
The fight was soon won by Yondaime as he sealed the evil demon in a human body. Thus the boy, Naruto, was born. As Naruto grows he decides to become the strongest ninja in Konoha in an effort to show everyone that he is not as they perceive him to be, but is a human being worthy of love and admiration. But the road to becoming Hokage, the title for the strongest ninja in Konoha, is a long and arduous one. It is a path filled with betrayal, pain, and loss; but with hard work, Naruto may achieve Hokage.
References: ANN, Wiki and MyAnimeList