7 Anime Like My Teen Romantic Comedy SNAFU TOO! [Recommendations]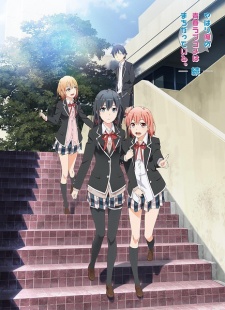 Here are my top favorite picks for anime like My Teen Romantic Comedy SNAFU TOO! Keep in mind the list is in no particular order. Enjoy the recommendations!
Fall, when graduation is only half a year away. Haruki Kitahara, the final member of the light music club that dissolved, plays his guitar by the window after school in preparation for the school festival. It was the one and only adventure of a good student who spent two diligent years on his studies. But when a flowing piano melody and a voice as a clear as bell harmonize with his guitar… He goes from being alone, to being two, then three in the light music club, as the semester he dreamed of, no, hoped for, began.
Despite Ryuuji Takasu's gentle personality, his eyes make him look like an intimidating delinquent. Class rearrangements on his second high school year put him together with his best friend, Yusaku Kitamura, and his hidden crush, Minori Kushieda. Along with these two comes Kushieda's best friend, Taiga Aisaka. Her delicate appearance contrasts with her brutal personality. Secretly in love with Kitamura, Taiga agrees to help Ryuuji with his love interest as long as he helps her get closer to hers.
Oreki Houtarou is a minimalistic high school boy. One day, he joins the Classic Literature Club at his elder sister's request. There he meets Chitanda Eru, Fukube Satoshi, and Ibara Mayaka. Chitanda is a calm beautiful girl but she turns into an embodiment of curiosity once she says, "I'm curious." Fukube is a smiling boy with a fantastic memory who calls himself a database. Ibara is a short girl and is strict with others and herself. They begin to investigate a case that occurred 45 years ago. Hints of the mystery are buried in an old collection of works of the former members of Classics Club. The collection is titled "Hyouka."
The five members of the Cultural Research Club—Taichi Yaegashi, Iori Nagase, Himeko Inaba, Yui Kiriyama, and Yoshifumi Aoki—encounter a bizarre phenomenon one day when Aoki and Yui switch bodies without warning. The same begins to happen to the other club members, throwing their daily lives into disarray. At first the five students find some amusement amidst the confusion, but this unwarranted connection also exposes the painful scars hidden within their hearts. As their calm lives are shattered, the relationships between the five students also begin to change…
The Neighbor's Club—a club founded for the purpose of making friends, where misfortunate boys and girls with few friends live out their regrettable lives.
Although Yozora Mikazuki faced a certain incident at the end of summer, the daily life of the Neighbor's Club goes on as usual. A strange nun, members of the student council and other new faces make an appearance, causing Kodaka Hasegawa's life to grow even busier.
While they all enjoy going to the amusement park, playing games, celebrating birthdays, and challenging the "school festival"—a symbol of the school life normal people live—the relations amongst the members slowly begins to change…
Let the next stage begin, on this unfortunate coming-of-age love comedy!!
Katsuragi is back, and together with Elsie the hunt for loose souls continues on. This time however, they are joined by Elsie's friend and fellow Demon, Haqua.
Kyon, your typical high school student, has long given up his belief in the supernatural. However, upon meeting Haruhi Suzumiya, he quickly finds out that it is the supernatural that she is interested in—aliens, time travelers, and espers among other things. When Haruhi laments about the lack of intriguing clubs around school, Kyon inspires Haruhi to form her own club. As a result, the SOS Brigade is formed, a club which specializes in all that is the supernatural.
Much to his chagrin, Kyon, along with the silent bookworm, Yuki Nagato, the shy and timid Mikuru Asahina, and the perpetually smiling Itsuki Koizumi, are recruited as members. The story follows the crazy adventures that these four endure under their whimsical leader, Haruhi. The story is based on the light novels by Nagaru Tanigawa.
References: MyAnimeList, Wiki, MAL