9 Anime Like Your Lie in April [Shigatsu wa Kimi no Uso]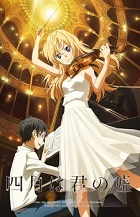 This was a great anime and here are my top picks for anime like Your Lie in April. Keep in mind the list is in no particular order. Enjoy!!
Summer 1966: Kaoru Nishimi has moved to live with relatives in Kyūshū. He's been an aloof honor student his whole life, but that starts changing when he meets Sentarō Kawabuchi, the school's notorious bad boy. Through him, he learns the appeal of jazz and forms his first real friendships.
Sorata is kicked out of his high-school dorms for keeping a cat, and moves into a small dorm called Sakurasō. It turns out that all the residents, in addition to being uncontrollable and weird, are outstanding in some way: a well-known animator, a scriptwriter, a programmer. A beautiful girl called Mashiro moves in who is an internationally known painter but is so devoted to art that she can't even dress herself, and Sorata is given the job of looking after her. Through her and the other residents, he learns who he is and what he wants to do.
At a top music academy in Japan, Shinichi Chiaki's arrogance is matched only by his top-notch piano playing. But when Chiaki and the teacher get into a fight, he's demoted to the reject class. Chiaki is left to pursue his dream of being a conductor while surrounded by a bunch of loser musicians and one annoying girl, Noda, who has proclaimed herself Chiaki's girlfriend. It doesn't help that Noda, who insists on being called Nodame, lives right next door to him.
Tōya Fuji, a college student is dating a rising idol singer named Yuki Morikawa. There are numerous challenges to the couple's relationship from the other people at Fuji's college, Morikawa's work, and elsewhere.
Banri finds himself completely lost after the opening ceremony and tries to find his way to the freshman orientation. Along the way, he runs into another lost freshman from the same school, Mitsuo Yanagisawa, and they immediately hit it off. Somehow arriving at their intended goal just in time, there appears in front of them a beautiful girl holding a bouquet of roses, who congratulates Mitsuo on getting into the school then hits him across the face with them before tossing the bouquet into his lap and leaving.
This stylish, well dressed, and obsessive woman is his childhood friend, Kōko Kaga. As children, they had promised to marry each other one day, something she has taken to heart this entire time. Mitsuo had gone out secretly and taken the examination for this private college in order to escape from her, but she used her connections to find out about it, took the law school entrance examination, and enrolled in the college herself in order to be with him.
Long ago, humanity lived in the sea. But the humans who longed for the land left the sea behind. They cast aside the special raiment they'd been given by the sea god that let them live in the ocean. The thinking of the sea humans and the land humans became as separate as the places they lived, and as countless time passed, they forgot they were once one people. This will change as the land-dwelling human Tsumugu Kihara befriends four students who live in a village at the bottom of the sea.
Amamiya Shuuhei moves from Tokyo to the country side due to his grandmother's bad health. His father is a famous pianist and Shuuhei has taken strict piano lessons since he was very young, aspiring to follow in his footsteps. In school, he is teased by his classmates and is dared to play the piano in the forest. This piano is said to be cursed: if you play it, no sound will come. After school, Ichinose Kai, a boy in the same class, takes Shuuhei to the forest. When Shuuhei tries to play he fails, but Kai plays a wonderful song.
The story of Hantsuki focuses on the budding relationship between the seventeen years old Yūichi Ezaki and Rika Akiba. Both are hospitalized in Yūichi's home town for their respective conditions. Yūichi has hepatitis A, while Rika has problems with a weak heart valve. These teens would then fall in love while they spend time with one another. The story is based in Ise, Mie prefecture. In the end, the couple have a successful relationship, but not much more is revealed. In the anime, a scene shows Yūichi and Rika kissing for the first time up on Mt. Houdai. There are also various pictures of Yūichi and Rika shown during the credits, and a picture of the two getting married.
The Kitauji high school concert band club had at one time participated in national tournaments and was a champion school, but after the club's adviser changed, they have not been able to even participate in the qualifying tournament. However, thanks to the newly appointed adviser's strict instruction, the students are steadily improving and build up their strength. As they fight over who plays solos, some students give priority to studying and quit club activities. Finally, the long wished-for day of the contest arrives.
References: ANN, MyAnimeList, Wiki