7 Anime Like Yowamushi Pedal [Yowapeda] Recommendations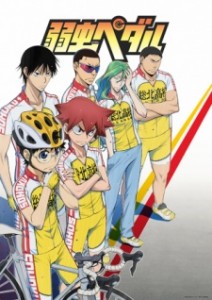 Here are my favorite picks for anime like Yowamushi Pedal. Keep in my the list is in no particular order. Enjoy the recommendations!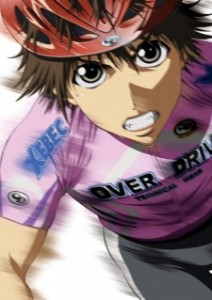 Tour de France, it is the biggest bicycle race in the world. Now, a new achievement is about to be recorded in the history of Tour de France. The top racer is a Japanese boy named Shinozaki Mikoto.
"Why don't you join our bicycle club?" said Fukazawa, Shinozaki Mikoto's secret love.
Unfortunately, despite being a high school student, he doesn't know how to ride a bike. With no real idea of what the bicycle club is, he earnestly practices. After he overcomes this challenge, while he pedals along, something that was smoldering in his mind for 15 years ignites.
"I want to devote myself to bike riding."
Experiencing failure with his friends and rivals, he pedals towards becoming the top racer.(Source: AnimeNfo)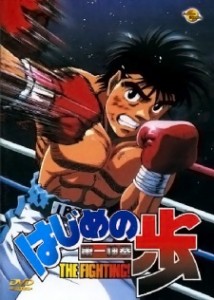 Makunouchi Ippo has been bullied his entire life. Constantly running errands and being beaten up by his classmates, Ippo has always dreamed of changing himself, but never has the passion to act upon it. One day, in the midst of yet another bullying, Ippo is saved by Takamura Mamoru, who happens to be a boxer. Ippo faints from his injuries and is brought to the Kamogawa boxing gym to recover. As he regains consciousness, he is awed and amazed at his new surroundings in the gym, though lacks confidence to attempt anything. Takamura places a photo of Ippo's classmate on a punching bag and forces him to punch it. It is only then that Ippo feels something stir inside him and eventually asks Takamura to train him in boxing. Thinking that Ippo does not have what it takes, Takamura gives him a task deemed impossible and gives him a one week time limit. With a sudden desire to get stronger, for himself and his hard working mother, Ippo trains relentlessly to accomplish the task within the time limit. Thus Ippo's journey to the top of the boxing world begins.[Written by MAL Rewrite]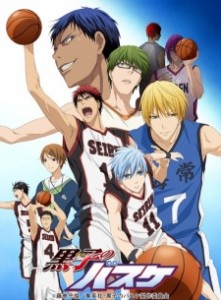 The Teiko Middle School Basketball Team. The class that produced three perfect seasons in a row, with five once-in-a generation players, called "The Generation of Miracles." There was another player who all of them respected… A legendary 6th player. An up-and-coming power player, Taiga Kagami, is just back from America. When he comes to Seirin High School, he meets the super-ordinary boy, Tetsuya Kuroko. Kagami is shocked to find that Kuroko isn't good at basketball, in fact, he's bad! And he's so plain that he's impossible to see. But Kuroko's plainness lets him pass the ball around without the other team noticing him, and he's none other than the sixth member of the Miracle Generation. Kuroko makes a pact with Kagami to defeat the other members of the Miracle Generation, who have all played basketball at other schools. A battle of light (Kagami) and shadow (Kuroko) begins!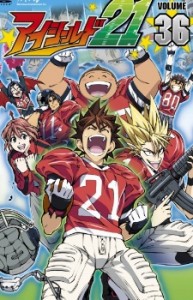 Welcome To the Gridiron of the Damned! Huge hulking bodies throw themselves at each other, while a tiny lithe body runs between them for the goal! No, it's not a game of football, it's Sena Kobayakawa trying to evade the monstrous Ha-Ha brothers down the halls of Deimon High School! But wait! Sena's incredible skills at not getting caught have been spotted by the devilish (possibly actually demonic) captain of the school's embryonic American style football team, and when Sena asks to be the teams manager, he gets thrust onto the field as a running back instead! But there are two BIG catches: first, to keep the identity of their new "star" player an absolute secret, Yoichi makes Sena wear an opaque visor on his helmet and gives him the alias of "Eyeshield 21." And the second catch? Well, in order to hit his fastest "speed of light" running mode, Sena usually has to be absolutely terrified. Not that THAT will be a problem with the monstrous players that he'll soon find himself running from! The insanity hits the streets when the feet meet the cleats in EYESHIELD 21!(Source: Sentai Filmworks)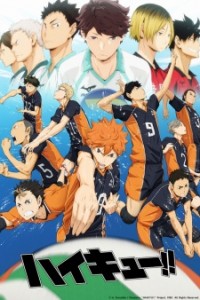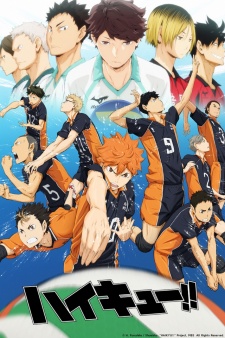 Inspired after watching a volleyball ace nicknamed "Little Giant" in action, small-statured Shouyou Hinata revives the volleyball club at his middle school. The newly-formed team even makes it to a tournament; however, their first match turns out to be their last when they are brutally squashed by the "King of the Court," Tobio Kageyama. Hinata vows to surpass Kageyama, and so after graduating from middle school, he joins Karasuno High School's volleyball team—only to find that his sworn rival, Kageyama, is now his teammate.
Thanks to his short height, Hinata struggles to find his role on the team, even with his superior jumping power. Surprisingly, Kageyama has his own problems that only Hinata can help with, and learning to work together appears to be the only way for the team to be successful. Based on Haruichi Furudate's popular shounen manga of the same name, Haikyuu!! is an exhilarating and emotional sports comedy following two determined athletes as they attempt to patch a heated rivalry in order to make their high school volleyball team the best in Japan.[Written by MAL Rewrite]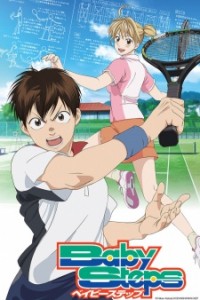 Maruo Eiichirou (Ei-Chan), a first year honor student, one day decides he's unhappy with the way things are and lacks exercise. He finds a flyer for the Tennis Club and decides to check it out. He's instantly captivated by it.
With no prior experience and poor physical conditioning, join Ei-Chan as he embarks on a tennis journey using his smarts, dedication, and work ethic.(Source: One Manga)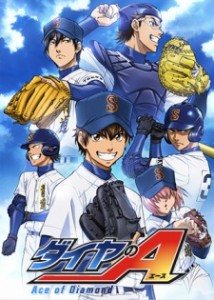 The story follows Eijun Sawamura, a pitcher who joins an elite school with a brilliant catcher named Kazuya Miyuki. Together with the rest of the team, they strive for Japan's storied Koushien championships through hard work and determination.(Source: ANN)
References: MyAnimeList, Wiki, ANN