9 Anime Like Yuru Yuri [Recommendations]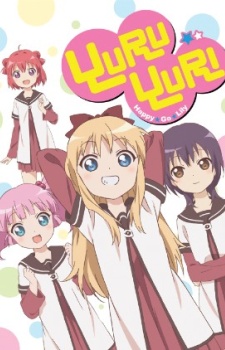 This anime is quite funny and I think many girls can relate to the characters in the show. Here are my favorite picks for anime like Yuru Yuri. Keep in mind the list is in no particular order. Enjoy!
The uneventful but subtly humorous daily lives of three girls who have just entered high school. Yuzuko is an intelligent airhead. Yukari is a loopy airhead. Yui is the mature and stable heart of the group. The other two girls depend on Yui, and she adores them in return. Teacher Miss Matsumoto, whom they call "Mother," sets them up in a tiny room with two computers and a whiteboard as the school's Data Processing Club.
Portrays the lives of several school girls attending a Japanese high school with a very loose humor tone. The main heroine is Konata Izumi, an athletic and intelligent girl who, despite these attributes, is not in a sports club, and her grades remain low. Her laziness at school is due to her love for anime and video games, and she is not interested in much else.
Shinobu Omiya is a 15 year old girl who had once did a homestay in Great Britain when she was 10 years old. She met a blonde, extremely shy, English girl named Alice Cartalet. Once getting to know each other, and getting past the language barrier issue, the two became close friends. On Shinobu's last day in England, Alice makes a promise that she will come visit Japan someday. 5 years later, Shinobu receives a letter from Alice stating that she is coming to Japan. And on the same day of receiving the letter Alice appears at Shinobu's school, revealing that she has transferred to her class and will be staying at her house.
Haruka Takayama and Yuu Sonoda were inseparable during their junior high school years, but upon entering their senior high school, they end up being seated on opposite sides of the classroom. Having to spend time with more friends, the two decide to do something to make their relationship special.
The Fujisaki Girls Academy is well known for educating la crème de la crème of young ladies. And the perfect example of demeanor is the beloved student president Maki. Except that Riko -the boyish tomboy of the school- discovers by accident that Maki really has a young girl heart filled with curiosity and passion, and now Riko is forced to keep the secret so that she can help Maki in her romantic experiences by acting as a substitute boyfriend.
Tooru takes a test so she can enter the same high school as Run, her childhood friend and the girl she likes. She passes the exam and cannot wait to break the good news to Run. However, when Tooru arrives at Run's house, she finds Run hugging a girl she's never seen before. Tooru is introduced to Run's high school friends, Yuuko and Nagi. As Run, Nagi and Yuuko begin their second year while Tooru begins her first year, their exciting high school life filled with drama and adventure begins for the four friends.
Nichijou follows the everyday lives of various people in the town of Tokisadame, mainly focusing on the energetic Yūko Aioi, the bright and cheerful Mio Naganohara, the quiet and deadpan Mai Minakami, the anxious robot Nano Shinonome, her eight-year-old creator the Professor, and a talking cat named Sakamoto, along with an ensemble cast of characters. Vignettes which are mostly unrelated to the main focus of the series are placed throughout each episode, some of them adapted from Arawi's manga Helvetica Standard.
Ichigo Mashimaro follows the life of Nobue Itoh, her younger sister Chika, and her friends. The basic premise of the show can be summed up in "cute girls do cute things in cute ways", be it trying to quit smoking, going outside to play, celebrating a holiday, or doing school work.
GJ-bu, or GJ Club, revolves around five members of a vague high school club, where on any given day they may be playing Twister, taking naps, or reading manga. The show outlines the relationship between the protagonist, a boy named Kyōya, and some rather interesting girls, including a tiny tsundere president, her calm kind sister, a genius chess player, and a girl who is always eating meat and resembles a cat.
References: ANN, Wiki, MyAnimeList