7 Anime Like Shomin Sample [Ore ga Ojō-sama Gakkō ni "Shomin Sample" Toshite Gets-rareta Ken]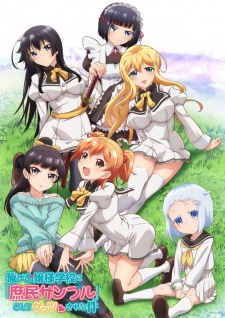 Here are my favorite picks for anime like Shomin Sample[also known as Ore ga Ojō-sama Gakkō ni "Shomin Sample" Toshite Gets-rareta Ken]. Keep in mind the list is in no particular order. Enjoy!
Infinite Stratos (IS), a weaponized exoskeleton system, has become the dominant tool of warfare and conflict. Unfortunately for the men in society, only women are able to operate Infinite Stratos…with very few exceptions. One of those exceptions is Ichika Orimura, an orphan raised by his older sister, who is herself a famous IS pilot. When his compatibility with Infinite Stratos is discovered after he accidentally touches one at the age of 15, he is given a scholarship and enrolled in a school that specializes in training IS pilots. Which means an interesting life surrounded by girls for this shy, unassuming boy.
Kodaka Hasegawa is a recent transfer student to St. Chronica's Academy, a Catholic high school. As with every other school he has ever attended, he finds it difficult to make friends there because of his naturally-blond hair and fierce-looking eyes, which make him look like a dangerous "yankee" to his prejudiced schoolmates. One day, Kodaka accidentally comes across the equally solitary and very abrasive Yozora Mikazuki while she converses with her imaginary friend Tomo. Realizing that neither of them have any social lives, they decide that the best way to improve their situation is to form a club: the Neighbor's Club precisely intended to make friends and learn social skills.
The story is set in Areishia Spirit Academy, where girls from noble families are educated to become spirit contractors. A boy named Kamito, a male spirit contractor whose existence Was believed to be impossible, accidentally peeps on a girl named Clair while she was bathing, and forms a contract with the spirit she set her sights on. In order to make up for his mistake, Kamito must become Clair's contracted spirit.
Three years ago, the world learned that harpies, centaurs, catgirls, and all manners of fabulous creatures are not merely fiction; they are flesh and blood – not to mention scale, feather, horn, and fang. Thanks to the "Cultural Exchange Between Species Act," these once-mythical creatures have assimilated into society, or at least, they're trying. When a hapless human teenager named Kurusu Kimihito is inducted as a "volunteer" into the government exchange program, his world is turned upside down. A snake-like lamia named Miia comes to live with him, and it is Kurusu's job to take care of her and make sure she integrates into his everyday life.
At private Mihama Academy, five girls who seem normal attend the school due to "certain reasons." A sixth student "with reasons" named Yūji Kazami transfers in. Yūji has an ego with such darkness that he does not fade in comparison to the five girls, who are so different from the norm. As they each meet each other, they deepen their understanding of one another. Through the small bits of progress they make, each of their hearts will be affected. When Yūji arrives, a story of girls who are trapped by their pasts begins.
Hino Akiharu lost his parents when he was small and was adopted into his uncle's family. But he noticed his uncle is after the inheritance of his parents, so he decides to enter a boarding school, Hakureiryou high school. However his delinquent boy-like appearance frightens the girls, who make up the majority of the students. Being unable to get along with the classmates, Akiharu meets his childhood girlfriend Saikyou Tomomi.
Six months ago, the five-member literature club all awakened superpowers. Unfortunately this has not led to them having anything else interesting happen in their lives, like epic battles or saving the universe. They go about their ordinary lives, just happening to have superpowers, waiting for the call to battle to finally happen – assuming it ever comes at all.
References: Wiki, MyAnimeList, ANN