9 Movies Like John Tucker Must Die [Recommendations]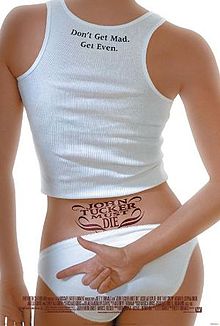 Here are top picks for similar movies like John Tucker Must Die. Mean Girls is a very good one that I should mention right away. Keep in mind the list is in no particular order. Enjoy!
High school hotshot Zach Siler (Freddie Prinze Jr.) is the envy of his peers. But his popularity declines sharply when his cheerleader girlfriend, Taylor (Jodi Lyn O'Keefe), leaves him for sleazy reality-television star Brock Hudson (Matthew Lillard). Desperate to revive his fading reputation, Siler agrees to a seemingly impossible challenge. He has six weeks to gain the trust of nerdy outcast Laney Boggs (Rachael Leigh Cook) — and help her to become the school's next prom queen.
College student Beca (Anna Kendrick) knows she does not want to be part of a clique, but that's exactly where she finds herself after arriving at her new school. Thrust in among mean gals, nice gals and just plain weird gals, Beca finds that the only thing they have in common is how well they sing together. She takes the women of the group out of their comfort zone of traditional arrangements and into a world of amazing harmonic combinations in a fight to the top of college music competitions.
Science nerd Alvin Johnson (Nick Cannon) is proficient at engineering but incompetent when it comes to dating. One day, popular girl Paris Morgan (Christina Milian) appears at the auto shop where he works after school. She has damaged her mother's car and urgently requests repairs. Alvin offers a bribe: He will fix the car immediately in exchange for two weeks of dating. Paris agrees, and Alvin is able to enter the sacred realm of the popular kids. But at what cost to himself?
A young man (Luke Wilson) discovers that the beautiful but manipulative woman (Uma Thurman) he is dating is really a superheroine known as G-Girl. After breaking up with her, he learns that "hell hath no fury like a woman scorned" as she unleashes her considerable powers against him.
New York lawyer Carly Whitten (Cameron Diaz) lives by strict rules when it comes to romantic relationships, but when she falls for suave, handsome Mark King (Nikolaj Coster-Waldau), she begins an affair with him. A surprise visit to Mark's home reveals that he is married to devoted housewife Kate (Leslie Mann). Carly and Kate direct their hurt and anger toward Mark, and when they discover yet a third woman (Kate Upton) caught in his web of lies, the three join forces for revenge.
Prompted by her popular best friend to spill details of her boring weekend, Olive (Emma Stone), a clean-cut teen, decides to spice things up by telling a little lie about losing her virginity. When the high-school busybody (Amanda Bynes) overhears the conversation and spreads it all over campus, Olive is suddenly notorious but for the wrong reasons.
A comic look at a romantic problem that has plagued mankind since the very first boy-girl breakup: how's a guy supposed to survive in a world where ex-girlfriends continue to exist … and attract? When Berke (Ben Foster) and Allison (Melissa Sagemiller) break up he has a hard time dealing with her dating the new hot guy in school.
Playboy Thomas Fuentes (Eduardo Verastegui) has so far been able to skate by in life on good looks and charm alone. But when his duplicitous relationships with three women — impassioned waitress Cici (Sofía Vergara), meticulous lawyer Lorena (Roselyn Sánchez) and bored socialite Patricia (Jaci Velasquez) — spiral out of control, he suffers a mental breakdown. His doctor recommends that he choose just one girlfriend — but can he choose in time before they discover his deception?
Kat Stratford (Julia Stiles) is beautiful, smart and quite abrasive to most of her fellow teens, meaning that she doesn't attract many boys. Unfortunately for her younger sister, Bianca (Larisa Oleynik), house rules say that she can't date until Kat has a boyfriend, so strings are pulled to set the dour damsel up for a romance. Soon Kat crosses paths with handsome new arrival Patrick Verona (Heath Ledger). Will Kat let her guard down enough to fall for the effortlessly charming Patrick?