16 Good Movies Like 500 Days of Summer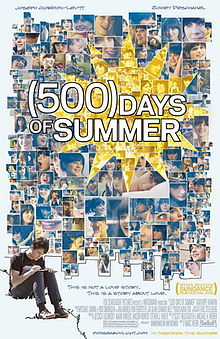 Here are my favorite picks for similar movies like 500 Days of Summer. Keep in mind the list is in no particular order. Enjoy!
Playboy vet Henry sets his heart on romancing Lucy, but she has short-term memory loss; she can't remember anything that happened the day before. So every morning, Henry has to woo her again. Her friends and family are very protective, and Henry must convince them that he's in it for love.
Struggling musician Peter Bretter (Jason Segel) is better-known as the boyfriend of TV star Sarah Marshall (Kristen Bell). After she unceremoniously dumps him, he feels lost and alone but makes a last-ditch bid to get over it by going to Hawaii. However, she and her new boyfriend (Russell Brand) are there in the same hotel.
Adam Lerner (Joseph Gordon-Levitt) has always tried to take good care of his health, so it comes as a cruel surprise when he learns that he has malignant tumors along his spine. His doctor gives him a 50/50 chance of survival, but Adam tries to remain upbeat, though his mother (Anjelica Huston) and his friend Kyle (Seth Rogen), react badly to the news. Adam starts seeing a therapist (Anna Kendrick), but their relationship threatens to cross the boundary between doctor and patient.
The Notebook(2004)
In 1940s South Carolina, mill worker Noah Calhoun (Ryan Gosling) and rich girl Allie (Rachel McAdams) are desperately in love. But her parents don't approve. When Noah goes off to serve in World War II, it seems to mark the end of their love affair. In the interim, Allie becomes involved with another man (James Marsden). But when Noah returns to their small town years later, on the cusp of Allie's marriage, it soon becomes clear that their romance is anything but over.
New Jersey bartender Jon Martello (Joseph Gordon-Levitt) knows what's important: his friends, his family, his car, his church, his sexual conquests — and porn. In fact, Jon is a porn addict and has never had a genuine relationship with a woman. However, when he meets Barbara (Scarlett Johansson) he has to change his operating methods, because Barbara won't be bedded easily. For the first time in his life, Jon begins a real courtship, but his obsession with erotica threatens to ruin everything.
Frank (Leonardo DiCaprio) and April Wheeler (Kate Winslet) always see themselves as far-removed from the conventionality of suburbia. Yet that is exactly what creeps up on them when they buy a house in Connecticut. He toils 10 hours a day in a job he hates, while she, as a 1950s homemaker, yearns for fulfillment and passion. Rebelling against the torpor of their lives, the couple plan an escape that may push them to their limits.
Rosie and Alex are best friends until Alex's family moves to America. They gamble everything to keep their love and friendship alive over the years and miles.
James Cameron's "Titanic" is an epic, action-packed romance set against the ill-fated maiden voyage of the R.M.S. Titanic; the pride and joy of the White Star Line and, at the time, the largest moving object ever built. She was the most luxurious liner of her era — the "ship of dreams" — which ultimately carried over 1,500 people to their death in the ice cold waters of the North Atlantic in the early hours of April 15, 1912.
References: Wiki, IMBD