8 Movies Like Amélie [Recommendations]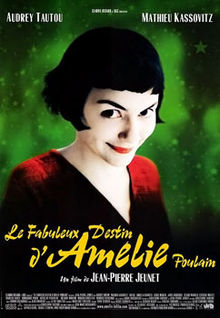 These are my favorite picks for movies like Amélie. Keep in mind that the list is in no particular order. Enjoy the recommendations.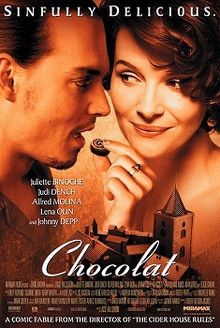 When mysterious Vianne and her child arrive in a tranquil French town in the winter of 1959, no one could have imagined the impact that she and her spirited daughter would have on the community stubbornly rooted in tradition. Within days, she opens an unusual chocolate shop, across the square from the church. Her ability to perceive her customers' desires and satisfy them with just the right confection, coaxes the villagers to abandon themselves to temptation — just as Lent begins.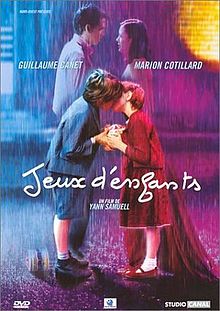 The film begins in Liège in Belgium, where a little girl, Sophie, is being bullied by other children. Only a bus driver and a boy, Julien, help her collect her books that the others have thrown into a puddle.
To cheer Sophie up, Julien gives her a small tin box, a gift from his fatally ill mother. Because it is important to him, he asks her to lend it back to him from time to time. As Julien wants the box back at the moment he gave it to her, Sophie demands proof of how important it is to him. Julien disengages the handbrake of the bus without hesitation, and the bus full of children rolls down a hill. Their game has begun: the box changes its owner after each completed dare.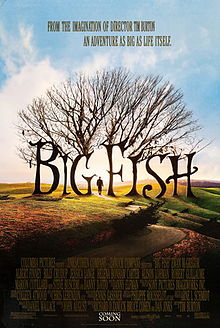 When Edward Bloom (Albert Finney) becomes ill, his son, William (Billy Crudup), travels to be with him. William has a strained relationship with Edward because his father has always told exaggerated stories about his life, and William thinks he's never really told the truth. Even on his deathbed, Edward recounts fantastical anecdotes. When William, who is a journalist, starts to investigate his father's tales, he begins to understand the man and his penchant for storytelling.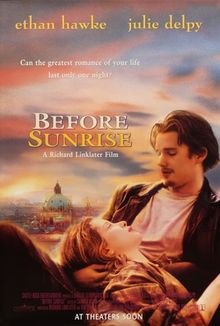 On his way to Vienna, American Jesse (Ethan Hawke) meets Celine (Julie Delpy), a student returning to Paris. After long conversations forge a surprising connection between them, Jesse convinces Celine to get off the train with him in Vienna. Since his flight to the U.S. departs the next morning and he has no money for lodging, they wander the city together, taking in the experiences of Vienna and each other. As the night progresses, their bond makes separating in the morning a difficult choice.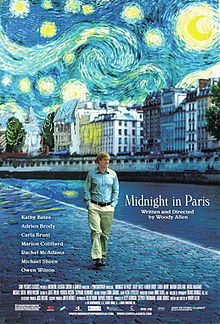 Gil Pender (Owen Wilson) is a screenwriter and aspiring novelist. Vacationing in Paris with his fiancee (Rachel McAdams), he has taken to touring the city alone. On one such late-night excursion, Gil encounters a group of strange — yet familiar — revelers, who sweep him along, apparently back in time, for a night with some of the Jazz Age's icons of art and literature. The more time Gil spends with these cultural heroes of the past, the more dissatisfied he becomes with the present.
Jonathan Foer, (Elijah Wood) a young American Jew, goes on a quest to find the woman, Augustina, sister of Lista (Laryssa Lauret), who saved his grandfather during the Holocaust in a small Ukrainian town called Trachimbrod that was wiped off the map when the Nazis liquidated Eastern European shtetls. His guides are a cranky, anti-semitic grandfather (Boris Leskin); his deranged Border collie named Sammy Davis Jr. Jr.; and his over-enthusiastic grandson, Alex (Eugene Hutz), whose fractured command of English, passion for American pop culture, and constant chatter threaten to make the worst of every situation. The guides are not very knowledgeable about the subject of finding Jews, and usually just attempt to scam them by taking them on long journeys, however after hearing about Jonathan's compelling story, they decide they actually want to help him. After traveling through much of rural Ukraine they eventually find Augustina's sister, who leads them to where Augustina was killed by Nazi soldiers after her father refused to spit on the Torah. The grandfather kills himself after it was revealed he was Jewish and managed to survive the war himself. His suicide was portrayed as more of a relief than a tragedy. Jonathan returns home after saying farewell to his new friend Alex.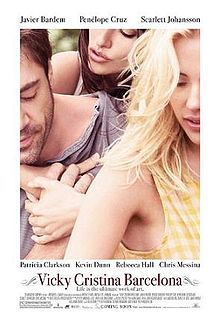 Americans Vicky (Rebecca Hall) and Cristina (Scarlett Johansson) arrive in Spain for a summer vacation at a friend's (Patricia Clarkson) Barcelona home. Visiting an art gallery, they meet seductive painter Juan Antonio (Javier Bardem), who invites them for a weekend of food, art and sex. Sparks really ignite when his fiery former lover (Penélope Cruz) arrives on the scene, making for a very crowded house.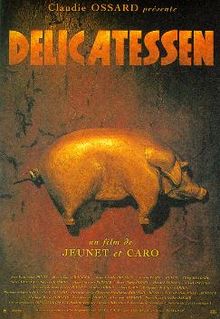 Clapet (Jean-Claude Dreyfus) is a butcher who owns a run-down apartment building in post-apocalyptic France. The building is in constant need of a handyman, because Clapet routinely butchers them and sells them as food. The latest in the long ling of disposable workers is Louison (Dominique Pinon), a former circus clown desperate for work and lodging. But this time Clapet's plan hits a snag when his young daughter (Marie-Laure Dougnac) falls head over heels for the lovable Louison.
References: Wikipedia, TasteKid