Similar Movies Like Clueless and She's All That [Recommendations]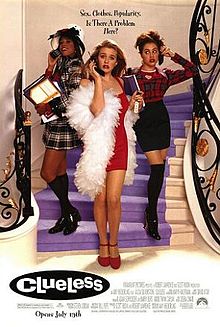 Here is my list of favorite movies like Clueless and She's All That. Keep in mind the list is in no particular order and they are all chick flicks. Enjoy!
Bring It On(2000)
The Toro cheerleading squad from Rancho Carne High School in San Diego has got spirit, spunk, sass and a killer routine that's sure to land them the national championship trophy for the sixth year in a row. But for newly-elected team captain Torrance, the Toros' road to total cheer glory takes a shady turn when she discovers that their perfectly-choreographed routines were in fact stolen from the Clovers, a hip-hop squad from East Compton, by the Toro's former captain.
Josie Geller (Drew Barrymore), a baby-faced junior copywriter at the Chicago Sun-Times, must pose as a student at her former high school to research contemporary teenage culture. With the help of her brother, Rob (David Arquette), Josie infiltrates the inner circle of the most popular clique on campus. But she hits a major snag in her investigation — not to mention her own failed love life — when she falls for her dreamy English teacher, Sam Coulson (Michael Vartan).
An annual beauty pageant in small-town Minnesota turns ridiculously competitive and ultimately chaotic in this biting comedy. Amber Atkins (Kirsten Dunst), the daughter of hard-drinking mom Annette (Ellen Barkin), and Becky Leeman (Denise Richards), who is motivated by her former beauty-queen mother, Gladys (Kirstie Alley), are among the top contenders in the event. As Amber, Becky, and other local girls prepare for the big day, bizarre incidents occur, leading up to an ending with a bang.
Molly Gunn (Brittany Murphy) has never worked a day in her life and has lived like a queen since her father, a famous rock 'n' roll star, died and left her his fortune. But everything changes when Molly realizes that her manager has stolen her money. She lands a job as a nanny for Ray (Dakota Fanning), a young girl whose serious attitude is the opposite of Molly's carefree one. With help from her boyfriend, Neal (Jesse Spencer), Molly tries to bond with Ray and learn how to be an adult.
Elle Woods (Reese Witherspoon) has it all. She wants nothing more than to be Mrs. Warner Huntington III. But there is one thing stopping him (Matthew Davis) from proposing: She is too blond. Elle rallies all of her resources and gets into Harvard, determined to win him back.
When it comes to dating, Christina Walters (Cameron Diaz) has a golden rule: avoid searching for Mr. Right and focus on Mr. Right Now. That is until one night at a club when she unexpectedly meets Peter (Thomas Jane), only to see him suddenly disappear the next day. She and her best friend Courtney (Christina Applegate) decide to break the rules and go on a road trip to find him, encountering wild and hilarious misadventures along the way.
High school hotshot Zach Siler (Freddie Prinze Jr.) is the envy of his peers. But his popularity declines sharply when his cheerleader girlfriend, Taylor (Jodi Lyn O'Keefe), leaves him for sleazy reality-television star Brock Hudson (Matthew Lillard). Desperate to revive his fading reputation, Siler agrees to a seemingly impossible challenge. He has six weeks to gain the trust of nerdy outcast Laney Boggs (Rachael Leigh Cook) — and help her to become the school's next prom queen.