10 Thriller Movies Like Donnie Darko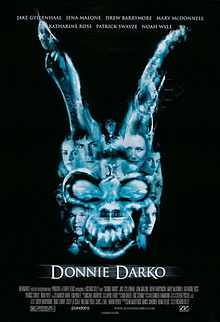 Here are my top picks for movies like Donnie Darko. Many of these are psychological and interesting to watch. Keep in mind the list is in no particular order.
In New York City in 1987, a handsome, young urban professional, Patrick Bateman (Christian Bale), lives a second life as a gruesome serial killer by night. The cast is filled by the detective (Willem Dafoe), the fiance (Reese Witherspoon), the mistress (Samantha Mathis), the coworker (Jared Leto), and the secretary (Chloë Sevigny). This is a biting, wry comedy examining the elements that make a man a monster.
Imaginatively evoking the inner landscape of human beings longing to connect, to love and feel loved, the film is a parable of happiness gloriously found and tragically lost. "Requiem for a Dream" tells parallel stories that are linked by the relationship between the lonely, widowed Sara Goldfarb and her sweet but aimless son, Harry. The plump Sara, galvanized by the prospect of appearing on a TV game show, has started on a dangerous diet regimen to beautify herself for a national audience.
In an England of the future, Alex (Malcolm McDowell) and his "Droogs" spend their nights getting high at the Korova Milkbar before embarking on "a little of the old ultraviolence," while jauntily warbling "Singin' in the Rain." After he's jailed for bludgeoning the Cat Lady to death, Alex submits to behavior modification technique to earn his freedom; he's conditioned to abhor violence. Returned to the world defenseless, Alex becomes the victim of his prior victims.
Dom Cobb (Leonardo DiCaprio) is a thief with the rare ability to enter people's dreams and steal their secrets from their subconscious. His skill has made him a hot commodity in the world of corporate espionage but has also cost him everything he loves. Cobb gets a chance at redemption when he is offered a seemingly impossible task: Plant an idea in someone's mind. If he succeeds, it will be the perfect crime, but a dangerous enemy anticipates Cobb's every move.
The implausible escape of a brilliant murderess brings U.S. Marshal Teddy Daniels (Leonardo DiCaprio) and his new partner (Mark Ruffalo) to Ashecliffe Hospital, a fortress-like insane asylum located on a remote, windswept island. The woman appears to have vanished from a locked room, and there are hints of terrible deeds committed within the hospital walls. As the investigation deepens, Teddy realizes he will have to confront his own dark fears if he hopes to make it off the island alive.
Nicholas Van Orton (Michael Douglas) is a successful banker who keeps mostly to himself. When his estranged brother Conrad (Sean Penn) returns on his birthday with an odd gift — participation in a personalized, real-life game — Nicholas reluctantly accepts. Initially harmless, the game grows increasingly personal, and Orton begins to fear for his life as he eludes agents from the mysterious game's organizers. With no one left to trust and his money gone, Orton must find answers for himself.
Leonard (Guy Pearce) is tracking down the man who raped and murdered his wife. The difficulty, however, of locating his wife's killer is compounded by the fact that he suffers from a rare, untreatable form of memory loss. Although he can recall details of life before his accident, Leonard cannot remember what happened fifteen minutes ago, where he's going, or why.
A master magician named Eisenheim (Edward Norton) vies with Crown Prince Leopold (Rufus Sewell) of Vienna for the hand of noblewoman Sophie (Jessica Biel), the girl he once loved. He brings his considerable powers to bear on the prince, as she is about to be named royal fiancee. However, a police inspector named Uhl (Paul Giamatti) tries to warn Eisenheim that he is playing a very dangerous game.
An illusion gone horribly wrong pits two 19th-century magicians, Alfred Borden (Christian Bale) and Rupert Angier (Hugh Jackman), against each other in a bitter battle for supremacy. Terrible consequences loom when the pair escalate their feud, each seeking not just to outwit — but to destroy — the other man.
In this quirky cult-favorite comedy, unemployed New York City puppeteer Craig Schwartz (John Cusack) reluctantly takes a temp job as a filing clerk for the eccentric Dr. Lester (Orson Bean). While at work, Craig discovers a portal that leads into the mind of renowned actor John Malkovich. When he lets his attractive co-worker Maxine (Catherine Keener) in on the secret, they begin both an unusual business scheme and an odd relationship that involves Craig's restless wife, Lotte (Cameron Diaz).