Mulan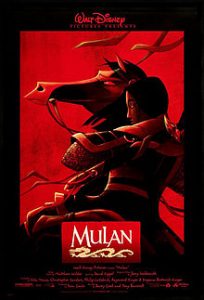 This is a list of movie recommendations of movies similar to Mulan. Bear in mind that this list is in no particular order.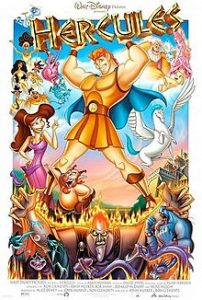 Disney tackles Greek mythology in this animated feature. Hercules (Tate Donovan), a son of gods, was snatched as a baby by Hades (James Woods) and forced to live among mortals as a half-man, half-god. Now a teenager, Hercules needs to perform a rite of passage on Earth to prove himself worthy of living with the gods on Mount Olympus. With his plucky satyr sidekick, Philoctetes (Danny DeVito), along for the ride, Hercules must learn how to use his strength to defeat a series of evil creatures.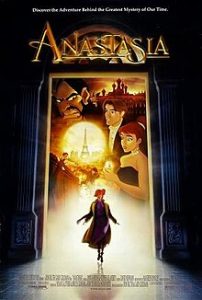 The evil wizard Rasputin (Christopher Lloyd) puts a hex on the royal Romanovs and young Anastasia (Meg Ryan) disappears when their palace is overrun. Years later, the Grand Duchess (Angela Lansbury) offers a reward for Anastasia's return. Two scheming Russians (John Cusack, Kelsey Grammer), planning to pawn off a phony, hold auditions and choose an orphan girl with a remarkable resemblance to the missing princess. They bring her to Paris for the reward, not knowing she's the real Anastasia.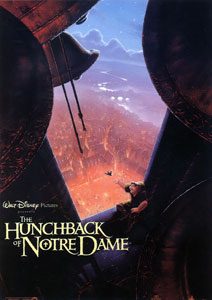 An animated Disney adventure follows disfigured Quasimodo (Tom Hulce), the bell-ringer of Notre Dame Cathedral, who bides his time locked away in a tower. With only gargoyles to keep him company, Quasimodo longs to be with other people, leading to his chance encounter with the enchanting Gypsy Esmeralda (Demi Moore). When the beautiful young woman catches the attention of Quasimodo's guardian, sinister Frollo (Tony Jay), Quasimodo must help to keep her out of his clutches.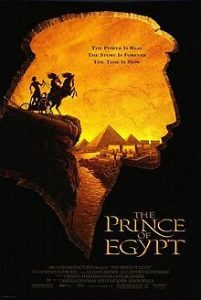 In this animated retelling of the Book of Exodus, Egyptian Prince Moses (Val Kilmer), upon discovering his roots as a Jewish slave, embarks on a quest to free his people from bondage. When his plea is denied by his brother Rameses (Ralph Fiennes), the new pharaoh, a series of horrific plagues strike Egypt. Moses finally leads the Israelites to freedom by parting the Red Sea and drowning the Egyptian army. God then gives Moses the Ten Commandments, a list of rules for his people to live by.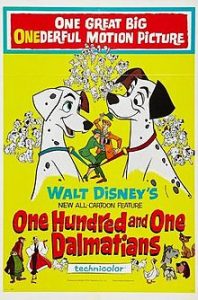 In a Disney animation classic, Dalmatian Pongo is tired of his bachelor-dog life. He spies lovely Perdita and maneuvers his master, Roger, into meeting Perdita's owner, Anita. The owners fall in love and marry, keeping Pongo and Perdita together too. After Perdita gives birth to a litter of 15 puppies, Anita's old school friend Cruella De Vil wants to buy them all. Roger declines her offer, so Cruella hires the criminal Badun brothers to steal them — so she can have a fur coat.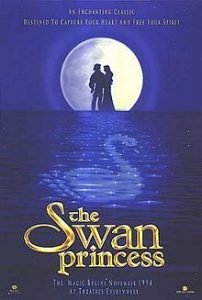 A vengeful wizard curses a princess to exist as a swan by day until her prince declares his undying love.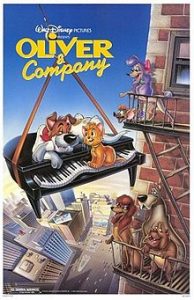 In this animated update of the classic "Oliver Twist" tale, Oliver (Joey Lawrence) is an orphaned kitten taken in by a gang of thieving dogs, led by cavalier canine Dodger (Billy Joel) and owned by down-and-out pickpocket Fagin (Dom DeLuise). While pulling a job in the streets of New York City, Oliver winds up being adopted by a rich girl, Jenny (Natalie Gregory), and landing on easy street. But through a series of events, a loan shark threatens the peaceful new arrangement.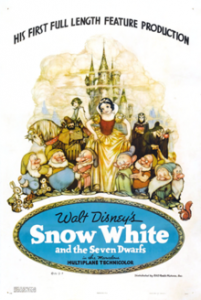 The Grimm fairy tale gets a Technicolor treatment in Disney's first animated feature. Jealous of Snow White's beauty, the wicked queen orders the murder of her innocent stepdaughter, but later discovers that Snow White is still alive and hiding in a cottage with seven friendly little miners. Disguising herself as a hag, the queen brings a poisoned apple to Snow White, who falls into a death-like sleep that can be broken only by a kiss from the prince.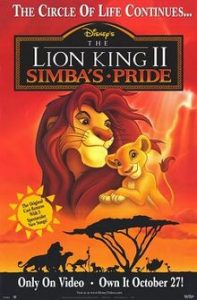 Kiara, the daughter of Simba and Nala, loves the son of exiled lioness Zira, who is out for revenge.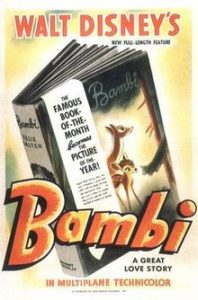 In a classic Disney animation, a fawn named Bambi joins his new friends, a young rabbit named Thumper and a skunk kit named Flower in happily exploring the woods. Bambi is captivated with a young doe named Faline, and he learns from his doting mother and his father — the Great Prince of the Forest — that besides the delights of the forest, there is danger in open meadows where hunters can see them. Though fear and tragedy touch Bambi's life, another spring brings renewal.
References: Tastedive