11 Good Movies Like Straight Outta Compton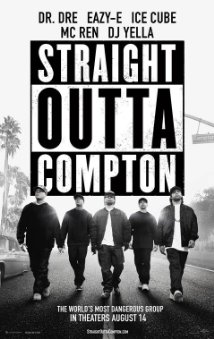 This movie was one of the better movies I have seen recently. It kinda reminds me of some old school movies I watched when i was younger. Here are my list of favorite picks for movies like Straight Outta Compton.
Boyz n the Hood(1991)
Tre (Cuba Gooding Jr.) is sent to live with his father, Furious Styles (Larry Fishburne), in tough South Central Los Angeles. Although his hard-nosed father instills proper values and respect in him, and his devout girlfriend Brandi (Nia Long) teaches him about faith, Tre's friends Doughboy (Ice Cube) and Ricky (Morris Chestnut) don't have the same kind of support and are drawn into the neighborhood's booming drug and gang culture, with increasingly tragic results.
Hustle & Flow(2005)
DJay (Terrence Howard) is a pimp living day to day on the tough streets of Memphis, Tennessee. Pushing 40, he's tired of the life he's living and dreams of something greater. When he meets up with an old friend who is now in the recording industry, he's inspired to turn his life around and uses his criminal life as an inspiration to create rap music. When he hears that a rap superstar is coming to town, Djay works a hustle to gain the rapper's attention and hopefully get signed by a label.
Do the Right Thing(1989)
Salvatore "Sal" Fragione (Danny Aiello) is the Italian owner of a pizzeria in Brooklyn. A neighborhood local, Buggin' Out (Giancarlo Esposito), becomes upset when he sees that the pizzeria's Wall of Fame exhibits only Italian actors. Buggin' Out believes a pizzeria in a black neighborhood should showcase black actors, but Sal disagrees. The wall becomes a symbol of racism and hate to Buggin' Out and to other people in the neighborhood, and tensions rise.
Introducing Dorothy Dandridge(1999)
Based on a true story, this film chronicles the life of Dorothy Dandridge, the first black woman to be nominated for an Oscar for Best Actress. Dandridge (Halle Berry) begins her career working as a nightclub singer before eventually breaking into Hollywood, where she meets her steadfast manager (Brent Spiner) and struggles against racism. Her rise to stardom introduces her to Otto Preminger (Klaus Maria Brandauer), a film director with whom she develops a complicated relationship.
OT: Our Town(2002)
In the impoverished Los Angeles neighborhood of Compton, a group of intrepid inner-city students and two courageous teachers attempt to do what has not been done in more than 20 years: put on a school theatrical production. They choose the Thornton Wilder classic "Our Town" and attempt to put the show together without any funding or even a stage. The students struggle to find the extra time and discipline required to perform in a play, not to mention remembering lines and learning how to act.
Dark Blue(2002)
Set in the Los Angeles Police Department in 1992, "Dark Blue" is a thriller that takes place just days before the acquittal of four white officers in the beating of black motorist Rodney King and the subsequentL.A. riots. In this racially charged climate, the LAPD's elite Special Investigations Squad is assigned a quadruple homicide. As they work the case, detective Eldon (Kurt Russell), tutors SIS rookie Bobby (Scott Speedman) in the realities of police intimidation and corruption.
Notorious(2009)
Born and raised in Brooklyn, N.Y., Christopher Wallace (Jamal Woolard) parlays his gift for storytelling into a career as a rap artist. Eventually dubbing himself Biggie Smalls, then later, the Notorious B.I.G., Wallace's tales about violent street life take him to the top of the rap charts. The subject he so often raps about catches up with him in March of 1997, when he is shot to death after leaving a party.
Stand and Deliver(1988)
Los Angeles high school teacher Jaime Escalante (Edward James Olmos) is being hassled by tough students like Angel Guzman (Lou Diamond Phillips). But Jaime is also pressured by his bosses, who want him to control his raucous classroom. Caught in the middle, he opts to immerse his students in higher math. After intensive study, his students ace California's calculus test, only to learn that their scores are being questioned. They'll have to retake the exam in order to quiet the critics.
8 Mile(2002)
The people of Detroit know 8 Mile as the city limit, a border, a boundary. It is also a psychological dividing line that separates Jimmy Smith Jr. (Eminem) from where and who he wants to be. A provocative fictional examination of a critical week in Jimmy's life.
Menace II Society(1993)
After growing up in the gang lifestyle of the Los Angeles projects, 18-year-old Caine Lawson (Tyrin Turner) wants a way out. Everyone around him, including his unpredictable friend O-Dog (Larenz Tate), is trapped in their lives of crime and violence. With the help of his caring teacher (Charles Dutton) and supportive girlfriend (Jada Pinkett), Caine plans to leave the city for good. But in a series of tragic events, Caine realizes that escape will not be easy.
Dreamgirls(2006)
Deena (Beyoncé Knowles),Effie (Jennifer Hudson) and Lorrell (Anika Noni Rose) form a music trio called the Dreamettes. When ambitious manager Curtis Taylor Jr. (Jamie Foxx) spots the act at a talent show, he offers the chance of a lifetime, to be backup singers for a national star (Eddie Murphy). Taylor takes creative control of the group and eventually pushes the singers into the spotlight. However, one becomes the star, forcing another out, which teaches them about the high cost of fame.
References: IMBD