13 Similar Movies Like Superbad [Must Watch!]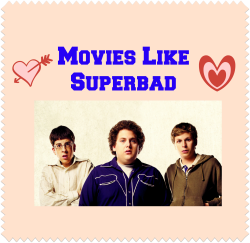 Here are my favorite picks that are quite similar to Superbad. They are funny and enjoyable to watch! The list is in no particular order here.
A riotous and raunchy exploration of the most eagerly anticipated — and most humiliating — rite of adulthood, known as losing one's virginity. In this hilarious lesson in life, love and libido, a group of friends, fed up with their well-deserved reputations as sexual no-hitters, decide to take action.
When cops Schmidt (Jonah Hill) and Jenko (Channing Tatum) join the secret Jump Street unit, they use their youthful appearances to go under cover as high-school students. They trade in their guns and badges forbackpacks, and set out to shut down a dangerous drug ring. But, as time goes on, Schmidt and Jenko discover that high school is nothing like it was just a few years earlier — and, what's more, they must again confront the teenage terror and anxiety they thought they had left behind.
An ambitious executive at a record company, Aaron Green (Jonah Hill) gets what looks like an easy assignment: He must escort British rock legend Aldous Snow (Russell Brand) to L.A.'s Greek Theatre for the firststop on a lucrative comeback-concert tour. Snow, however, has different plans. Learning his true love is in California, the rocker vows to win her back before starting the tour, forcing Aaron to pull out all the stops to get Snow on stage in time.
Prompted by her popular best friend to spill details of her boring weekend, Olive (Emma Stone), a clean-cut teen, decides to spice things up by telling a little lie about losing her virginity. When the high-school busybody (Amanda Bynes) overhears the conversation and spreads it all over campus, Olive is suddenly notorious but for the wrong reasons.
Rising journalist Alison Scott (Katherine Heigl) hits a serious bump in the road after a one-night stand with irresponsible slacker Ben Stone (Seth Rogen) results in pregnancy. Rather than raise the baby on her own, she decides to give Ben a chance to prove he is father material. However, he is unsure if he is ready to be a parent, and both wonder if they would be compatible lifetime partners.
Andy Stitzer (Steve Carell) is an amiable single guy who works at a big-box store. Living alone, 40-year-old Andy spends his free time playing video games and curating his action-figure collection. Despite his age, Andy has never had sex, so his friends, including the laid-back David (Paul Rudd), push Andy towards losing his virginity. While attempting to get over his awkwardness around female customers, Andy meets local shop owner Trish (Catherine Keener), and they begin a tentative romance.
School's out, and an entire graduating class — from football stars and cool girls to complete nerds — gathers at a wealthy classmate's home for a party. There, the artistic Preston (Ethan Embry) hopes to move in on Amanda (Jennifer Love Hewitt), the beauty he has admired from afar for years. Dorky William (Charlie Korsmo) schemes to pay back meathead Mike (Peter Facinelli) for years of bullying, and would-be rapper Kenny (Seth Green) gets locked in a room with snarky Denise (Lauren Ambrose).
Obsessed with the YouTube Web site, four New Orleans teens make a pact to lose their virginity, document the experience, and take a celebratory hit on their female-shaped bong. After his three buddies accomplish their goal in rapid succession, Matt (Matt Bennett) hopes to do the deed with his girlfriend. When his efforts fall through, Matt embarks on a furious quest to cash in his V-card, shadowed at every turn by his camera-wielding adoptive brother, Zack (Zack Pearlman).
Loveable teen Ian (Josh Zuckerman) has always been the best friend, not the boyfriend, and he thinks he's the last American virgin. Then online he meets Danielle, who is pretty, sweet, and really seems to likehim. The trouble is Ian and Danielle live in different parts of the country. When she makes him an offer he can't refuse, Ian steals his brother's '69 GTO and sets out to meet her in person and lose his virginity.
Struggling musician Peter Bretter (Jason Segel) is better-known as the boyfriend of TV star Sarah Marshall (Kristen Bell). After she unceremoniously dumps him, he feels lost and alone but makes a last-ditch bid to get over it by going to Hawaii. However, she and her new boyfriend (Russell Brand) are there in the same hotel.
High school friends Pee Wee (Dan Monahan), Tommy (Wyatt Knight), Billy (Mark Herrier) and Mickey (Roger Wilson) want to lose their virginity. But when they're kicked out of a strip club after the owner, Porky (Chuck Mitchell), takes their money, they plot revenge. While they try to get back at him, they deal with other teen troubles, including Pee Wee's worries that his "equipment" is shrinking, their sexually opinionated gym teacher (Kim Cattrall) and a spy hole in the girl's locker room.
Stoner Dale Denton's (Seth Rogen) enjoyment of a rare strain of marijuana may prove fatal when he drops his roach in a panic after witnessing a murder. Upon learning that the fancy weed can be traced back to them, Dale and his dealer (James Franco) go on the lam, with a dangerous drug lord (Gary Cole) and crooked cop (Rosie Perez) hot on their heels.
After discovering they are all dating the same same guy (Jesse Metcalfe), three popular students from different cliques band together for revenge, so they enlist the help of a new gal in town and conspire to break the jerk's heart, while destroying his reputation.
Image sources: Wikipedia