11 Awesome Movies Like Wild Child [Recommendations]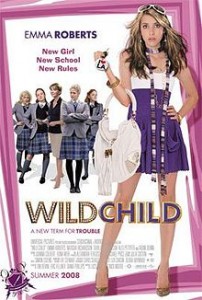 Here are my favorite picks for films like Wild Child. Keep in mind the list is in no particular order. Enjoy!
Material Girls(2006)
Two sibling cosmetics heiresses (Hilary Duff, Haylie Duff) must grow up quickly when a company scandal leaves them penniless. Though it is tempting to follow the advice of their board of directors and sell out to their biggest competitor, the gals decide to take matters into their own hands and save the company that their father built from scratch.
The Clique(2008)
Moving from Florida to New York, a young girl (Ellen Marlow) tries to fit in with a group of wealthy friends.
Angus, Thongs and Perfect Snogging(2008)
Based on the books by Louise Rennison, this tale follows 14-year-old Georgia Nicholson as she attempts to woo Robbie, one half of a pair of fraternal twins. Prone to getting herself into embarrassing situations and worried about her parent's marriage, Georgia discovers that being a teen can be a pain in the neck.
Blow Dry(2001)
An emotion-packed comedy of professional rivalry and extravagant hairdos. When the National Hairdressing Championships descend upon a small and unsuspecting Yorkshire town, no one is prepared for the glamour and the heartache, the scheming and the cheating which disrupt their lives.
Nancy Drew(2007)
Amateur sleuth Nancy Drew (Emma Roberts) accompanies her father (Tate Donovan) on a business trip to Los Angeles and stumbles across evidence in the case of a movie star's long-unsolved death. The young heroine's resourcefulness and integrity are put to the test in the glamorous — but sometimes treacherous — world of Hollywood.
References: Wiki