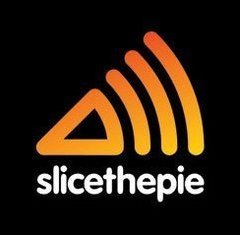 Slicethepie.com is a music review website that pays its users money to review songs of unsigned artists.
Why You Should Use SliceThePie
It pays

! Well, the fun part is it makes you feel like Simon Cowell for a bit. Plus, if you enjoy listening to different genres of music and exploring them, this is the perfect place. The minimum payout is $10.

You are helping out unsigned artists by giving them feedback.

You are essentially helping them out by giving some suggestions to improve their music or perhaps vocal tone. That way, they can improve and make better music. Don't be too harsh with the review though. Keep it clean and use constructive criticism.

It feels refreshing!

It is not like a typical grinding and boring task. You get to listen to a variety of music. Plus, you can do it at your own pace. You could listen to 10 a day or 1 a day. It is totally up to you.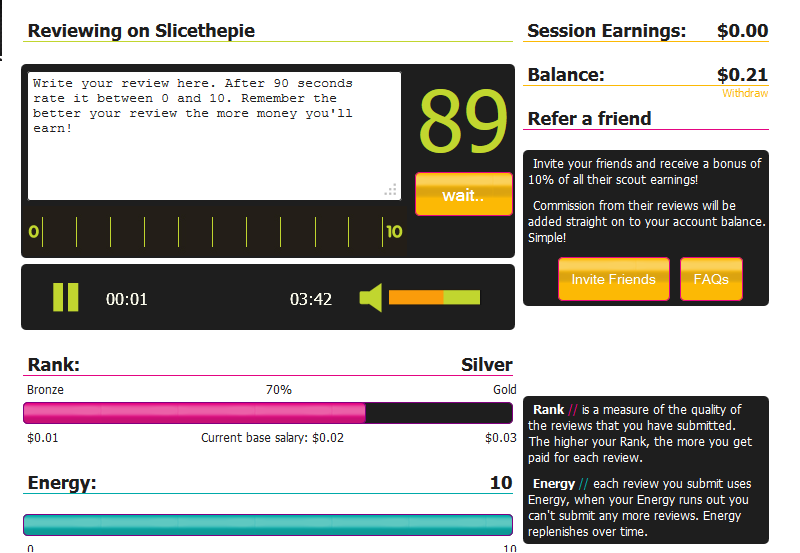 The website is pretty straightforward. You sign up, and you become a "scout". There is a white box in the middle and a song will start playing. You can type your review in there while listening. You have to listen to the song for at least 90 seconds before you can rate it. I would highly recommend you right longer reviews for songs you like. It increases your chance of getting a better pay per song. There is an energy bar at the bottom that diminishes every time you are done with a song review. It does replenish after a while. Your rank increases as you do more reviews, allowing you to earn more per song. This is definitely something you can spend time on when you are bored.
The bad part is, this is not available for certain countries. I do know the US and UK are available but I am not so sure about others.
SliceThePie Payment Proof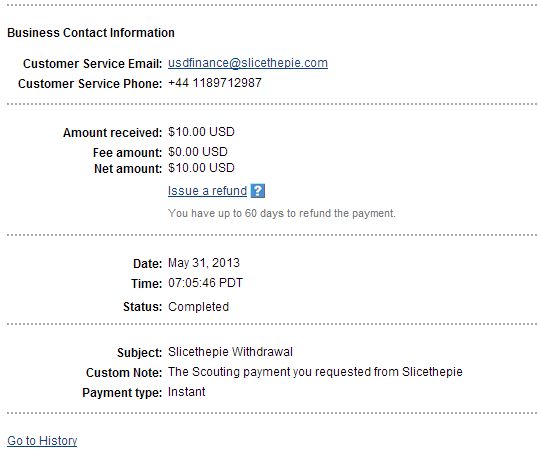 If you would like to join SliceThePie, I am going to give you 2 links:
Happy music reviewing!