Social Blogger and Savvy Internet Marketer with Brendan Mace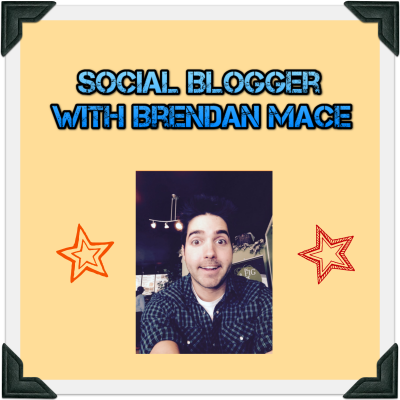 Hello online fanatics! Today I brought you a guest who is excellent at growing an audience and a great YouTube marketer. He is Brendan Mace and he is the owner of BrendanMace.com.
Key Summary
Brendan uses a combination of email, YouTube and affiliate marketing to earn a good living online
He suggests building an email list funnel to create a good income
He uses YouTube and other social media channels such as Twitter and G+ to connect with his audience and has a large following
Interview with Brendan Mace
Q1) Hi Brendan, thanks for taking the time to do an interview. Why don't you introduce yourself to the audience and share a bit about yourself?
Hey, the interview is my pleasure. I'm an Amazon affiliate, blogger and YouTuber that uses my success online to travel the world and enjoy life. Right now I'm living in Medellin, Colombia and learning Spanish on the side. I would not change my laptop lifestyle for anything.
Q2) What methods do you use to generate income online?
I started building niche sites in 2006 – The first few years were a learning process for me. Once I figured out how to make the niche site model profitable in 2008, I really took this online thing more seriously. Now, I'm a blogger, list builder and YouTube publisher. I still have those niche sites rolling in some good passive income. My favorite income source, though, is from my email list.
Q3) I noticed you focus a lot on capturing visitor emails. How important is getting emails from your blog traffic?
Blogging is one way (of many) to collect email leads. The vast majority of my list was built through squeeze pages. And that's the method I recommend more than anything else. The benefit of blogging for leads is it can be 100% free (other than hosting and domain registration).  It really depends on what you enjoy focusing on the most. Matthew Woodward's blog gets 60,000+ visitors a month. With that traffic, blogging is exceptionally lucrative. Your fastest and easiest results come from squeeze pages and solo ads – which is my preference. I'm probably more of a lazy marketer 😉
Q4) You are very active on your Social Media channels and your following is huge. What are some tips you can advice new bloggers on building a following?
Leverage everything! Use all your channels to cross promote yourself everywhere. Once you build up even one good following, it's a lot easier to build a second. My blog collects email subscribers. My list promotes my YouTube channel. My YouTube subscribers are sent to the blog. On every platform, I provide visible links to my Twitter, YouTube, Blog, etc.
Q5) When you started out this online marketing "thing", you had a lot of doubters, especially your friends. What made you pull through this hurdle?
I was actually more of a closet marketer. I was very shy when I started creating niche sites back in 2006. I really didn't share any of my results until after I had already my first $1,000+ month.  Now, I transparently share EVERYTHING to my YouTube fans, blog followers, etc.
It really depends on what motivates you. I'm good at following through on personal goals without the world knowing what I'm working on. Some people need to broadcast their goals in order to feel accountable.
Q6) I love your YouTube channel design. It really stands out and I think this has played a part in your popular channel. What are some tools that you use to design your thumbnails?
I'm not a graphic designer at all. I outsource all of this stuff to other people – Usually on Fiverr. It's never been easier to get high quality, cheap graphics online. Fiverr is loaded with designers that will create cool looking channel art for $5. Highly recommended!
Q7) What are some tools that you use for blogging?
Finding a good WordPress theme is really important. I use StudioPress and love it. Also finding a way to capture email subscribers is a priority. You won't realize how important it is to build a list, until you start getting subscribers. The biggest regret of most marketers, is not building a list sooner. It's your most powerful and profitable asset online. That means having some kind of exit pop and additional ways of collecting leads.
Q8) Can you provide 3 actionable steps for newbies wanting to get into internet marketing?
Build a list funnel! This is the easiest and fastest way to make big money online. The first step is to create a squeeze page with a high conversion rate. I teach how to do this for free on my blog. The next step is to find an OTO (one time offer) that is shown to new subscribers. The final step is to create a follow up sequence that collects $$$ for many days after subscribers sign up.
Q9) Last but not least, you mentioned you were moving while I was contacting you for an interview. Are you a digital nomad?
I'm quickly turning into one. I used to be more of a homeboy up in Canada. That all changed when I vacationed to Varadero, Cuba with my girlfriend. I discovered right away that the travelling life was for me – and thought, why not? The online laptop lifestyle gives you the freedom to live where you want, and do what you want. Most of this online stuff only takes up about an hour a day or less. My goal is to live in 4 countries in the next 10 years. We'll see, though, I'm really loving it here in Colombia.
Conclusion
I want to thank Brendan Mace for taking the time to share his experience! If you want to see what he does, head over to BrendanMace.com!