Swagtron T1/T3 Hoverboard Review [Are These Self Balancing Scooters Safer?]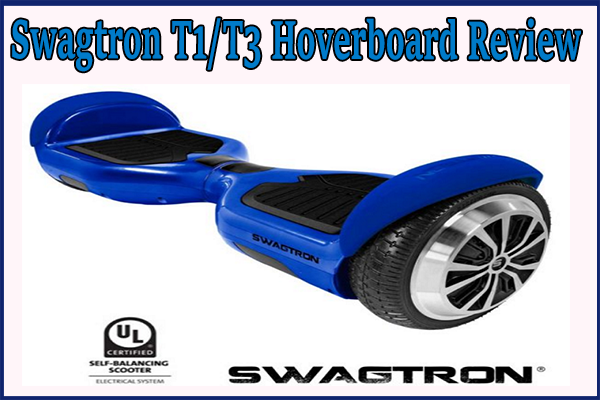 [asa2]B01FT9KAWO[/asa2]
Towards the end of last year and at the height of hoverboard craze, the hyped personal transporters, and their chargers started going up in flames. Within no time, there were numerous reports about hoverboards and their chargers catching fire. It turned out that neither the gadgets nor their chargers were UL certified for use.
Moreover, they were being manufactured in China with an inconsistent array of quality and safety standards. In an effort to reignite the fad, Swagway has redesigned their hoverboards and rebranded to Swagtron.
The result is self-balancing beasts that focus on user safety. The new Swagtron T1 and edgier looking T3 feature new body styles, advanced riding mode, Swagtron branding and the crucial UL certification sticker to guarantee safety.
In addition, they are built with something Swagway refers to as SentryShield; it is a fireproof aluminum battery cage that is paired with the battery management system. The SentryShieldprevents the entire hoverboard from bursting into flames no matter what happens to the battery.
Swagtron Hoverboard Specs

Swagtron features a harder outer body casing, two aluminum wheels with rubber tires and two non-slip foot pads. The self-balancing scooters weigh between 22lbs and 24lbs with a size of 23 in W x 7in D x 4in H. when fully charged; the T3 model can go up to 12mph while the T1 is set at eight mph maximum.
However, the range depends on the riding conditions. Hilly areas can reduce the range significantly. Swagtron has a climbing capacity of up to 30 degrees and turning radius of 0 degrees.
It takes about an hour to be fully charged and features a battery level indicator at the top. So, you just look down when in action to evaluate your battery life. Riders' weight is limited at 220 pounds and at least 44 pounds for younger riders. The T3 has larger footpads for more comfort and riding stability.
Instead of the clean split at the middle, new hoverboards are split into three parts. Though they can move independently, wheels and pads are connected to a fixed about one and a half inch wide center that does not move.
This new feature not only boosts stability but also makes the gadget stronger than previous models. It has bright LED motion indicator headlights. The front and rear LEDs show either blue, red or green. When in motion, the front facing LED lights blue while the rear lights green.
When turning right or left, the green lights blink to indicate the side you are turning. When slowing down, the green lights turns red to indicate a change in motion. Moreover, if you turn around on the board, the front and rear lights switch sides.
Another great feature is the ability to name your Swagtron and choose a riding mode. The riding mode can be either learning, standard or advanced. Learning mode retains the speed at four mph, slows acceleration and turning.
Standard mode keeps the speed at six mph, offer a quicker response to acceleration and turning. Advanced mode is designed for pros and is only available in T3. It allows you to ride at eight mph or more with a swift response to speed and turning. You can get a warning "extremely high injury risk" after choosing the advanced option.
Despite the riding mode you choose, you are guaranteed a smooth ride. Swagtron has new motors that offer a rougher, controlled, and quiet operation feels. The larger pads offer a more comfortable feel.
Color
The new Swagtron models are available in six colors; white, black, blue, pink, dark red and gold. When it comes to choosing the best color, you have to think about your tastes and color preferences.
However, pink would be ideal for girls and ladies who are too feminine. Blue, on the other hand, would be ideal for boys and men who appreciate the universal male color. All the other colors can be termed as unisex and would appropriate for any gender.
However, the color you choose will not determine your hoverboard's quality. They are all of the same quality and are sold at the same price; T1 being about $100 cheaper than T3. Therefore, your choice should mainly be based on the features you are looking for.
Pro riders would appreciate the T3 more while novice riders should start with the T1. T1 offers all the features and riding experience required to harness riding skills. It is a good choice for parents buying for their kids.
Bluetooth
You can connect your Swagtron T3 to your smartphone via Bluetooth. Once connected, you are able to view in real time your battery life and riding speed. A nicely designed and easy to navigate Android and ios app offers a virtual power button that you can use to put the Swagtron T3 to sleep. You must use the physical button to turn it completely off.
You could also tell your traveled miles, current speed and battery temperature via the app.
Since Swagtron is connected to your phone, it means that play music to make your riding experience more enjoyable. T3 taps into your music library automatically and whatever music you choose to play when riding will pump out of the Bluetooth speakers located at the base.
Though facing downwards, the speakers are loud and provide pretty audible and decent sound. It is fun to ride with your own soundtrack; you create a riding mood. The T3 app also allows you to contact customer service and access videos from your smartphone.
Accessories
Swagtron features a number of accessories but the most significant is the carrying strap on the base. However, the gadgets are too heavy to carry comfortably using the carrying straps for a long distance. The package holds the hoverboard, an AC charging adapter, a user manual, and paperwork.
Swagtron offers a 30-day limited return policy. The gadget must be returned new or in an unused condition.
Note that restocking fees may apply. It also offers a one-year warranty that protects the purchaser against any workmanship and material defects. Swagtron either replaces or repairs your gadget at no charge using refurbished or new spare parts.