Sword Art Online: Memory Defrag Coming Soon to North American Shores [US/Canada]
Publisher: Bandai Namco
Release Date: Fall 2016
Bandai Namco has announced the launch for their latest mobile game, Sword Art Online Memory Defrag (ソードアート・オンライン メモリー・デフラグ). Players can now download the game from Japan's App and Play Store.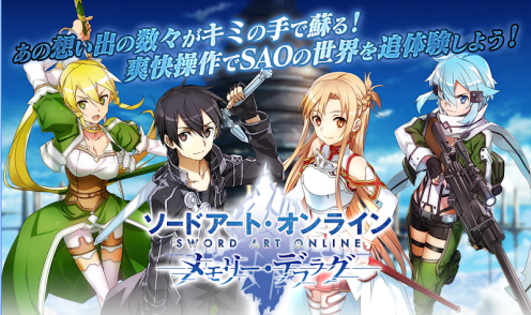 Sword Art Online Memory Defrag is developed by Wright Flyer Studios, one of the best developers in Japan who's games are always of the highest quality and grossing.
The free-to-play smartphone game is a side-scroll-type action RPG featuring the story of the TV series, as well as an original story. Of course, boss characters from the original work and anime will also appear.
It will feature easy tap and flick controls, and a deep battle system that utilizes standard attacks, parrying, switching, guarding, jumping, and more. Character actions will vary based on their equipment and traits. You can also take on quests other players.
Links for the JP version: