10 Movies Like The Proposal Recommendations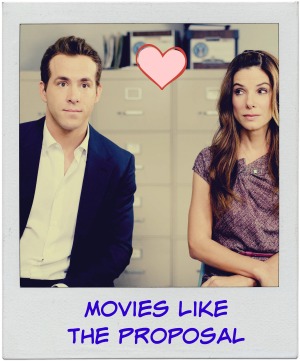 If you are looking for movies similar to The Proposal, we have compiled a list of them for you. The summaries and pictures are brought to you by the wonderful Wikipedia.
During a wild vacation in Las Vegas, career woman Joy McNally (Cameron Diaz) and playboy Jack Fuller (Ashton Kutcher) come to the sober realization that they have married each other after a night of drunken abandon. Besides that, there is a huge jackpot at stake. An implacable judge freezes the prize money and refuses to grant an annulment, so Joy and Jack must try to make their impromptu marriage work.
When Brooke (Jennifer Aniston), an art dealer, and Gary (Vince Vaughn), a tour-bus driver, finally call it quits in their relationship, neither is willing to move out of their shared condo. With their friends suggesting a series of underhanded tactics that fail to get either Brooke or Gary to cave in, the only solution is to become hostile roommates.
Like many New York City gals, Rebecca Bloomwood (Isla Fisher) loves to shop. The trouble is, she shops so much that she is drowning in debt. Rebecca would love to work at the city's top fashion magazine but, so far, has not been able to get her foot in the door. Then she lands a job as an advice columnist for a financial magazine owned by the same company. Her column becomes an overnight success, but her secret threatens to ruin her love life and career.
An ambitious businesswoman (Tori Spelling) hires an actor (Jordan Bridges) to pose as her husband as a means of impressing her family-oriented employer (Greg Germann). You know that these never goes as planned…
With the wedding of her younger sister (Amy Adams) fast approaching, Kat Ellis (Debra Messing) faces the undesirable prospect of traveling alone to London for the ceremony. While this is bad enough, Jeffrey (Jeremy Sheffield), the man who left her as they moved closer to marriage, happens to be the groom's best man. Determined to show everyone — most of all Jeffrey — that her romantic life is as full and thrilling as ever, Kat hires a charming male escort (Dermot Mulroney) as her date.
Perennial bridesmaid Jane (Katherine Heigl) always puts the needs of others before her own, making her the go-to gal whenever someone needs help with wedding plans. So when Jane's younger sister Tess (Malin Akerman) snags the man (Edward Burns) Jane secretly loves, Jane finds herself questioning her role as a wedding junkie for the first time in her life. Meanwhile, a handsome reporter (James Marsden) sees Jane's unusual story as his ticket off the bridal beat.
In a series of interconnected stories, various Los Angeles residents (Jessica Alba, Jessica Biel, Bradley Cooper) wend their way through the highs and lows of love during a single day. As the holiday unfolds, they experience first dates, longtime commitments, youthful crushes and connections to old flames.
Since the time they were little girls, best friends Liv (Kate Hudson) and Emma (Anne Hathaway) have been planning every aspect of their future weddings, including choosing the same destination: New York's famedPlaza Hotel. But when a clerical error causes a clash in wedding dates, Liv and Kate discover their inner demons — with their lifelong friendship as a possible casualty.
Disillusioned with romance, Beth, an ambitious New Yorker (Kristen Bell), travels to Rome, where she plucks magic coins from a special fountain. The coins attract an assortment of odd suitors, including a sausage merchant, a street magician and an artist. But when a persistent reporter (Josh Duhamel) throws his hat in the ring, Beth wonders if his love is the real thing.
Emma (Uma Thurman), a radio host, is about to be married to Richard (Colin Firth), her perfect match. But right before her wedding, she learns she's already married to Patrick (Jeffrey Dean Morgan), a charming but irresponsible fireman. Furthermore, Patrick has a secret: he has arranged this little trick because Emma advised Patrick's ex-fiancee to end their relationship. However, Patrick may find that the trick is on him, for he soon begins to fall in love with his uptight adversary.
These movies are great alternatives to watch. You could even do a movie marathon!