TWD: Road to Survival Food,Farming and Upgrade Gear Guide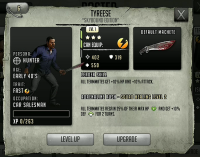 So having played this up to chapter 14 of the campaign map and a few hundred raid battles, I have found some spots to be great places for grinding gear, food and material.
General Guide | Character List
Fastest Way to Earn Food
Now food will drop when fighting regular campaign maps, but the best spots to farm food are places which drops the best gear that sells for the most amount of food. The table below shows you the food you gain when you sell any of the gear you find. I have only included the highest selling food per gear.
Your food farming gets better when you are able to grind in areas 8 and higher. Bloody Jackets and Down Vest go for 13200 food each, which is excellent. Keep 4 of each for future character upgrades and the rest can be sold for food.
Also keep in mind wrinkled shirts and work gloves are used to train 2 star characters in your training ground. Avoid selling them as you will run out of them pretty quickly as you start farming areas 8 and higher as they stop dropping.
You can also sell some ingredients if you don't need them for the time being. They are included in the list as well. Poor selling prices of ingredients are excluded.
I will update the list as I can progress to the latter stages of the game.
| Name | Rarity | Description | Uses | Selling Cost(Food) | Best Spot |
| --- | --- | --- | --- | --- | --- |
| Rain Boots | 1 | Found in areas from Woodbury Gates onwards, especially The Prison and earlier. | Char Upgrade | 1750 | Areas 1-6 |
| Wrinkled Shirt | 1 | Found in all areas, especially Homemart. | Char Upgrade/Training | 250 | Areas 1-6, 7-1 |
| Work Gloves | 1 | Found in all areas, especially Homemart. | Char Upgrade/Training | 250 | Areas 1-6, 7-1 |
| Neckerchief | 1 | Found in areas from Woodbury Gates onwards, especially The Prison and earlier. | Char Upgrade | 1750 | Areas 1-6 |
| Running Shoes | 2 | Found in areas from The Prison onwards, especially The Woods (Fence) and earlier. | Char Upgrade | 5790 | 6-3, 6-4, 8-1 |
| Down Vest | 2 | Found in areas from The Woods (Fence) onwards, especially The Woods (NE) and earlier. | Char Upgrade | 13200 | 8-3, 12-4, 13-3 |
| Bloody Jacket | 2 | Found in areas from The Woods (Fence) onwards, especially The Woods (NE) and earlier. | Char Upgrade | 13200 | 8-3, 12-3, 12-4 |
| Sunglasses | 2 | Found in areas from The Prison onwards, especially The Woods (Fence) and earlier. | Char Upgrade | 5790 | 6-3, 8-1, 8-3 |
| Safety Helmet | 2 | Found in areas from The Woods (Fence) onwards, especially The Woods (NE) and earlier. | Char Upgrade | 13200 | 8-3, 12-3, 12-4 |
| Waist Pack | 2 | Found in areas from The Woods (Fence) onwards, especially The Woods (NE) and earlier. | Char Upgrade | 13200 | 12-4, 14-4 |
| Ammo Belt | 3 | Found only in areas from The Woods (NE) onwards | Char Upgrade | 27300 | 12-4, 14-4 |
| Hiking Boots | 3 | Found only in areas from The Woods (NE) onwards | Char Upgrade | 27300 | 12-4, 14-4 |
| Compass | 3 | Found only in areas from The Woods (NE) onwards | Char Upgrade | 27300 | 12-4 |
| Gun Powder | 2 | Found in areas from Woodbury Gates onwards, especially The Prison and earlier | Ingredient | 520 | Area 2 to 5 |
| Crude Bronze | 2 | Found in areas from Woodbury Gates onwards, especially The Prison and earlier | Ingredient | 580 | Area 2 to 5 |
| Metal Cutter | 2 | Found in areas from Woodbury Gates onwards, especially The Prison and earlier | Ingredient | 760 | Area 2 to 5 |
| Chemical Set | 3 | Found in areas from The Prison onwards, especially The Southeast Woods and earlier | Ingredient | 4200 | Area 5 to 8 |
| Raw Lemon | 3 | Found in areas from The Prison onwards, especially The Southeast Woods and earlier | Ingredient | 2300 | Area 5 to 8 |
| Coffee Protein | 2 | Found in areas 2 onwards. | Ingredient | 1200 | Area 8+ |
| Chocolate Protein | 2 | Found in areas 2 onwards. | Ingredient | 1600 | Area 8+ |
| Booster Powder | 3 | Found in areas from 5 onwards. | Ingredient | 2000 | Area 8+ |
| Metalworking Set | 3 | Found in areas from The Prison onwards, especially The Southeast Woods and earlier | Ingredient | 1300 | Area 5 to 8 |
| Refined Gunpowder | 4 | Found in areas from The Southeast Woods onwards, especially Town Square and earlier | Ingredient | 4600 | Area 8 to 11 |
| Stimulant | 4 | Found in areas from The Southeast Woods onwards, especially Town Square and earlier | Ingredient | 1100 | Area 8 to 11 |