Things I Learned in 2013 for Blogging and Setting Goals for 2014
With 2013 coming to an end, I am glad to say I achieved things that I myself find remarkable. I am really blessed to be doing what I love from home. Here are some things that I learned in 2013:
1) Taking Action
I used to only think and plan, but what I fail to realize that taking action is the most important factor when it comes to succeeding in anything. My sites wouldn't be where it  would be if I listened to my "voice" in my head that it wouldn't work.
2) Don't Give Up!
I remembered when I started my 60 Hubs in 30 days challenge back in April 2013. I wasn't able to write 60 Hubs, but I did manage to write 54. I proceeded to try 90 Hubs in 30 days and only managed 40 Hubs or so.
I might have given myself too unrealistic of a goal, but I learned a lot about SEO and keyword research during this time. I was also making pennies every day, but I knew if I kept on writing, my traffic would slowly rise. If I gave up when I only made $3.75 after 2 months,  then I probably won't make it to $150 now in December.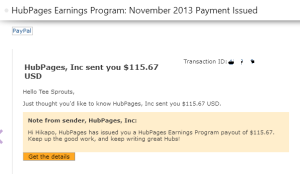 Here is a look of a remarkable journey of writing on Hubpages from March to December 27th.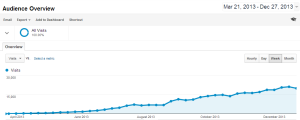 I also learned to write only articles that has the potential to bring in 50 or more visitors daily.
3) Setting Measurable and Attainable Goals
I always set goals, but never follow up on it, until I created measurable and quantifiable goals. For example, my old goals would look something like:
Make 1 million dollars by age 30(Too vague)
Exercise everyday(Too vague and no power)
Now my goals look something like this:
Exercise 20 minutes everyday
Do 10 sets of jump ropes for 2 minutes
Notice how it can be attained easily by adding numbers to it. It is no longer vague and can be achieved by taking action.
4) The Ability to Listen and Deliver What Somebody Else Wants
I always have an idea of what the audience wants, but it was "MY" idea of what I think the audience wants. Now I listen and only pay attention to what my audience wants. This has helped me tremendously on what kind of content I produce. I only provide solutions to my audience on how they want it, and not how I want it.
Now, I am looking forward to 2014!