Top 10 Best Assassin Anime Series Recommendations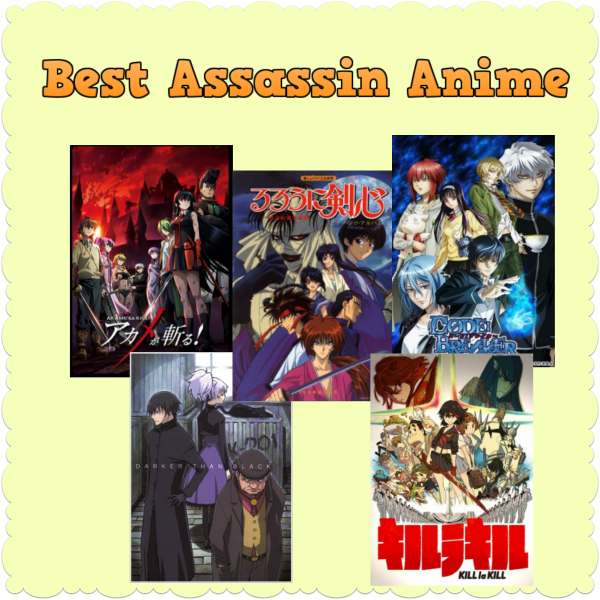 This has always been one of my favorite genres. Since you never know who is going to drop dead next, it always has that suspense building up as each episode pasts. Here is a list of anime that I thought were good and deserved to be on here. I have only included the best assassin type anime I have watched before, so don't get mad if I didn't include yours. 😛
Anime "Best of" Genre List
Night Raid is the covert assassination branch of the Revolutionary Army, an uprising assembled to overthrow Prime Minister Honest, whose avarice and greed for power has lead him to take take advantage of the child emperor's inexperience. Without a strong and benevolent leader, the rest of the nation is left to drown in poverty, strife, and ruin. Though the Night Raid members are all experienced killers, they understand that taking lives is far from commendable and that they will likely face retribution as they mercilessly eliminate anyone who stands in the revolution's way.
This merry band of assassins' newest member is Tatsumi, a naïve boy from a remote village who had embarked on a journey to help his impoverished hometown and was won over by not only Night Raid's ideals, but also their resolve. Akame ga Kill! follows Tatsumi as he fights the Empire and comes face-to-face with powerful weapons, enemy assassins, challenges to his own morals and values, and ultimately, what it truly means to be an assassin with a cause.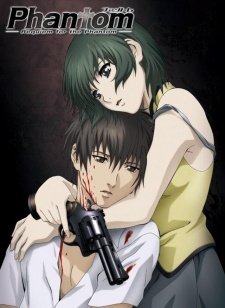 Mafia is rife in America where assassinations are a regular occurrence on the streets. Inferno, a mysterious company, is behind most of these dealings through the use of their near-invincible human weapon, "Phantom."
One day, a Japanese tourist accidentally witnesses Phantom's latest murder. Desperate to escape, the tourist hides in a secluded building. However, Phantom, revealed to be a young woman named Ein, and the leader of Inferno "Scythe Master" captures the tourist and brainwashes him.
Given the name "Zwei," this once peaceful tourist is now a puppet of Inferno with no memories. Drawn into a world of lies, deceit, and violence, Zwei must fight to survive, hopefully to one day regain his memories and escape from this world where he is constantly on the brink of death.
It has been 10 years since Heaven's Gate appeared in South America and Hell's Gate appeared in Japan, veiling the once familiar night sky with an oppressive skyscape. Their purposes unknown, these Gates are spaces in which the very laws of physics are ignored. With the appearance of the Gates emerged Contractors, who, in exchange for their humanity, are granted supernatural abilities.
In the Japanese city surrounding Hell's Gate, Section 4 Chief Misaki Kirihara finds herself at odds with an infamous Contractor codenamed Hei. Called "Black Reaper" in the underground world, Hei, like his associates, undertakes missions for the mysterious and ruthless Syndicate while slowly peeling back the dark layers covering a nefarious plot that threatens the very existence of Contractors. From the mind of Tensai Okamura comes a sci-fi thriller taking the form of a subtle exposé on a war in which political positions and justice have no sway—a war waged exclusively in the shadows.
In the country of Gazth-Sonika, civil war rages. There, a mercenary called Madlax plies her trade, with almost supernatural skill. In the seemingly peaceful country of Nafrece, Margaret Burton lives a tranquil life. As separate as their lives may seem, the two are connected by ties of mystery, and by a holy book that is also sought by the shadowy organisation, Anfan. As Margaret and Madlax follow the path of their destiny, they come ever closer to uncovering the truth – with no guarantee that it is a truth they can bear to learn.
Himura Kenshin is a vagabond with a dark past and sunny disposition. Not a ronin but a rurouni, he was never a samurai, but an assassin of utmost skill in the Meiji restoration, who in the turning point of the war simply walked away. His travels lead him to Tokyo in the 11th year of the Meiji era, where he befriends a female Kendo master, a former thief, a brawler and a doctor all with their own secrets. Together they fight off the enemies surfacing from the dark past that Kenshin cannot escape.
References: ANN, MyAnimeList, Wiki, Ranker