Top 10 Best Bookmarking Sites to Organize Your Stuff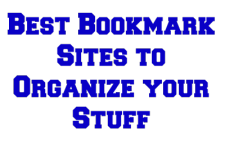 Due to the wide range of online activities from social networking, blogging, and office work. It becomes necessary to keep the whole bit of information organized, this can be achieved by use of the following top 10 best bookmark managers to organize your stuff. We have included both PC and Mac options.
The following top ten list can be supplemented by the following additional bookmark manager sites and applications:
o Bokemarks:- This is a tool which allows the user to be able to save the full contents of a page and has the features for importing links from other browsers and is a bit more comprehensive as it also saves the icon and the titles as well too. This operates on the same principle as Net-vibes which is also a website which enables users to bring all the most relevant pages from their daily activity into a single pool.
o Am-dead link: – This is a window application software that analysis the bookmarked pages and then determines those which have been most dormant and creates an alert to the user on whether to delete or retain them.
I guarantee that these options will help you organize your urls and webpages a lot easier!