Top 10 Best Demon/Devil Anime Series [Recommendations]
Having seen a lot of demon/devil type animes across all genres, I have compiled a list of the best that I have watched over the years. Enjoy the recommendations. Also, the list is in no particular order.
Anime "Best of" Genre List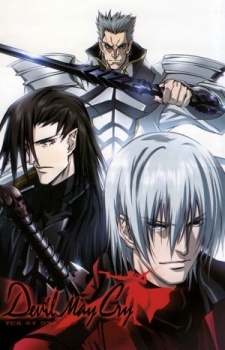 Devil May Cry follows the story of the demon hunter known as Dante. As a half demon, half human, he uses his trusty sword Rebellion and his two guns Ebony and Ivory to take on missions. Dante owns and runs "Devil May Cry," a business that specializes in hunting and killing demon-related problems. Based on the video game series "Devil May Cry."
After enrolling at the Constant Magic Academy, Akuto Sai discovers he's not just a gifted student with magical powers; he's destined to become the Demon King. And though he's not that crazy about the idea, it drives the girls wild! From the sexy school girls in his class to the skin-obsessed android who's programmed to seduce him, Akuto has no shortage of wacky girl trouble. How much temptation can a demon king take? (Source: Sentai Filmworks)
In this world, humans coexist with demonic predators called Yoma. These demonic beasts feast on human innards and can blend into human society by taking on human appearance. As a counter force, a mysterious organization created half-human, half-Yoma warriors known as the "Silver Eyed Witches" or "Claymores," after the huge claymore swords they carry. They are detested by humanity however necessary. The story begins with a young boy, Raki, who has lost everything in a Yoma attack, and the Claymore, Clare, who is generally detested by society. Throughout the series, Clare and Raki show their deeper qualities, powers and Clare's never ending devotion to the goal she swore to fulfill in her childhood. [Written by MAL Rewrite]
Issei Hyodo is your average perverted high school student whose one wish in life is to have his own harem, but he's got to be one of the unluckiest guys around. He goes on his first date with a girl only to get brutally attacked and killed when it turns out the girl is really a vicious fallen angel. To top it all off, he's later reincarnated as a devil by his gorgeous senpai who tells him that she is also a devil and now his master! One thing's for sure, his peaceful days are over. In a battle between devils and angels, who will win? (Source: FUNimation)
In Victorian-era Europe, a young boy loses everything he once held near and dear to a vicious plot. In his moment of death, he strikes a deal with a demon: his soul, in exchange for revenge. Ciel Phantomhive is now the head of the Phantomhive corporation, handling all business affairs as well as the underground work for the Queen of England. His new partner is a demon butler, Sebastian Michaelis, whose prowess as a butler is only surpassed by his strength as a demon. The story follows the two along with their other servants, as they work to unravel the plot behind Ciel's parents' murder, and the horrendous tragedies that befell Ciel in the month directly after.