Top 12 Best Horror Anime Series Recommendations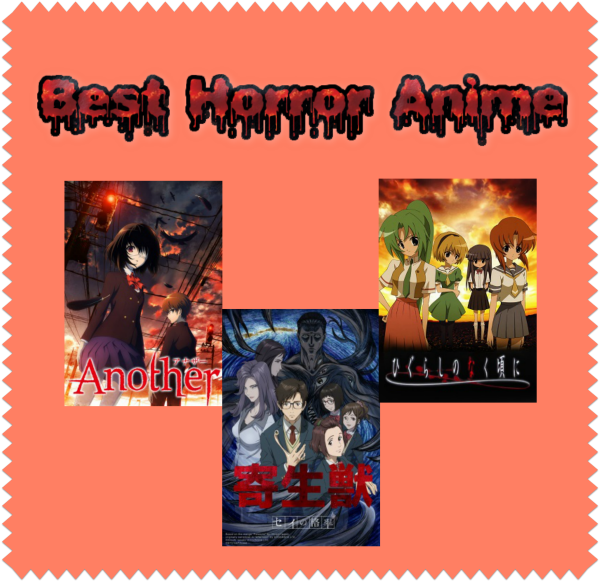 Having watched plenty of horror animes, the good ones were those that somewhat stuck in your head after the series ended. I have picked my favorite ones in the list so this is based off my opinion. Here are my top 12 horror anime list in no particular order.
Anime "Best of" Genre List
Shinichi Izumi is a normal high school boy whose right hand has become infected with an alien parasite that names itself "Migi" ("right"). Migi is the first parasite to develop a symbiotic relationship with its host, as he and Shinichi slowly develop a grudging friendship. Migi isn't the only Parasite on earth, however, and as cases of Parasites killing humans begin to emerge, humans seek to kill off Parasites. Shinichi and Migi find themselves caught in between these two sides of the struggle over planet earth.
The Diclonius, a mutated homo sapien that is said to be selected by God and will eventually become the destruction of mankind, possesses two horns in their heads, and has a "sixth sense" which gives it telekinetic abilities. Due to this dangerous power, they have been captured and isolated in laboratories by the government. Lucy, a young and psychotic Diclonius, manages to break free of her confines and brutally murder most of the guards in the laboratory, only to get shot in the head as she makes her escape.
She survives and manages to drift along to a beach, where two teenagers named Kouta and Yuka discovers her. Having lost her memories, she was named after the only thing that she can now say, "Nyuu," and the two allow her to stay at Kouta's home. However, it appears that the evil "Lucy" is not dead just yet…
In the future Japan has become a fractured country, and small towns now exist. The rulers of this world have the cursed power of Telekinesis. When an incident occurs, 5 children come to realize the world is not as it seems, and learn the bloody history behind this world. These 5 children unite and help the world as it falls into a downward spiral of chaos.
When Kōichi Sasakibara transfers to his new school, he can sense something frightening in the atmosphere of his new class, a secret none of them will talk about. At the center is the beautiful girl Mei Misaki. Kōichi is immediately drawn to her mysterious aura, but then he begins to realize that no one else in the class is aware of her presence.
Kids and ghosts. When young Satsuki finds an old book of spells from her passed away mother, she gains the power to fight ghosts that are haunting her new school. With the help of her friends, and of a really wicked devil cat, she must protect everyone around her or be haunted for ever more.
Somewhere in the vast sea of the Internet, there's a website that can only be accessed at the stroke of midnight. Known as the Jigoku Tsushin, rumor has it that if you post a grudge there, the Jigoku Shoujo will appear and drag whoever torments you into the inferno. Very little is known about the girl—all we know for sure is that she lives with her equally enigmatic grandmother, that three magical straw dolls accompany and serve her, and that whenever a posting on the Jigoku Tsushin moves her, she becomes the Jigoku Shoujo.
References: ANN, Wiki